C.S. Muncy
is a New York City-based freelance photojournalist with a client list that includes The New York Times, The Wall Street Journal, Newsday, The New York Daily News and The Village Voice. His work has also appeared in Time Magazine, The Smithsonian Magazine and Wired Japan. In 2012, he was selected for the 25th Eddie Adams Workshop, received the NPPA Short Course Travel Grant and won first prize in the National Geographic/Nikon "Full Story" photo contest. A graduate of the Defense Information School, he enlisted in the United States Air Force in 2002 and is currently a combat correspondent with the 106th Rescue Wing.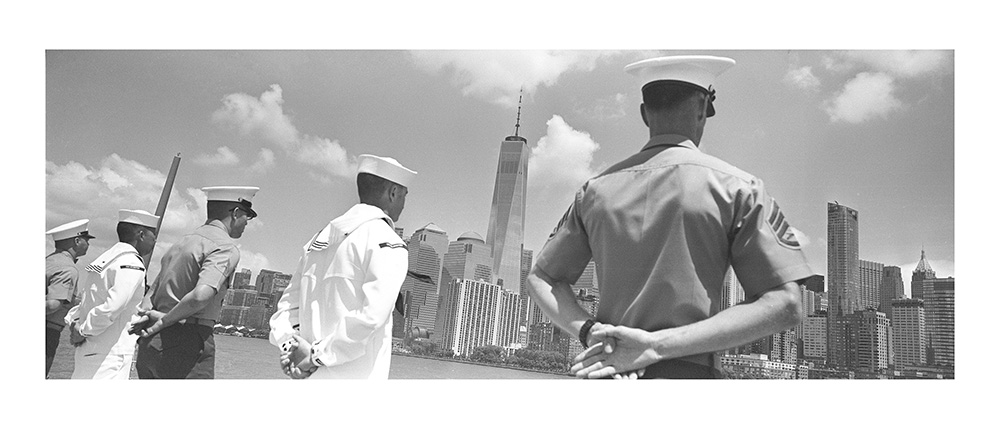 For the last eight years or so I've photographed the Sailors and Marines taking part in Fleet Week, New York. This year I was lucky enough to hitch a ride out to the USS Arlington, one of several post-9/11 launched San Antonio class vessels.
Fleet Week is always an interesting affair — if selected you get flown out for a day or two, and are able to photograph the "Parade of Ships" as they enter New York harbor. Usually this means a couple of hours of folks standing at attention at the rails, pausing to salute as they pass specific landmarks like the Statue of Liberty or the World Trade Center. This year I wanted to put my Hasselblad X-Pan cameras to work —the formations of Marines and Sailors practically beg for panoramic shots. I also would have used my Widelux for wider images, but sadly it's in for repairs and I had to make do with what I had.
I was tempted to shoot with slide film, but the ships usually come in during the middle of the day, and unless there's good cloud cover you'll get some really harsh shadows from the midday sun. Instead I stuck with Ilford HP5 and Kodak's newly relaunched 3200 black and white film. Both worked like a charm, and since I do my own processing and scanning it allowed me to get my work up and ready immediately after filing my digital images.