C.S. Muncy
is a New York City-based freelance photojournalist with a client list that includes The New York Times, The Wall Street Journal, Newsday, The New York Daily News and The Village Voice. His work has also appeared in Time Magazine, The Smithsonian Magazine and Wired Japan. In 2012, he was selected for the 25th Eddie Adams Workshop, received the NPPA Short Course Travel Grant and won first prize in the National Geographic/Nikon "Full Story" photo contest. A graduate of the Defense Information School, he enlisted in the United States Air Force in 2002 and is currently a combat correspondent with the 106th Rescue Wing.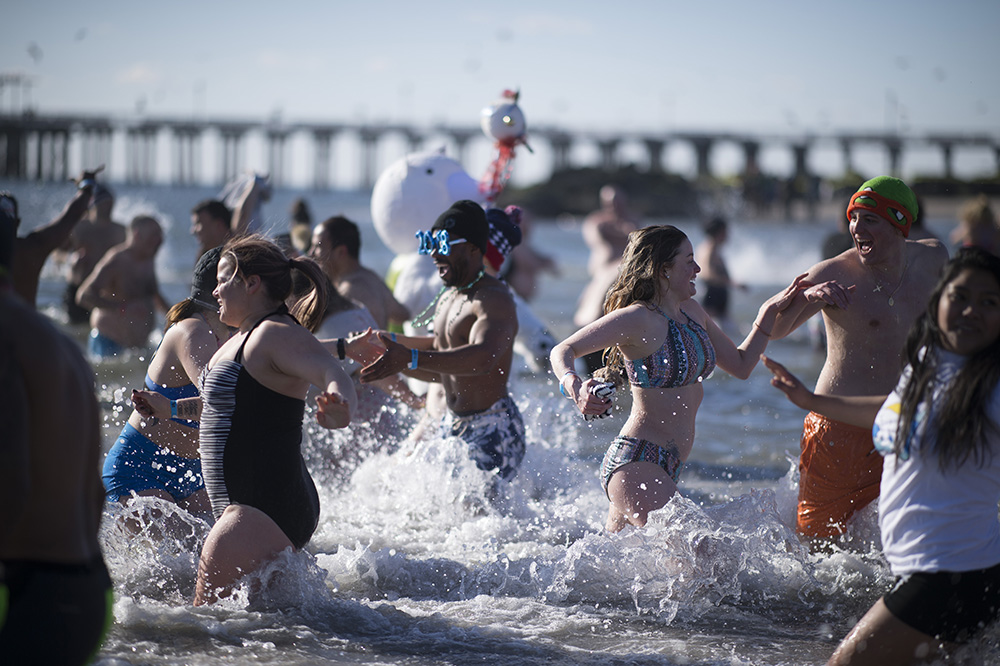 I've tested a ton of different methods for protecting my cameras against the elements — many of them wildly inadvisable. During Hurricane Sandy I pulled a shopping bag from the trash and wrapped it around my camera. I've used plastic wrap, duct tape, electrical tape, disposable camera rain covers and a pair of lower-end waterproof DSLR bags.
The latter worked, for the most part, but they were clunky, difficult to operate, and weren't 100% water sealed. When I was shooting Air Force Pararescue Jumpers in Hawaii, I used one of my cases out in deep water — but never once did I feel comfortable enough with their seals to do more than just dunk it a few inches beneath the surface. Much of the time I spent struggling to swim while keeping the bag above my head, which can be both exhausting and a little dangerous if you do it for too long.
After that, I decided to invest in a more rugged housing. There are a ton of them out there on the market — many expensive and with a ton of accessories. My budget isn't huge, and I don't shoot enough underwater work to justify some of the better ones out there — however I did find a Polaroid-branded Meiken underwater housing for my D750 at a decent price, and went with that.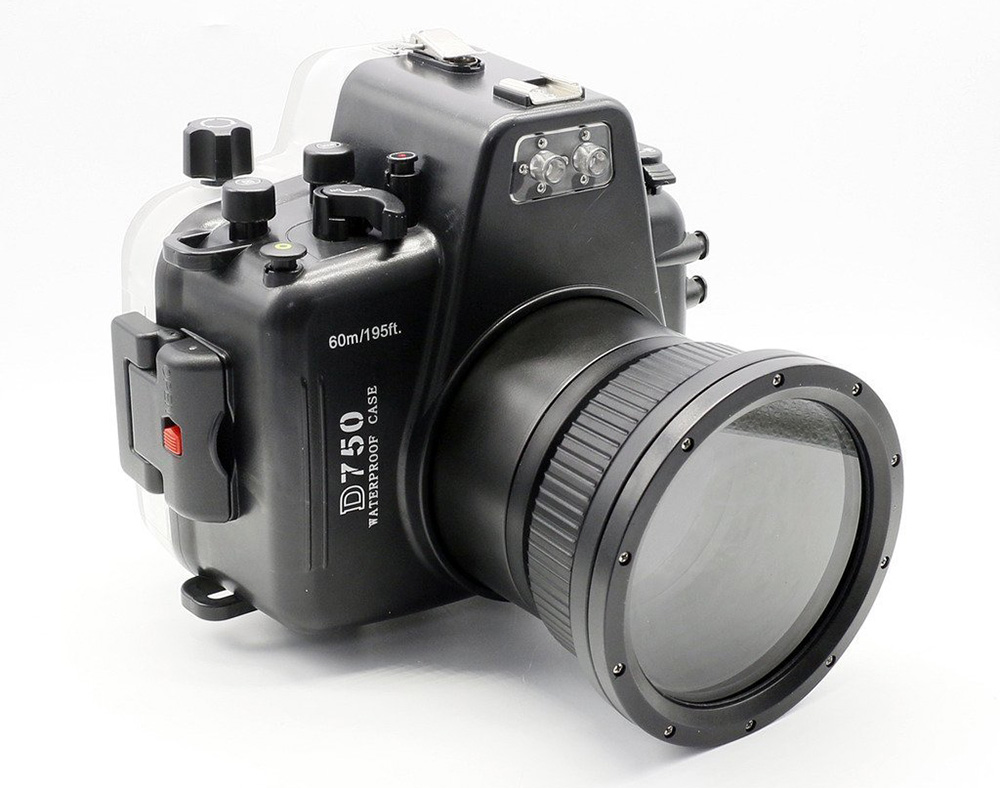 The housing itself is made mostly of plastic, with rubber seals and metal clasps. Despite the low price, it felt sturdy in my hands and the window in front of the lens was clean and didn't noticeably affect my final images. While the lens opening is fixed in place, I was able to fit a number of different lenses inside without any vignetting.
For my first job using it, I took it with me to the annual Coney Island Polar Bear Plunge. I found the camera and housing worked fine — with one or two issues I'll address in a moment. The ocean water didn't linger on the lens, and I was able to adjust my settings without any significant problems.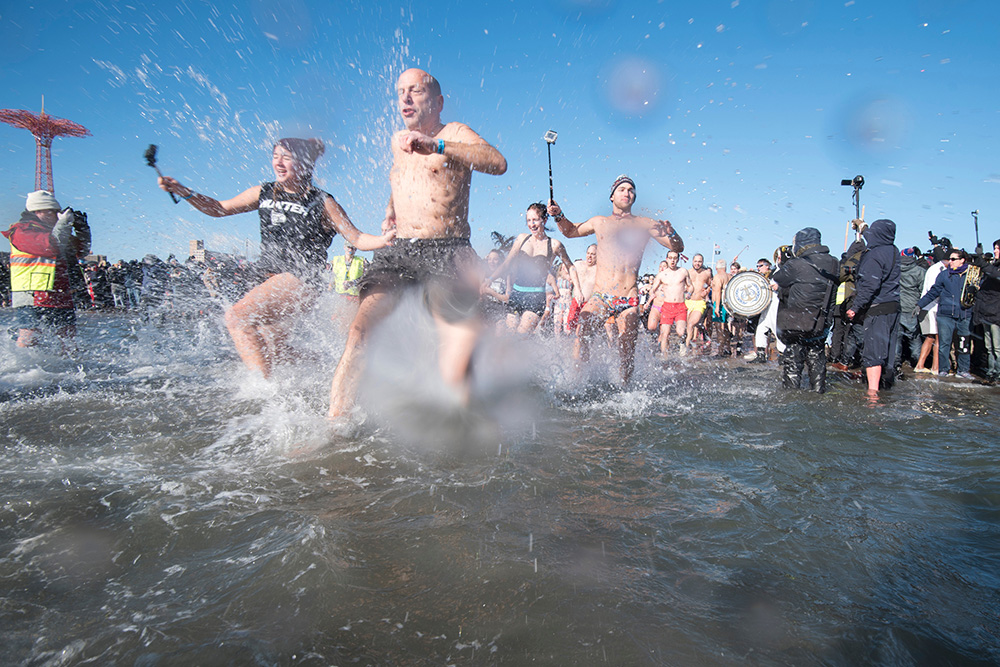 Two small issues did pop up. One was my fault — I left the camera in autofocus rather than manual, which meant that the camera was occasionally searching for a subject. In a high-speed shoot like that, where people are running past me and subjects are jumping in and out of frame, I should have left it in MF and set it to a higher aperture. The second problem was that the power switch sometimes slipped inside the housing — I think future models could be improved with a "no-slip" layer on the controls. I solved this by turning the camera on before putting it in the housing.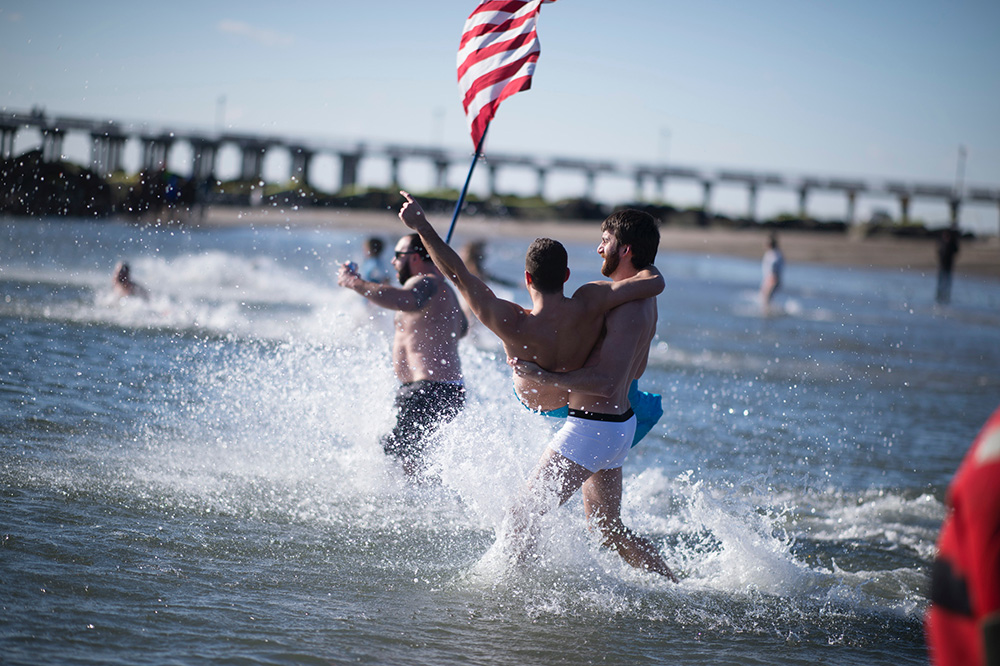 My only other complaint was that there's no real eyepiece —the back is fogged plastic (except for a clear window by the viewscreen.) You're supposed to use liveview to compose your images, but I would have been happier if the entire back was clear.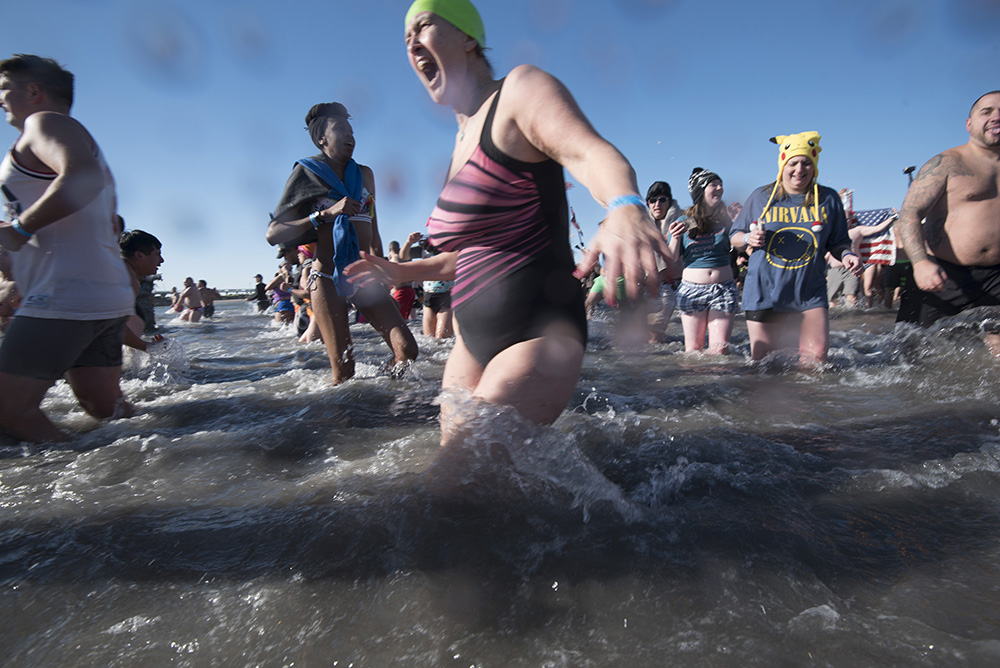 All in all these are minor and correctable concerns. The housing protected my camera perfectly from the frigid water. Most of my shots were taken above the surface, if only because few people were going more than waist deep into the water, which was churned up and muddy, and otherwise unsuitable for underwater images.
For the cost, you can't go wrong. It would be nice to have a replaceable front lens bubble rather than the flat plastic it currently has, but I guess you can't have it all.