C.S. Muncy
is a New York City-based freelance photojournalist with a client list that includes The New York Times, The Wall Street Journal, Newsday, The New York Daily News and The Village Voice. His work has also appeared in Time Magazine, The Smithsonian Magazine and Wired Japan. In 2012, he was selected for the 25th Eddie Adams Workshop, received the NPPA Short Course Travel Grant and won first prize in the National Geographic/Nikon "Full Story" photo contest. A graduate of the Defense Information School, he enlisted in the United States Air Force in 2002 and is currently a combat correspondent with the 106th Rescue Wing.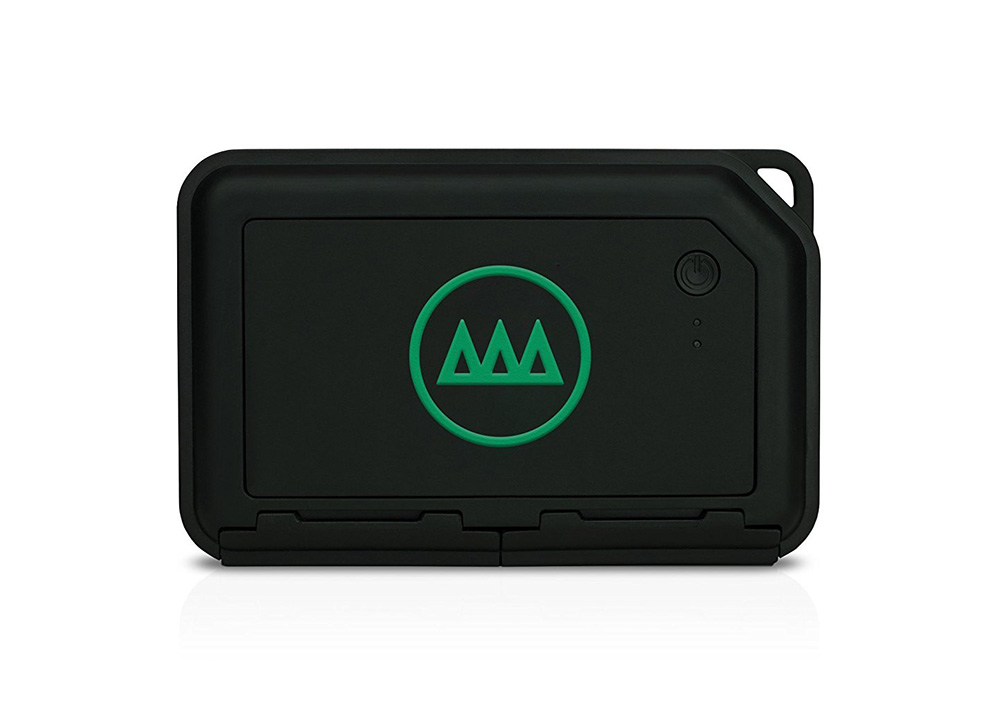 When I started out shooting the news, I learned the difficult way about the necessity of being able to edit and file your images on the go. Nothing can sour your relationship with an editor (or kill your career) faster and harder than being the last guy to get your images in from the scene.
Over the years I've spent a fair amount of time testing new ways to accomplish this. These methods have included oddball dongles for my phone, a bevy of portable card readers, netbooks and so on. Each method had their benefits, but few were "all-in-one" solutions. The dongles and card readers often required more power than my phone could offer in order to read certain cards, and the netbook — while light and easy to carry — was a slow and imperfect solution. If you're trying to keep up with a parade or fast moving protest or trying to hold on to your position on a riser — space and weight are valuable things. On top of that, I often shoot in scenarios (particularly on the military side) that will kill most computers.
When the GNARBOX first hit, I was cautiously interested. I've been burned on Kickstarter before by products with lofty goals and promises that never came through. Still, the product went to production and shortly before the PhotoPlus Expo I was able to get my hands on a sample for review.
BUILD
Physically, the device is no larger than a ruggedized hard drive. The exterior is made of a combination of hard plastic and shock-absorbing rubber. The ports are all protected by locking doors with waterproof gaskets. During my discussion with Kat and Will, two of the folks from GNARBOX at PPE, they were quick to remind me that while the device is water resistant, it's not waterproof. Some testers have submerged the device in water with no issues, others have had it fail under those conditions. I will discuss more on my tests below.
The GNARBOX uses a 128GB SSD drive and 2GB of RAM that are protected by a protective rubber coating inside the device.Additionally, there's a 4000mAh battery and Atom-based CPU.
You have a number of options to connect your camera, including a USB3 port, SD and microSD slots. You can also connect your portable hard drives and thumb drives to the device to add additional space.
IN THE FIELD
I brought the device with me for several assignments, and was surprised at how easy it was to operate. Connecting is relatively simple, and if you've ever used your phone to connect to another WiFi enabled device you can manage this. Because there's only a single physical button on the GNARBOX, everything is controlled by the mobile app, which is available for both iOS and Android. During my discussions with Kat and Will, I learned that they've been working with Adobe in order to make it easier to import your images into Lightroom Mobile.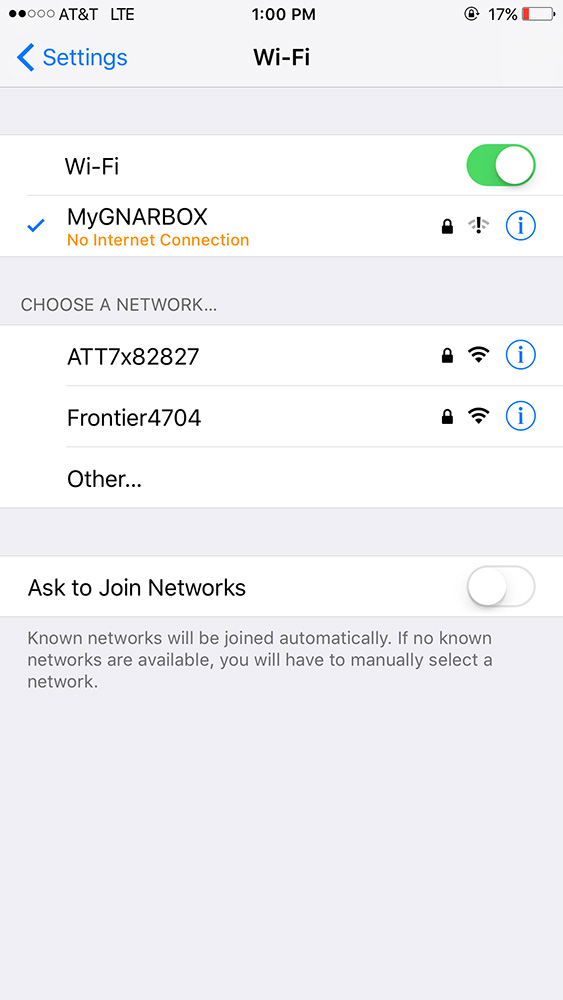 The app was easy to use and relatively intuitive. Once you plug in your memory card, the app opens up to allow you to view and select your images. This doesn't work with the same speed as say, PhotoMechanic, but it's not unreasonably slow either. I shot RAW from my D4, D800 and D750, and it only took a moment for my shots to load up.
Editing is very easy as well — for spot news you're not going to be making massive changes to your image, and the ability to make quick changes to your contrast, exposure, highlights and shadows, as well as color balance and crop can save your butt when you don't have time or space to throw open a laptop and work on them in PS.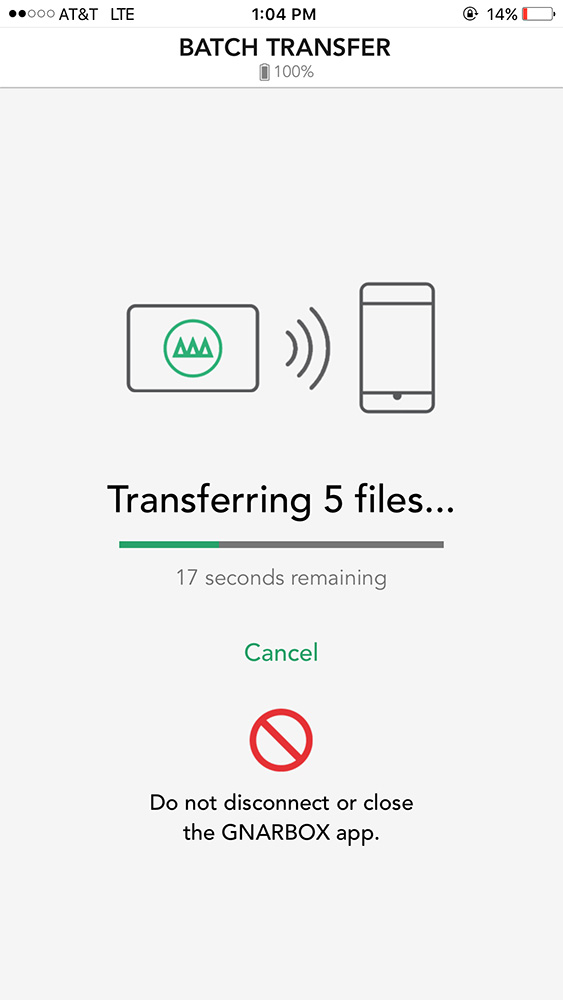 During my time I was able to transfer a large number of images without any issues or disconnects. I was warned that there might be some issues with the firmware that came with my device if I'm trying to transfer more than 32GB at a time, but that was not a problem I encountered. The newest firmware has corrected this.
TESTING
In the past I've shot at lens cases with grenade launchers, boiled thumb drives, taken rugged drives into burn houses and frozen items overnight. Sadly I don't have access to a grenade launcher or burn house at the moment, and boiling the device would probably not provide any meaningful information beyond "well, that's neat."
However, I did attempt to test it under realistic conditions. When I was caught in the rain, I left the device out to see if the "weatherproof" claim held up — which it did. I also did submerge it briefly underwater, and found no issues. I conducted a number of drop tests, starting at three feet before moving up to seven against hard surfaces, and the device held up.

Will also sent me some images of the GNARBOX being used in extreme conditions, such as Antarctica. I don't have access to an Arctic tundra, but I was able to place it in my freezer overnight. Again, I found no issues after thawing the device.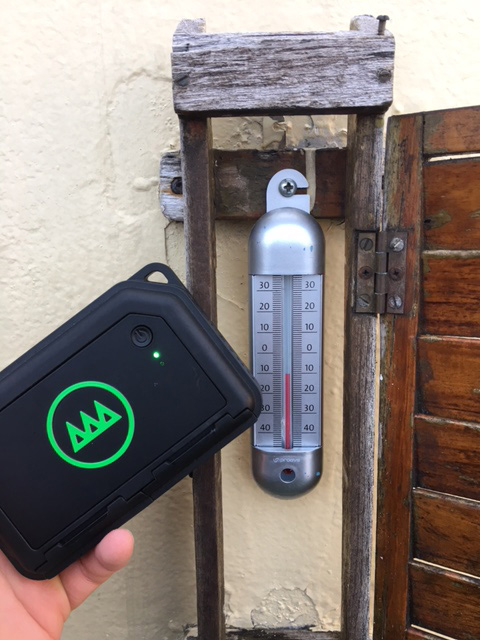 If the device had used a HDD rather than an SSD, I doubt the GNARBOX would have survived. HDD's are just too delicate, ruggedized or not. The downside is SSD's tend to be more expensive, so for the moment you're stuck with the 128GB or 256GB models.
CONCERNS
Though I found the GNARBOX deeply impressive, I did have a few concerns — or at the very least areas that could be improved.
First, the Gnarbox tends to get noticeably warm during extended use. I imagine there are solutions ot this, but that they would compromise the weather-proof nature of the device.
Second, there are built in options for a microSD and SD slot, but a lot of professional photographers still use CF cards. It's not particularly difficult to plug in a portable card reader, but that's just one more thing to carry. a CF slot would be very handy.
Third, battery life. The 4000mAh battery is supposed to last up to six hours, but there are a number of conditions that can change that, including usage and temperature. I'd love to see one with a larger battery life.
And lastly, it would be nice to have a softer rubber bumper to protect the device. The exterior is certainly rugged, but a softer rubber casing could only help. Most shooters aren't going to be dropping their device from the top of buildings, but it'd be nice to know that they could.
CONCLUSION
All said, my concerns don't really detract from the sheer usefulness of the drive. Ten years ago you would have needed ten pounds of equipment to accomplish what you're doing with this. I found the GNARBOX to be a simple, easy to use and relatively rugged device capable of quickly and easily editing photos from the field and backing them up to your phone. In an environment where seasoned news shooters are losing work to anyone with a camera phone, this is just one more tool in the toolbox that can give you a competitive edge.