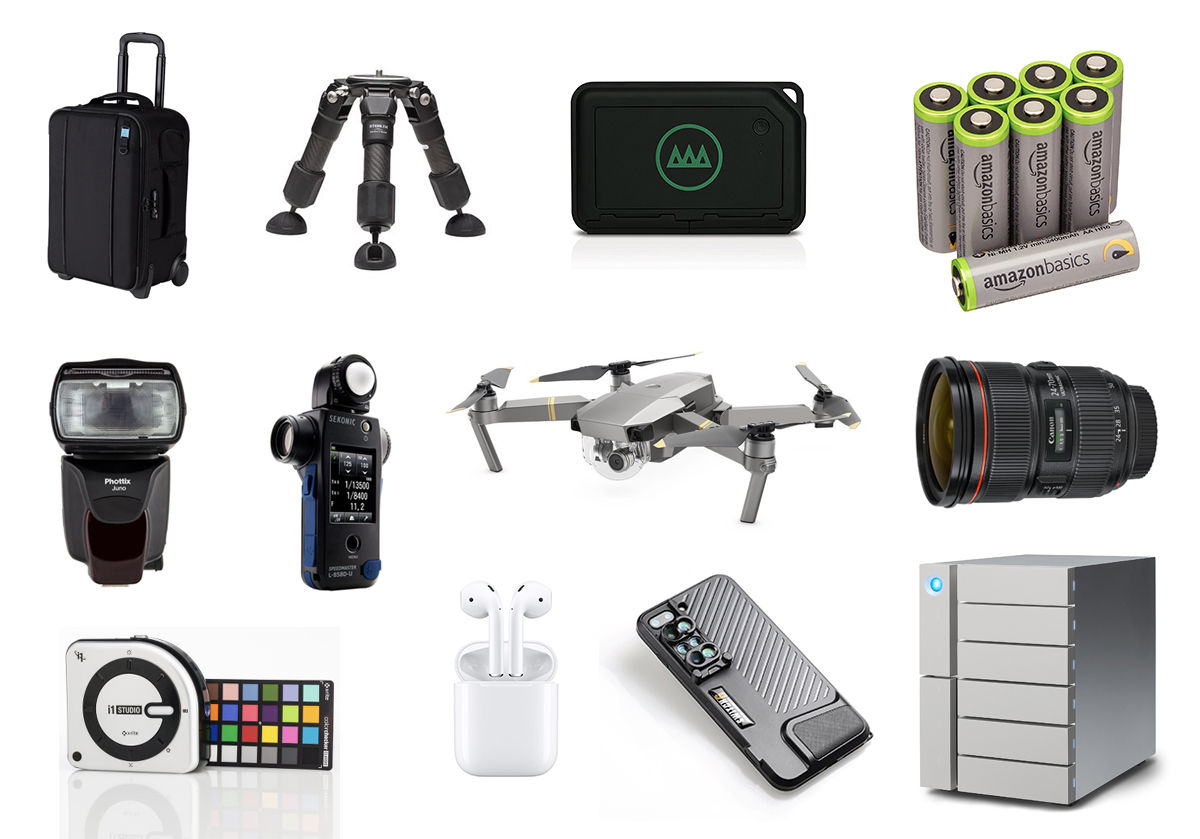 Every year we ask many of our colleagues in the photo and film industry to take a moment and share with us some of their favorite pieces of gear, gadgets, and toys to help you spend their hard-earned money this holiday season…just in time for Black Friday! If you're looking for the perfect gift for the photographer or filmmaker in your family, or heck, just looking for that perfect something to spend that gift card Aunt Doris hooked you up with this year, this is the list for you!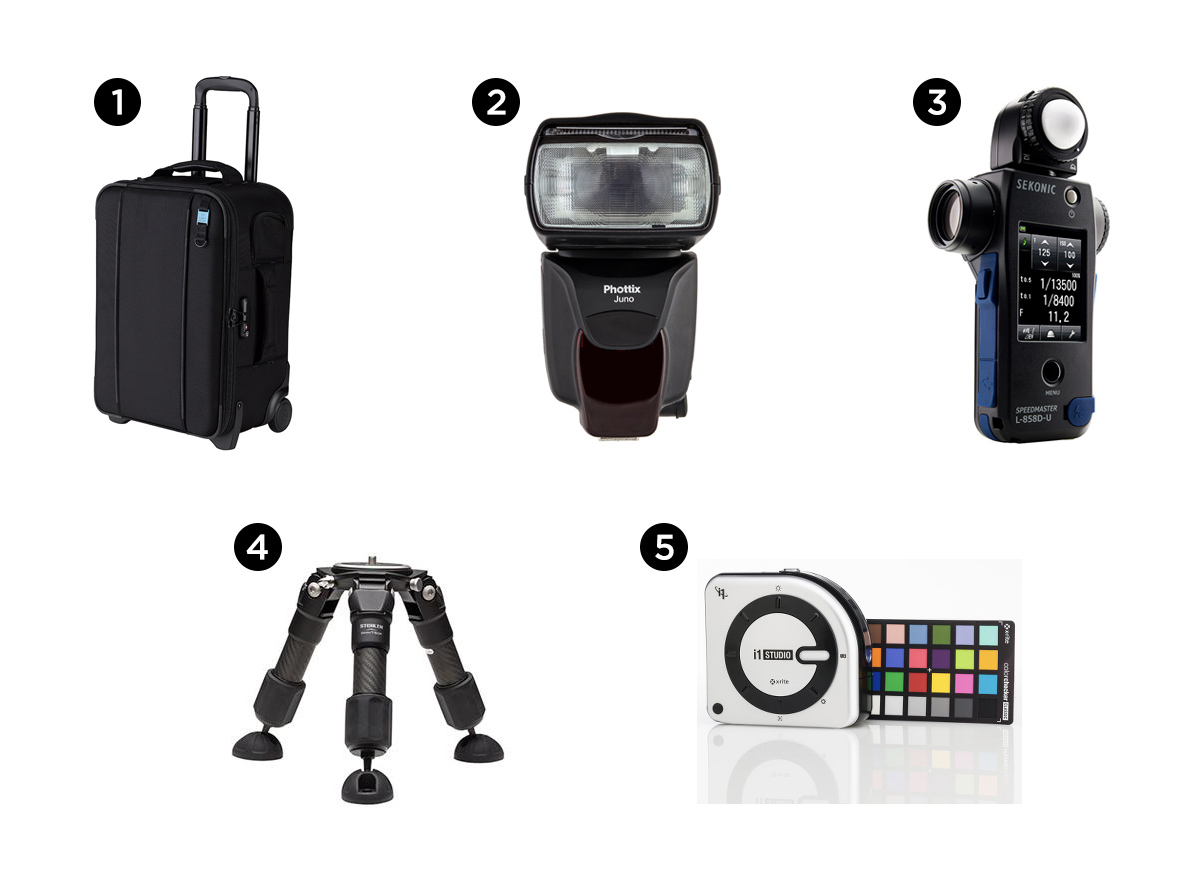 1. Tenba – Roadie Air Case (Cat. #638-715)
The new Tenba Roadie Air Case is a total upgrade from the conventional plastic hard cases that photographers are known to carry around from job to job. Not only is this case lighter, more fashionable, and easier to lug around, it can also withstand the pressure of over 400lbs of weight stacked on top of it. Basically, if you're traveling with your equipment, this case is perfect for you and the airport baggage handlers that hate you.
2. Phottix Juno
The Phottix Juno is an elegant and simple solution for photographers looking to add manual controlled speedlites to their photography kits. Use multiple Juno Speedlites together or pair speedlites from other brands with a Phottix Strato II or Ares II receiver to integrate an existing system. These things are perfect for location portrait photography and easy to set-up and use.
3. Sekonic L-858D-U Speedmaster Light Meter
The new Sekonic L-858 Speedmaster is a fully featured light meter that works for both filmmakers and photographers. It's super easy to navigate and is packed with a ton of features like Expanded ISO ranges, Flash Duration/ HSS Measurement, and a higher low-light sensitivity. So, basically, if you're struggling to get your exposure right in a room lit by candle light, this light meter will solve that problem and a host of other ones you come across.
4. Induro GIHH75CP Baby Grand Carbon Fiber Tripod
The Baby Grand Induro with the 75mm platform is a perfect tripod when you need to get low to the ground for a low-angle shot. It's wide base makes using it with long lenses a natural fit. Even better, the center platform can be switched out for an optional 75mm Bowl Accessory (MVB23S) for video shooters in a breeze, which basically makes it two tripods for the cost of a small accessory.
5. X-Rite – i1Studio
The new X-Rite i1Studio is a complete end-to-end color management solution for photographers that want complete control of their color workflow from capture to print. With new profiling features, an included ColorChecker target, and a new i1Studio Software, this is a great tool for both beginners and advanced professionals who want consistent and predictable results.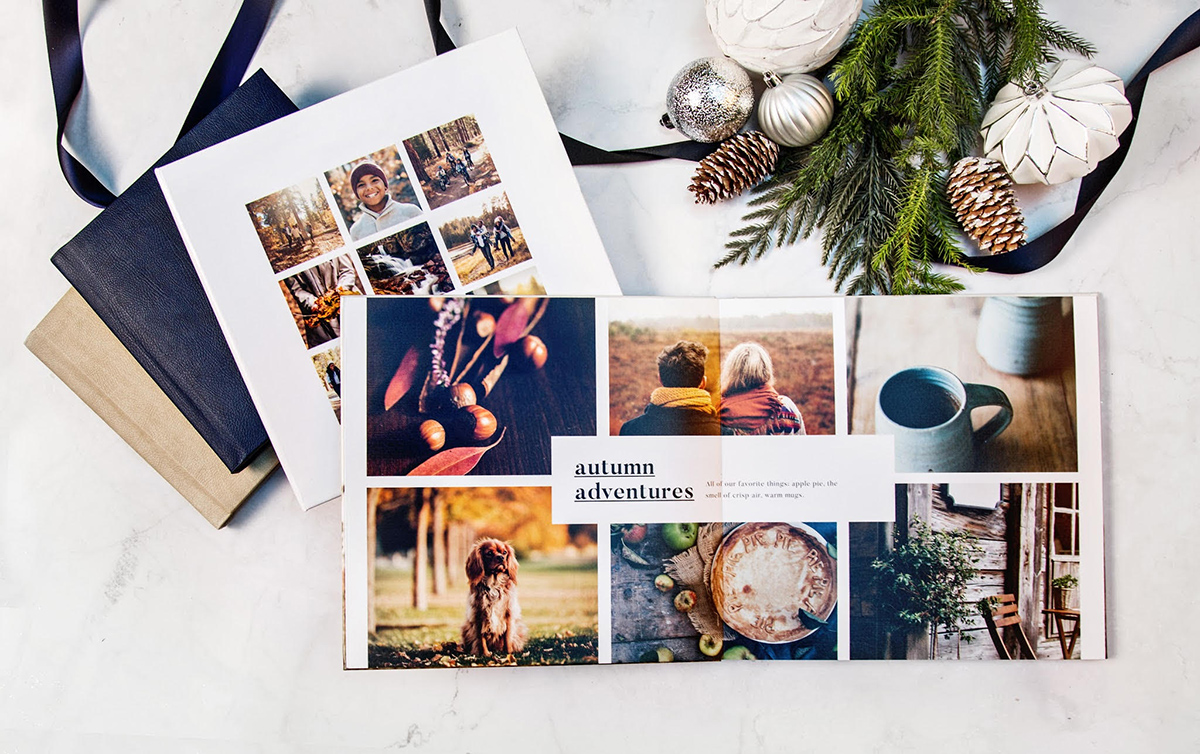 AdoramaPix Photo Books
'Tis the season to start planning for the holidays and nothing's more special than a gift from the heart. AdoramaPix's uses traditional silver halide printing on photographic paper for their lay flat photo books. They are handcrafted with quality and designed to keep details sharp and colors bright for generations. #QualityMatters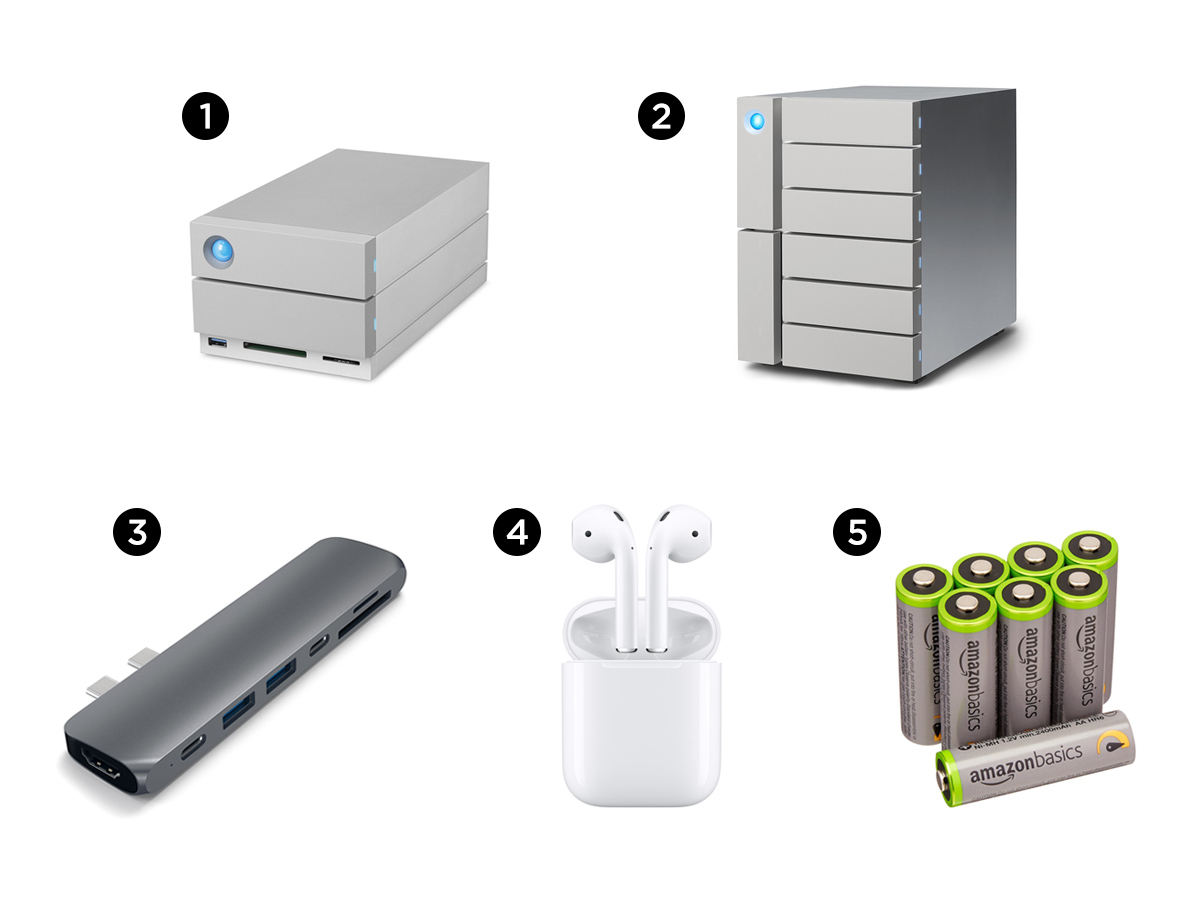 1. LaCie 2Big Dock
Working photographers and filmmakers are always churning through tons of data from various shoots. Though our internal working drives on our computers have far more space available these days than years past,  is it's easy to max out even on a single project on your internal drive. That's where LaCie's new 2Big Dock comes into play. This is a blazing-fast Thunderbolt 3 RIAD system is perfect to keep on your desk and will have no problem churning through data as a working drive! Not only is it a super fast, it also comes in large capacities (8-20TB), and has built-in ports in the front of the unit including CF, SD, and USB3 so you can save your computer's ports that might normally be utilized for transferring your files from your cameras! This is a great addition to a working pro's desk whether it's used as a working drive or an archive!
2. LaCie 6Big Dock
If you liked the specs of the 2Big Dock mentioned above, but are ready to make the leap into true mass storage, look no further than the 2Big's big brother, the 6Big Dock. This drive is significantly larger as it has an additional four drives built into the unit, but now the storage ranges from 12TB-60TB, that's a lot of room for your archives! If you're like me and have a large archive, it's important to have them properly stored and available when you need to dig into them. You can also format the drives into various RAID configurations, RAID 0, RAID 5, and RAID 6. The latter two formats will lessen the storage capacity, but add a layer or two of redundancy in the rare instance that you have one of the 6 hard drives fail, providing an option to hot swap a new drive with no data loss. There're an additional two Thunderbolt 3 ports and one USBC port on the back of the unit, powerful enough to daisy chain two 4K monitors alone. The 6Big Dock is a perfect option for your archives with the speed of Thunderbolt 3. If this unit still isn't enough storage for you archives, check out the 12Big Dock with storage from 48-120TB with all the same specs above!
3. Satechi Type-C Pro Hub
If you're like me and recently upgraded your laptop to the 2016 MacBook Pro, you've found yourself struggling with only USBC ports on your new computer, making it difficult to connect older hard drives and devices. There are a number of options, you can just get a new cord, converters, dongles, or docks, like this slick dock by Satechi. What I like about this dock is that it has no cords and feels like a piece of my computer, even comes in two color options to match your MBP. It plugs into the two Thunderbolt 3 ports on the right or left side of your l laptop and expands your ports to include two additional USB3 ports, an HDMI port, an SD/MicroSD reader as well as the two USBC/Thunderbolt 3 ports replacing the ports that the unit is plugged into. It's sleek and easy to toss into your computer bag or pocket and you don't have to worry about bulky cords. I've used the dock to connect nearly all the ports at once and it works flawlessly.
4. Apple AirPods
I wouldn't call myself an audiophile, but I certainly might consider myself a headphoneaholic. Over the years I've treated myself to some stellar headphones, mostly from Bose, for various purposes and had my perfect lineup. When the iPhone 7 came out Apple removed the standard audio jack and now required either lightening or bluetooth, which began my search for the perfect kit of bluetooth headphones. I've tried many and returned many. The last pair I though I would've liked were the Apple AirPods as I've never been a fan of the wired EarBuds, but I can say they're now my favorite headphones for daily use around home and NYC. They sound surprisingly great with solid bass and volume and there's been no problem with them staying in my ears. I've truly never had issues with them falling out or getting lost. Even if you loose them, you can track them using the Find My iPhone app, which is a solid feature. Another thing that sets them apart is the connectivity to the iPhone using the new A10 chip making the connection instant once you pop them in your ears, unlike most other bluetooth headphones are sometimes slow with bluetooth connection. This is also evident with the use of Siri, which you can summon with a double tap on either ear. The tiny floss-looking case is easy to pop into your pocket and gives them a couple extra charges when you're out for a spell. For those that think they'll have issues with them staying in your oddly-shaped ears, there are a number of cheap accessories you can find on Amazon, including skins to change the color or design if you're not a fan of the Apple White. I went with solid black skins and have been quite pleased!
5. Rechargeable Batteries
This is a pretty basic item, but truly comes in handy. With the many tools of the trade, like speedlights, Pocket Wizards, or audio recorders, there's always a need for batteries and nothing is worse than when they run out and you find yourself out of juice. These days rechargeable batteries are practically as cheap as non-recharcables so there's really no excuse to be polluting the Earth anymore than you have to. Best yet, you'll be saving money over time. There are numerous brands and sizes, but I've found the cheapest are Amazon Basics or EBL, both work flawlessly. You'll need to pick up a charger or two, depending on the the size of your batteries. I have a charging station in my office, so I have this larger, bulkier unit that charges AAA-D Size batteries including 9V. You can also pick up a more compact charger for your AA/AAA size that are easy to pop into your camera bag. Do the earth and your wallet a favor…if you're not already using rechargeables, make the switch for 2018!

1. Westcott X-Drop Portable Backdrop Kit
I use this thing a ton! It's a 2-minute setup and works brilliantly for quick, one-light portraits on location. Westcott also makes various colors to add into the mix. Black is great for moody portraits.
2. Think Tank Photo Camera Strap V2.0
My new favorite camera straps. As a longtime user of the classic Domke straps, which wear out too fast for daily use, the Think Tank strap is fantastic and slip-free.
3. Yamaha ATS-1070 Sound Bar
This year, I finally upgraded from a box-y, tube television to a flatscreen smart TV and oh man, is it nice! A few folks recommended a soundbar for best audio and this one had the best reviews AND I can play music through it via my iPhone! It's nice and bass-y and has great definition.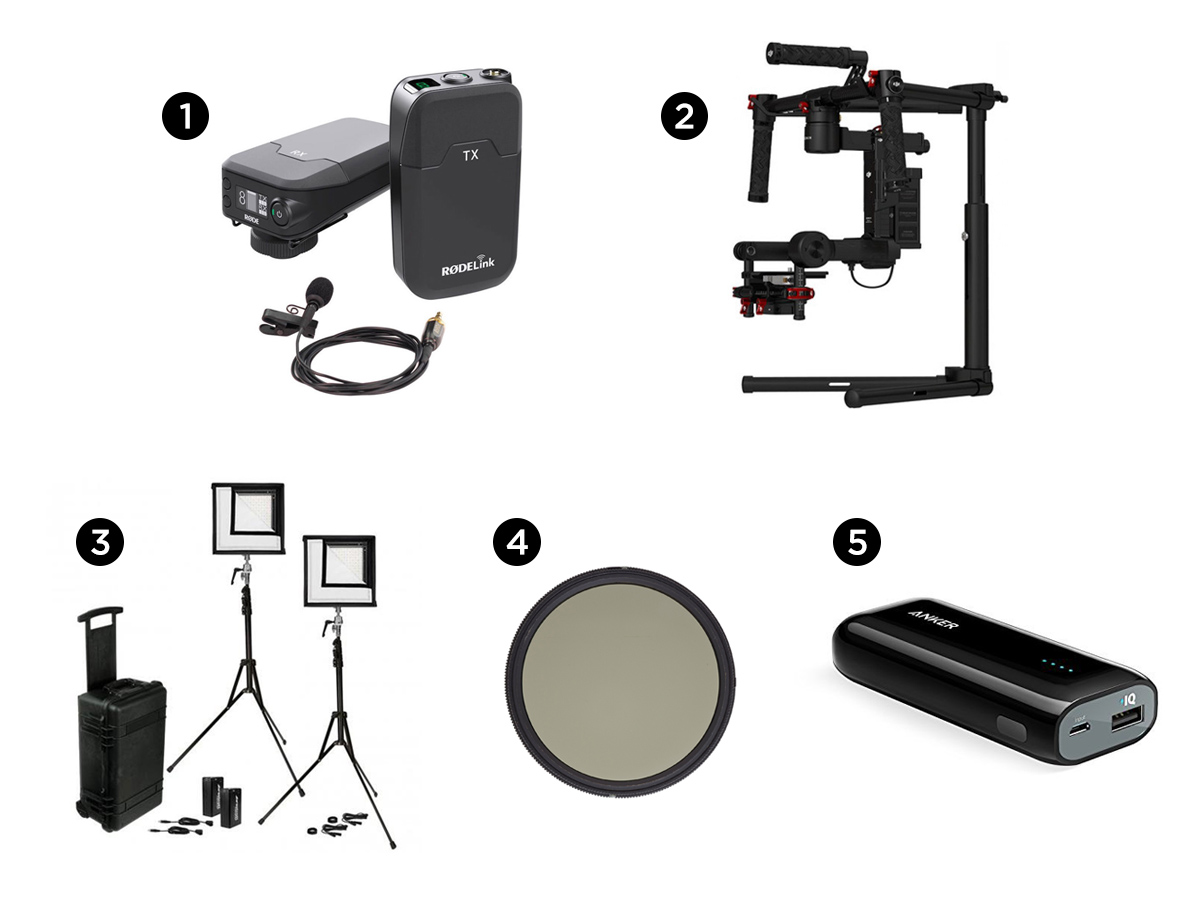 1. RODE RodeLink Wireless Lavalier Filmmaker kit
Without a doubt the most simple, straightforward and best bang for buck lav kit I've used. Been using them almost weekly for 2 years now, just a great and affordable audio option for filmmakers on the go.
2. DJI Ronin M Stabilizer
The single best option for filmmakers looking for an affordable gimbal for small, low-weight camera solutions. I use this as a single operator with a Sony mirrorless system (and on occasion a larger, heavier Canon 1DX II where it can be configured for a little extra payload weight). Having used this, the original full size Ronin and MoVI systems, I can honestly say it's the easiest 3 gimbal stabilizer I've ever used. It often required minimal or no adjustment to settings and can be ready to go in minutes.
3. Westcott Flex Bi-Color LED Mat 2 light cine travel kit
Two 1×1' panels, color temperature variable from 2800 – 6000k, a CRI of 95-98, super portable and travel-friendly, this has been my go to lighting set up for interviews, portraits and even some fashion work for the last year or so. From popping the cast to set up takes about 5-10 minutes and the panels produce a really good amount of output considering their size. Digital dimmer from 0-100% gives exceptional control of output, and they're just a super easy to use and travel with
4. Heliopan 77mm 6-stop Variable ND Filter
A variable ND is a must for anyone doing video work, especially outside when the ambient light can change dramatically through a shoot day and where you need to control the amount of light coming into your lens. I prefer variable NDs for the ability to change the amount of ND quickly on the go, but cheap ones can suffer from vignetting when closed down and others can be pricey. The Heliopan isn't cheap (but watch for deals, I managed to pick mine up on sale at Adorama for $250 which was a steal!) but it offers the best bang for buck – great quality all the way through the ND range, and great build quality. If you don't have a variable ND, my advice is not to skimp and go cheap (been there, don't that) but to save for a really good quality ND that you can rely on. The Heliopan is exactly that.
5. Anker Astro 6700 mAh Ultra Compact USB charger
I've used these mini Anker Astros for a few years to charge my phone and they just keep getting better and better. They have some special PowerIQ magic sauce that determines how much and how quickly to charge your phone and it somehow feeds juice into my phone more quickly than an outlet at times. They are so small and cheap that I literally keep a few of them in different bags/cases so I'm never without power while on the go. They can fully charge an iPhone 7 Plus or Galaxy S8, or hold 2 charges for a smaller standard size iPhone 6 or 7.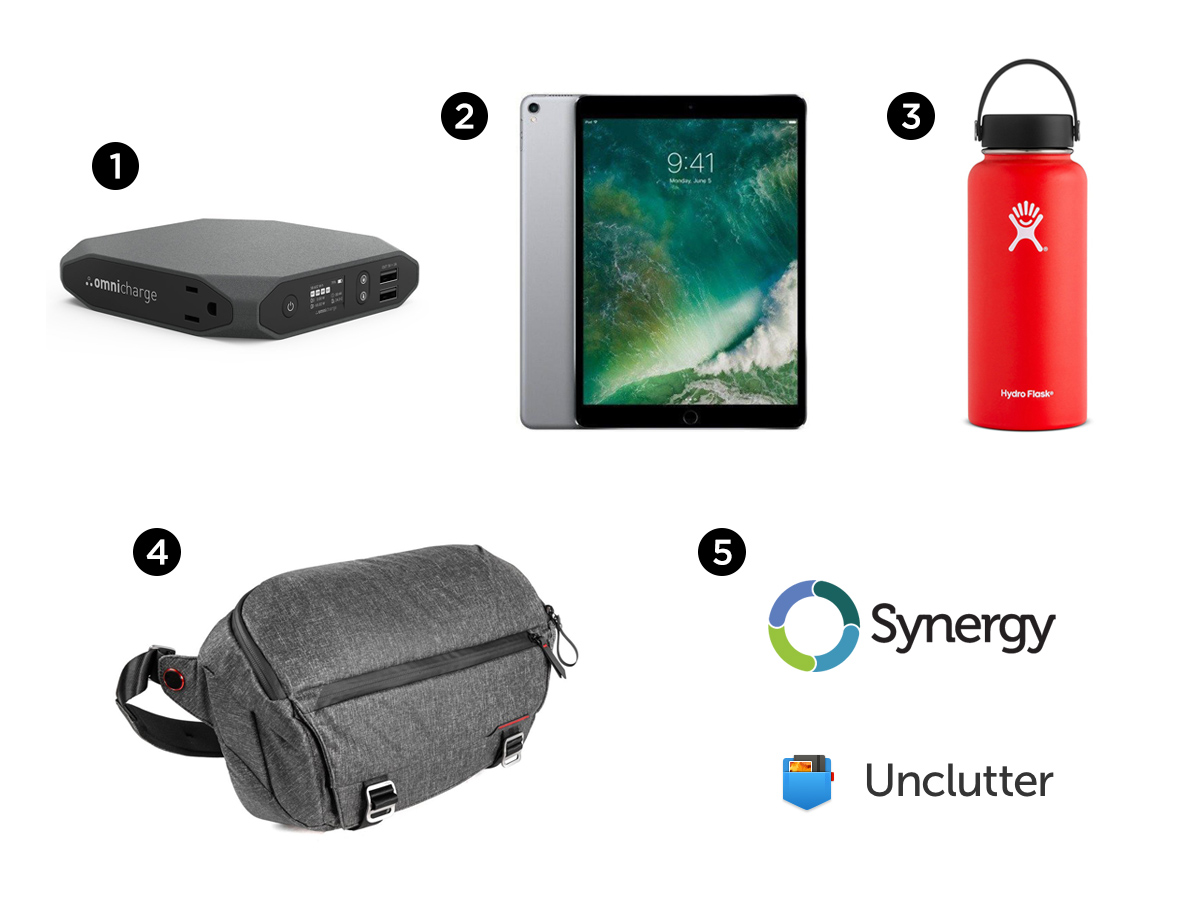 1. OmniCharge Pro 20
Just about everything in my gear bag runs on rechargeable batteries and when I run out of power there isn't always a wall outlet. With AC/DC plugs and a whopping 20,400 mAh battery I can charge my iPhone, iPad, and my batteries as well as your phone, tablet, and batteries! USB ports for your devices, 3 prong outlet for your computers and battery chargers. This guy goes with me everywhere.
2. iPad Pro (10.5 inch, with keyboard, Pen, and iOS 11)
When apple announced iOS 11 for iPad Pro I knew it was finally time to grab myself a pro and I am not disappointed. Thought out multitasking and processing power to easily edit RAW photos from my 1dx-mk2 on the go, this combo really is closing the gap between my MacBook Pro and what the iPad used to be. Even little details such at pressing command tab to change between apps has me geeking out a month after the purchase.
3. Hydro Flask 18oz wide mouth
Doesn't matter if I'm out and about in New York City or working a gig you gotta stay hydrated and why not keep your water ice cold all day! (Or hot if it's cold outside). Fun and in a wide variety of colors and sizes these bottles can take a beating and you can feel a little better about yourself for not creating more waste!
4. Peak Design everyday sling 10L
I've come to the conclusion that I am a little obsessed with gear bags that serve different functions. When I want to travel light this pack is perfect, compact, and looks cool as f**k. Fits a Mirorless cam and some lenses or a med sized DSLR, as well as my Nintendo Switch for when the commute gets a bit boring. Talk about awesomeness.
5. Software Mentions
1) SYNERGY As creatives in a digital world we all tend to end up in front of a computer at some point in the process. Some of us even have multiple comps (i.e desktop and laptop) and some of us have different systems. Wouldn't it be wonderful if one set of keys and one mouse could seamlessly go from screen to screen…YUP thats what Synergy is for and it doesn't care if you have 3 different machines on 3 different operating systems. This guy DGAF! You can even copy past from one system to the next. If you don't get off on productivity then I don't think we can be friends.
2) UNCLUTTER – from the makers of Daisy Disk, aka it'll find all the shit taking up space on your comp, comes this little wonder that'll clean your desktop right up as well as make a log of all your CMD-C presses for later uses and recalls. So get the creative in your life a little more time to create with some productivity software!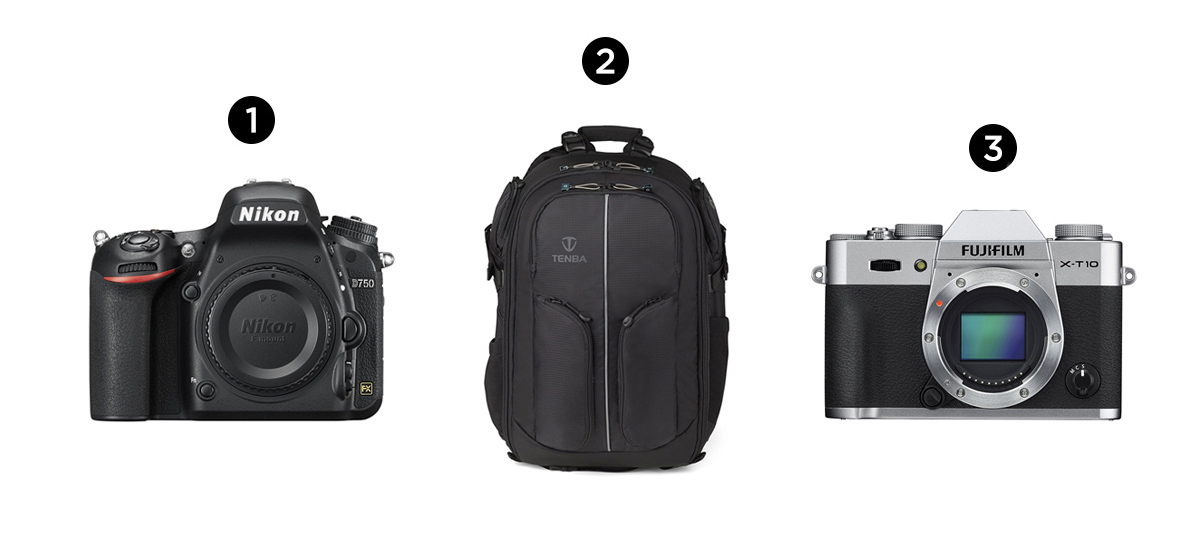 1. Nikon D750
I've been a Nikon shooter for years and typically shoot with two cameras on my shoulder, and for one of them I'm a big fan of this 24.3 megapixel Nikon D750. It's lightweight camera…and weight and size matter to a working photojournalist like myself. Regardless of it's smaller size compared to other Nikon DSLRs, it performs beautifully even in low light. At 6400 ISO there's no difference in digital grain grain than lower ISO, which make it perfect for nearly any situation.
2. Tenba Shootout 24L Bag
An working photojournalist needs a quality bag to carry their gear around and I've found the bag that suits me is a backpack. This particular backpack is large enough to pack all my gear, but flatter than other camera bags making it easier to maneuver in large crowds when you have to squeeze between people. I especially like the quick access side door, which makes swapping cameras or lenses simple having to take the bag off. Highly recommend this tough backpack! http://amzn.to/2jbVBJY
3. Fuji X-T10
Using this lightweight mirrorless feels like having a film camera, like the kind I learned on. It's rugged, small, able to be flung into any bag and survive, except it's digital and does video! It's a perfect camera for street photography and personal projects when you don't want to have a big obvious camera.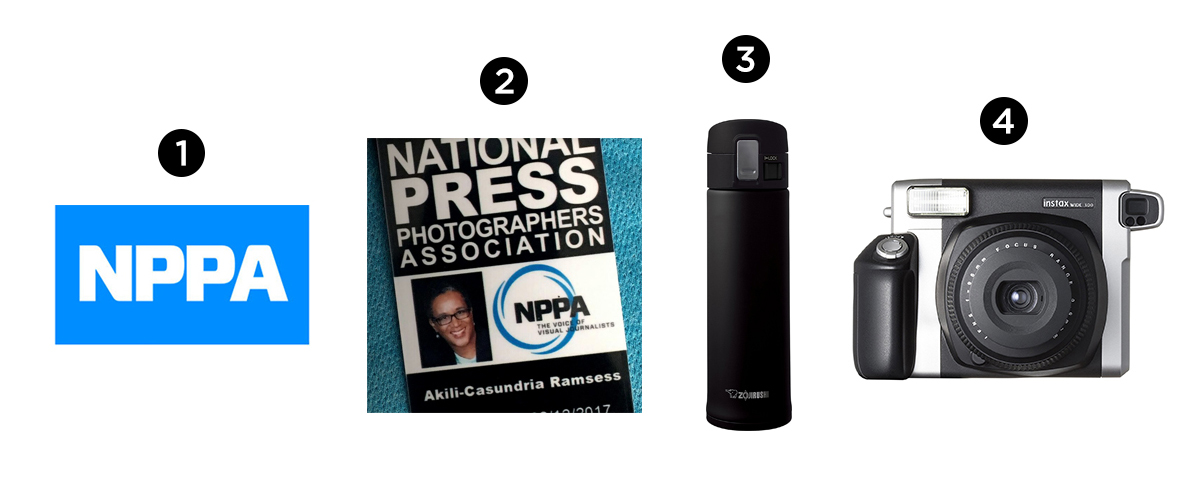 1. NPPA membership
Help support the organization that acts as the Voice of Visual Journalists, and all of the wonderful advocacy work the NPPA is going on behalf of visual journalists everywhere.
2. NPPA Member ID card
As a freelancer, I often don't have credentials, and this ID has gotten me into places and out of binds more often than not, including that time it gave me something official to show the Mexican Federal Police outside of the prison where El Chapo was being held.
3. Zojirushi stainless steel coffee mug
A must for anyone who wants to stay caffeinated throughout the day. I make coffee in a 8-cup French Press in the morning. Pour a cup immediately and the rest into the Zojirushi. It stays piping hot for the next 8-10 hours.
4. Fuji Instax Wide 300
I haven't had this much fun shooting in a long time. Tore through about 50 packs of film recently.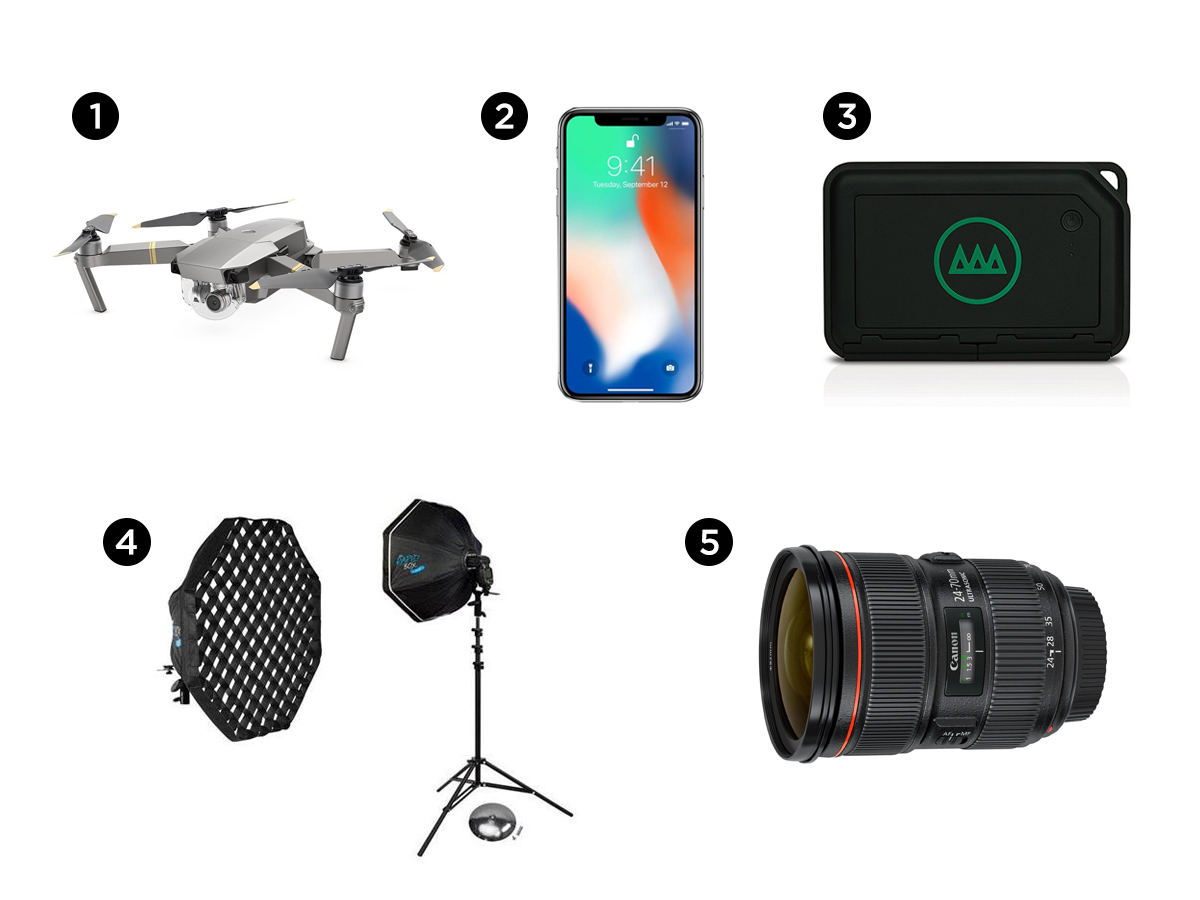 1. DJI Mavic Pro Platinum
I really love seeing the world from unique perspectives and also love flying so it is time to invest in a drone. I like the portability of the Mavic Pro and the Platinum offers a quieter experience.
2. iPhone X
I'm due for an upgrade and along with the great phone features it looks like it would be a worthy pocket camera. The camera shoots at 12-megapixel and has a f/1.8 and f/2.4 apertures. It also has optical image stabilization, resulting in even less motion blur. In Portrait Mode you can even create blur effect that improves self-portraits.
3. Gnarbox
I need a portable hard drive and editing system that can withstand the ups and downs of my adventurous lifestyle and it looks like the Gnarbox is up to the challenge. You can backup, organize, edit and share from the field with this cool new product.
4. Westcott Rapid Box Speedlight series 26″
The Rapid Box creates beautiful light in a portable and easy set up. Looking forward to trying it out on my next on-location portrait session.
5. Canon EF 24-70 f2.8 II
I have put a lot of miles on my Canon 24-70 2.8 and I am ready to see what the upgrade has to offer.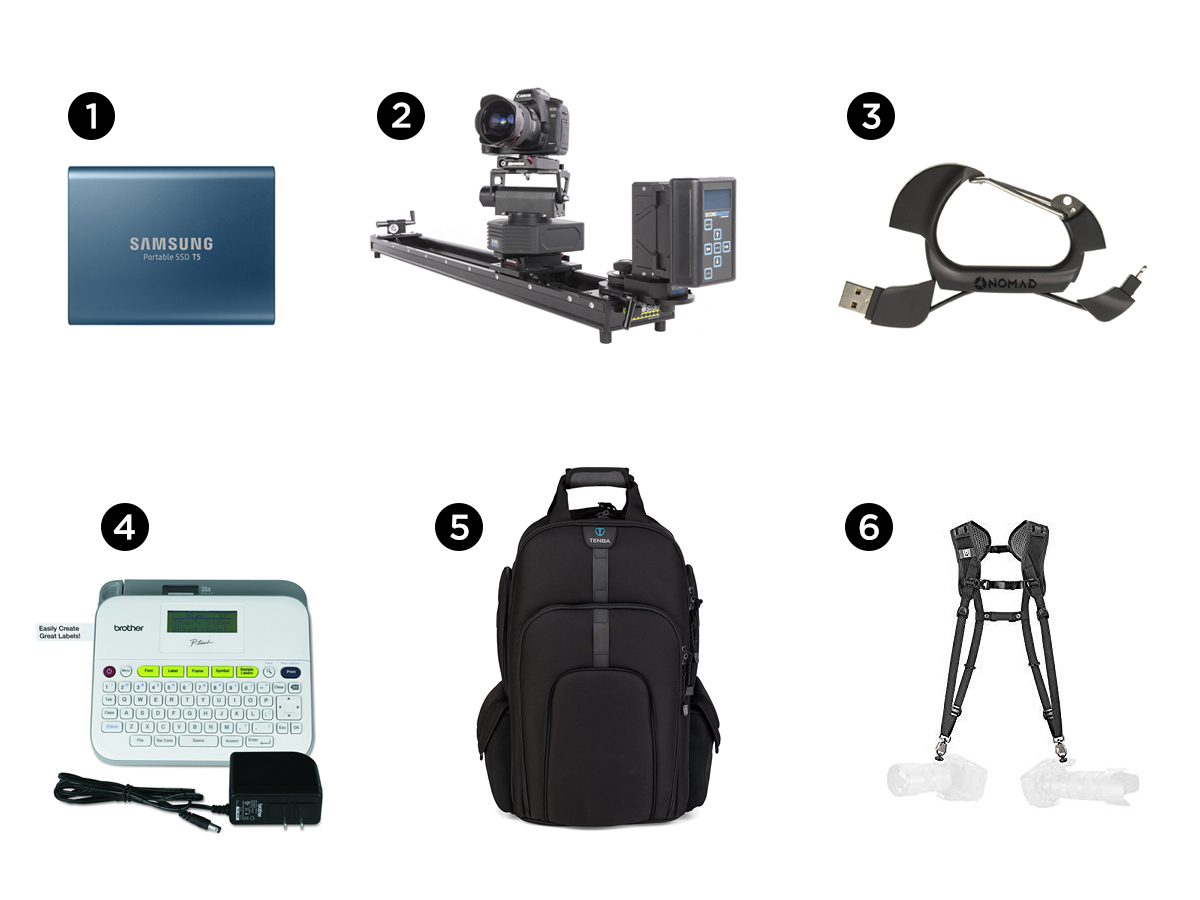 1. Samsung T5 Portable SSD – 500GB
The NANDssd is the fastest and smallest on the market. Weather you do video or photo these guys a gift from the production gods for Mobile back ups.
2. Kessler Second Shooter
For timelapse this is a MUST. Easy to use and durable beyond belief. Not to mention you can use it in composite moves as well as interviews etc. this moco rig is light and priced right.
3. Nomad Carabiner for iPhone
We all use our phones and tablets on shoots nowadays, and we also have plenty of stuff that needs a lightning cable or micro usb. The nomad carabiner has gotten me out of so many "oh crap my cable is lost or not working" moments.
4. Brother P-touch Label Maker
Labelers are underlooked in my mind, a customizable, durable Label will make sure you can differentiate your gear from everyone else, especially on set when everyone may be using identical cases, memory cards, etc.
5. Tenba Roadie HDSLR/Video Backpack
Spacious, durable and versatile design all come together to make this bag last forever. With a built in tripod carrier as well as a waterproof rain cover, I bring this bag everywhere with no worries to the safety of my equipment.
6. BlackRapid Breathe Double Camera Harness
Amazing for so many applications this strap allows two cameras at the same time in easy access. I can't recommend it enough for event or wedding photographers. I personally love it because it allows you to free up both hands if needed without having to set your camera down on some precarious area!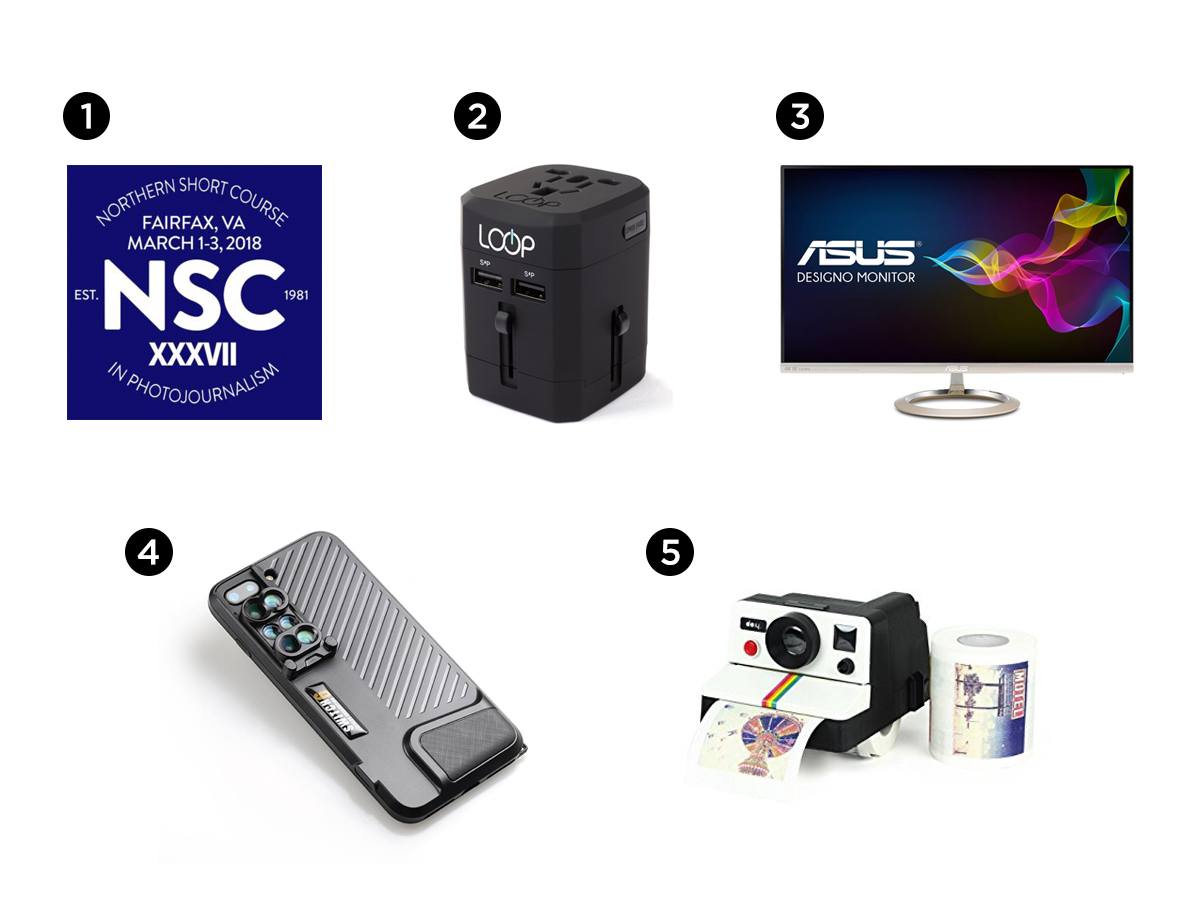 1. The 2017 Northern Short Course In Photojournalism
On my list EVERY year. Not every gift has to be a physical one. I'm a huge believer in continuing education, and what a great gift it can be to a friend or family member that's a photographer (photojournalist or otherwise). Brought to you by the National Press Photographers Association, The Northern Short happens yearly and brings some of the industry's top photographers and editors to its attendees. Where else can you find a legend Michael S. Williamson breaking bread with a "legend in his own mind" like myself? Personal note: as it is with most photo conferences, what you'll learn after hours is just as important as what you'll learn during the day. 2018 dates are March 1st to 3rd in Fairfax, Va. Price for full 3 day seminar: $285.00 for NPPA Members, $345 for non-members, $205 for student/active military and $245.00 for student non-members. Price does not include hotel or travel.
2. LOOP World Adapter Travel Plug
I hear it every year from friends and family about what a pain in the ass it is when you leave the US (and for some, coming back in) and always forget your adapter. Forget just the adapter, this thing comes with all kinds of extras! You can charge 3 devices at once WHILE using the plug itself for other things. Plus with a price tag of $14.99 and free shipping if you're an Amazon Prime Member…you can't go wrong!
3. The ASUS Designo MX27UC 27" 4k Ultra High Def Monitor
I regularly use three monitors in my edit bay. So, while I may not update them EVERY year, I did update them this year and went with this one. Frameless Design, supports 4k video (if you're into that kind of thing) USB 3.1 port, HDMI Port, USB Type-C Port plus comes equipped with Bang & Olufsen speakers which are pretty decent for built-ins. Considering that it's less than $600.00, it's a good deal if you're looking to upgrade a single or multiples!
4. The Switch 6 Camera Lens System (for iPhone 7+ or iPhone 8)
While I'm not ready to give up my Canon set-up for this, I won't lie…it's pretty cool AND inexpensive! Comes with a 180 degree fisheye with 2x telephoto, 10x macro with a 20x super macro, and a 120 degree wide angle with 2x telephoto. The nice thing for this also is it's built-in to its own phone case, so you don't have to worry about losing the lenses. Price at press time was $29.95, but regular retail is $49.95
And as always… my fun gift of the year!
5. The Polaroll Polaroid Camera Toilet Paper Holder
Readers from last year's gift guide may remember my "film cannister toilet paper/tissue holder", well… believe it or not, I found an even crappier gift to give your photography-minded friend or family member. Polaroid just didn't come back to life this year with new cameras and film…they (or someone who may not have a legal battle on their hands) came out with the Polaroll. Yes, it's a Polaroid Camera Shaped TP holder. Plus, if you REALLY like them, you can get them the Polaroll WITH actual pictures on toilet paper. It really is THE must have gift this holiday season. Especially if you tend to eat a lot of fruit cake.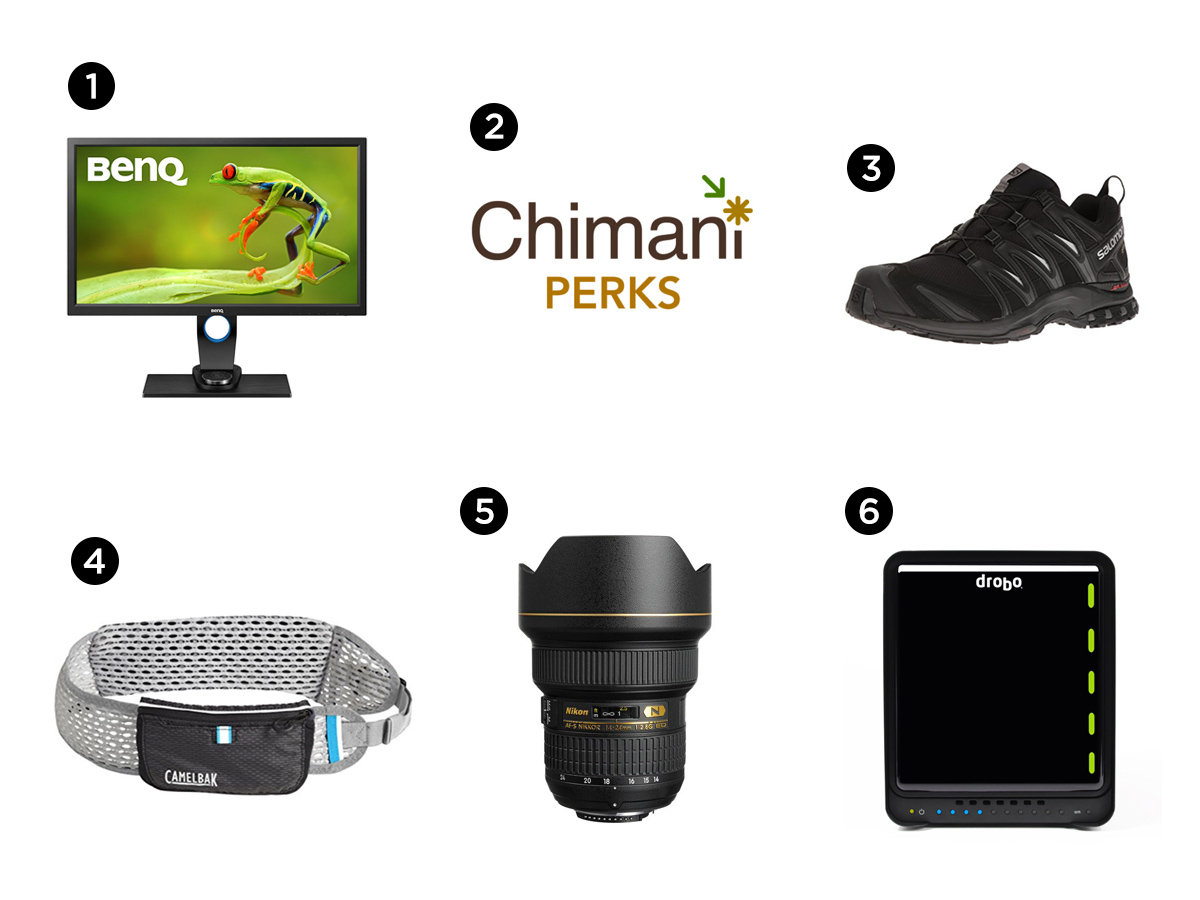 1. BenQ 27″ Photographer Monitor
Until earlier this year, I was still using a 19-inch display I bought a decade ago. It did the job, but I was behind the times. I didn't realize how behind the times I was until last spring, when I upgraded to a BenQ 27-inch LED monitor. Wow! The display is crystal clear, and the 2560×1440 QHD resolution covers 99 percent of the Adobe RGB color space. And all that for a very reasonable price—half as much as I spent on my old monitor, and the BenQ is a hundred times better.
2. Chimani Perks
As you might imagine, I spend a lot of time in national parks. As such, for a long time I've enjoyed using Chimani's free park guide apps as an important source of information. This year Chimani upped their game by offering a Perks program. Membership makes parks travel easier and less costly, with advantages such as savings on hotels, restaurants, activities and retail goods around National Parks.
3. Salomon XA Pro 3D and XA Pro 3D GTX trail runners
The last thing I want to do in the wilderness is slip and/or fall and get me and/or my gear hurt. One of the most important points of safety is the point where my feet touch the ground—stability while trekking nature is key to getting back to civilization in the same number of pieces as when you left. My solution for the longest time has been Salomon XA Pro 3D trail runners. Their wide heel base makes it hard to roll your ankle, even on an awkward step; and their aggressive sole tread grips rock and roots to provide confident footing. The regular model is made with breathable mesh, and the GTX model adds a waterproof Goretex lining. Both are so light you'll barely know you're wearing them. XA pros weren't built for nature photographers, but they may as well have been.
4. Camelbak Ultra Belt
When out for a short hike, we still need water, but who wants to chance a bottle leaking in their camera bag? No one. You can carry a bottle in your hand (but that's pain) or in a case that clips to your bag or belt (but then it bounces around). The better option is the modern canteen: the Camelbak. The water sits in a reservoir, available for you to drive through a bite-value hose. The Ultra Belt straps around your waist, is comfortable to wear for a day hike, and holds 16 ounces of water far away from your cameras.
5. Nikon 14-24mm f/2.8
This is an amazing landscape lens for daytime photography, but shines even brighter at night. The focal-length range is perfect for capturing dramatic night skies, and the optics are some of the cleanest available, showing hardly any coma even when shooting wide open. I can go all night without the 14-24mm ever coming off my camera.
6. Drobo Platinum Edition
I've been using Drobo as a data solution for several years, after a bad hard drive crash killed 9 months of RAW files. I love knowing that my data is protected with multiple, redundant, swappable hard drives, in a relatively small package that I can grab and go with in an emergency. And now, Drobo is 30 percent faster, with a performance boost courtesy of a 128GB mSATA SSD accelerator bay. For even more added security, the Platinum comes with a 5-year drive recovery service plan by DriveSavers.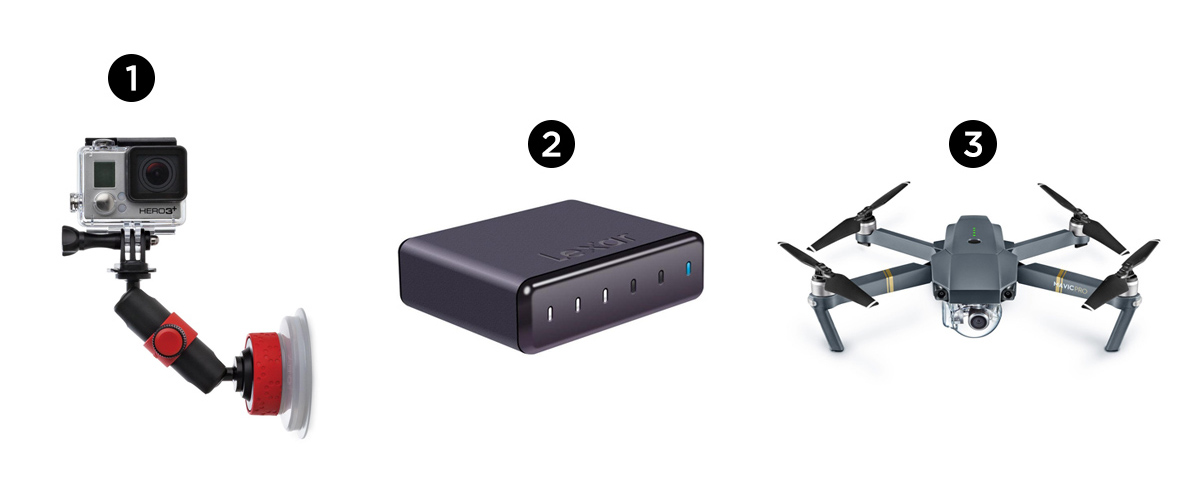 1. Joby Suction Cup and Locking Arm
I've had some issues with the GoPro suction cup in the past. A friend of mine showed me this, and it's been my go to suction cup mount for go pro action cameras ever since.
2. Lexar 512GB USB 3.0 External Portable SSD
When I'm ingesting high volumes of pictures, I need hard drive storage space that can accommodate that and can edit off of it quickly. This portable SSD seems to solve all of my issues for a travel trip where I have lots of images to work on and don't have enough hard drive space on my desktop.
3. DJI Mavic Pro
I'll be honest. I was skeptical of the drone revolution. But now owning one, it is revolutionizing how we work as photographers. What used to take a pilot and a helicopter rigged with a gyro stabilized camera, now only takes my mavic. The mavic would be my choice because it's small, easy to fly, has a decent sensor and has held up to a few run ins with tree limbs. It's an expensive gift, but maybe one you can give to your own business at uncle sam's expense in terms of a tax write-off.