C.S. Muncy
is a New York City-based freelance photojournalist with a client list that includes The New York Times, The Wall Street Journal, Newsday, The New York Daily News and The Village Voice. His work has also appeared in Time Magazine, The Smithsonian Magazine and Wired Japan. In 2012, he was selected for the 25th Eddie Adams Workshop, received the NPPA Short Course Travel Grant and won first prize in the National Geographic/Nikon "Full Story" photo contest. A graduate of the Defense Information School, he enlisted in the United States Air Force in 2002 and is currently a combat correspondent with the 106th Rescue Wing.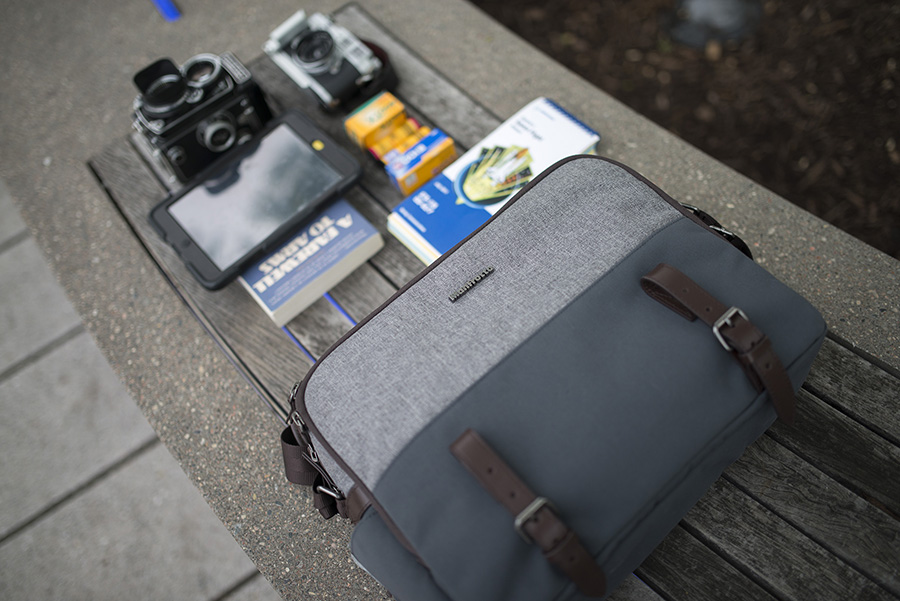 I think it's important to start this review with the confession that there are times I need to feel pretty.
I don't mean that in the rhetorical sense, or as a clever euphemism. There are days when I'm done with a shoot, and I'm covered in powdered paint, or dirt, or pepper spray, and my bags look like they just came back from the lost and found pile at an active rock quarry. With some of my employers I've developed a reputation as a dude who's happy to be playing in the mud, and that's a reputation I'm not unhappy with. But some days….
Well, some days I'm just as happy putting on a well tailored three piece with a natty tie, narrow lapels, a starched shirt and some well polished shoes. Some days a dude needs to look, and feel, pretty.
The Manfrotto Lifestyle Windsor Reporter Camera Bag seems like a tool specifically designed for those moments when you want to look and feel like a human being again. A few weeks ago the company sent me a review sample for testing, and so far I've found it to be a useful bit of kit designed for working shooters who need to maintain a professional appearance. According to the company, the bag is designed with vintage "British" style in mind, with leather trim and a tartan interior. Additionally, it is made to fit a medium DSLR with a pair of professional lenses.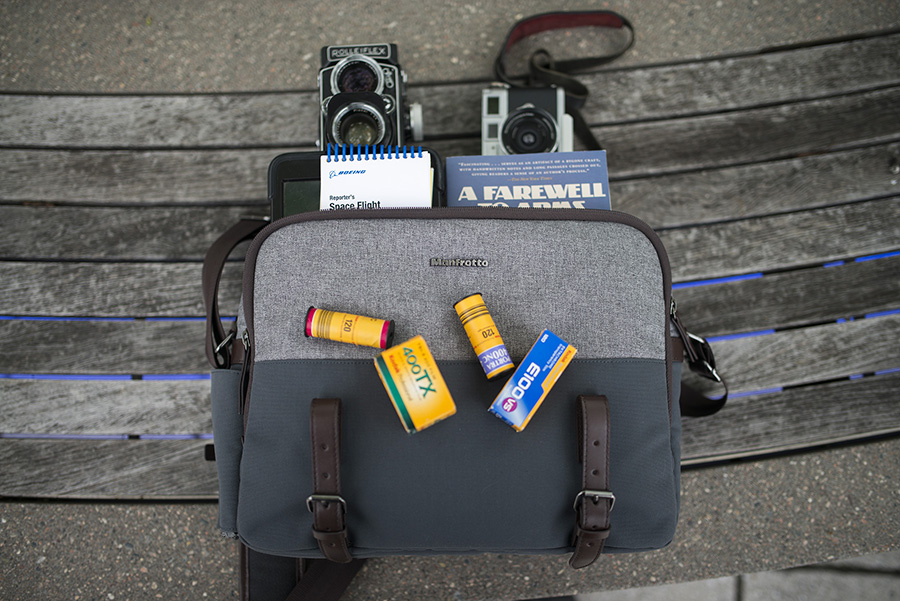 That's not to say the bag is perfect. Sharp appearance aside, it looks a *lot* larger on the screen than in person, and while it can easily fit a DSLR and a couple of lenses, as the company specifies, it's more ideally suited for a rangefinder or mirrorless setup.
On the street, I found the shoulder strap wide enough to be comfortable without twisting or digging into my skin, and the dark gray fabric went well with my work suits. During my testing, I carried a variety of cameras—usually a Nikon D750 with a Sigma 35mm 1.4 and a Nikon 105mm 1.4, or my Leica M3 and Rolleiflex 2.8. Aside from that, I'd also carry a collection of film, my iPad and phone, and a notebook. While there's a pair of straps designed to hold a small tripod or monopod, I didn't end up using them. Everything fit without feeling stuffed into the compartments, and the bag protected my gear well.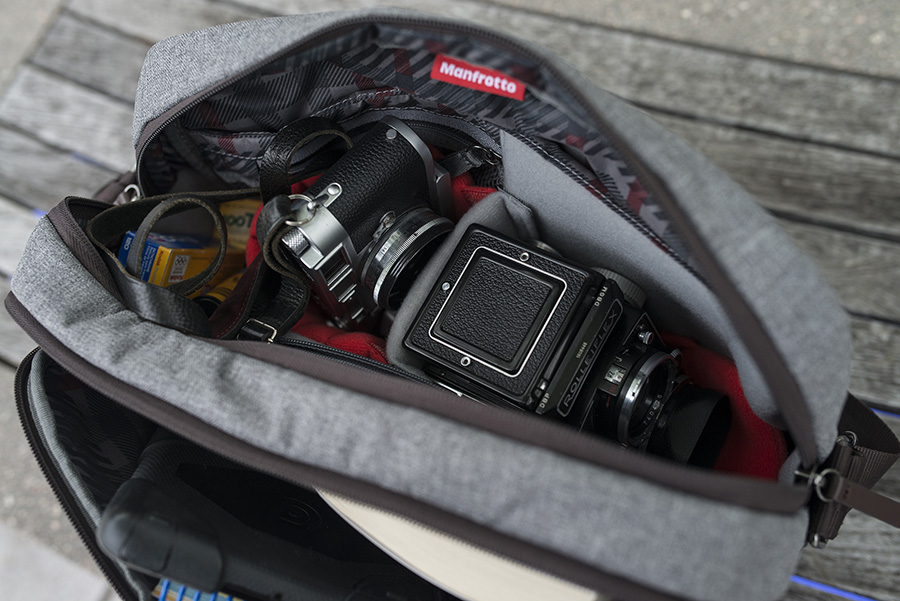 Now, as I mentioned this is not a large bag. You may be able to fit two bodies into it, but they'll be crammed and the bag will look overstuffed. Ideally, this would be a good "off-duty" bag for news shooters who don't want to carry their complete kit, but don't want to leave the house without at least one body. Alternatively, this would be a good bag for shooters who don't want to advertise that they're on the job.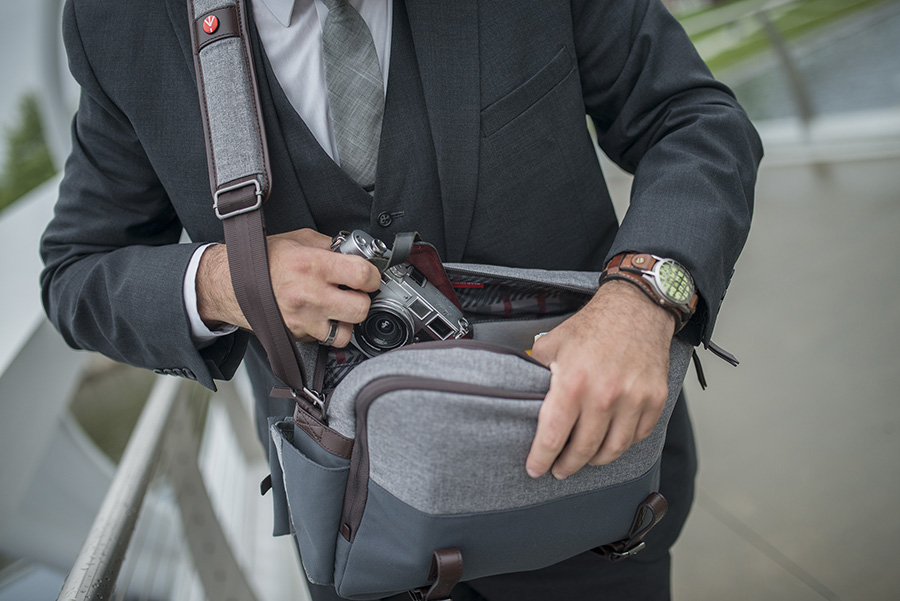 At $129 dollars, it's only slightly more expensive than similar models. However, it really does fit a unique (and often unfilled) niche for shooters who need to maintain a professional appearance while on the job. Is it perfect for every task? I probably wouldn't use it in high impact environments, or places where it's likely to get seriously soiled—but then again, I probably wouldn't wear a suit to those kind of events either.