C.S. Muncy
is a New York City-based freelance photojournalist with a client list that includes The New York Times, The Wall Street Journal, Newsday, The New York Daily News and The Village Voice. His work has also appeared in Time Magazine, The Smithsonian Magazine and Wired Japan. In 2012, he was selected for the 25th Eddie Adams Workshop, received the NPPA Short Course Travel Grant and won first prize in the National Geographic/Nikon "Full Story" photo contest. A graduate of the Defense Information School, he enlisted in the United States Air Force in 2002 and is currently a combat correspondent with the 106th Rescue Wing.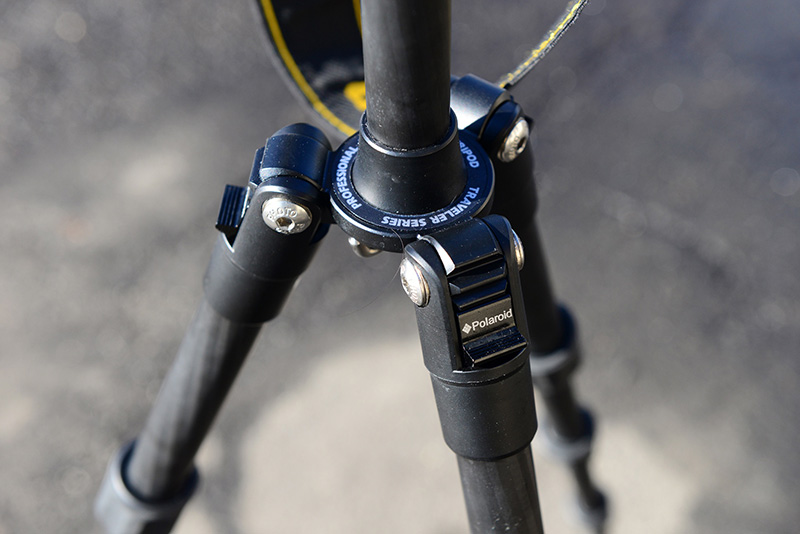 A lot of my work is fairly "run and gun," and it's a rare moment when I get the chance to use a tripod. That's not to say it doesn't happen, but it's still a rare enough occurrence that I rarely carry one on me. The ones I do have are either too bulky, or too fragile.
Polaroid recently sent me their new Carbon Fiber Traveler Tripod for review, and I was more than happy to put it through my tests. While I'm often shooting high-speed situations, having a small, portable tripod allowed me to attempt shots I previously would have ignored.
Build
The build quality is more than serviceable for my needs. The leg segments are kept in place by twist-locks, and while the segments may telescope out into sharpie-thin posts, the carbon fiber material felt sturdy enough to support my Nikon D4 and 70-200 2.8 lens . I would suggest double checking the locks before setting the camera in place — a couple of times I thought I had them tightened down when it wasn't. Once tightened though, I never once felt that the tripod would move or give way.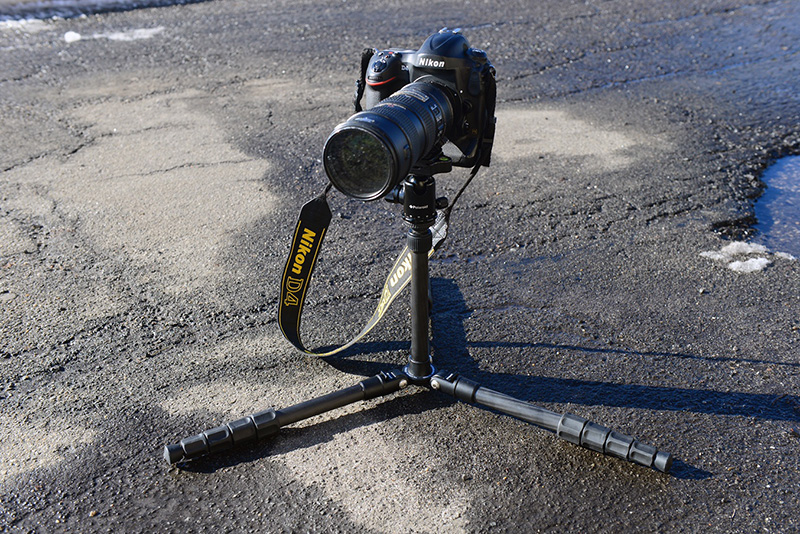 The joints where the legs meet the center post are built from machined aluminum, and lock in place without any effort. The legs can lock at 90 degrees, or they can be positioned like a traditional tripod.
The center post was one element of the tripod I had some issues with. It's non-removable, and cannot be retracted. If you're shooting long exposures out in the field, it may provide some minor movement in heavy winds. It didn't cause me any serious issues, but I would have liked to have seen a movable center post.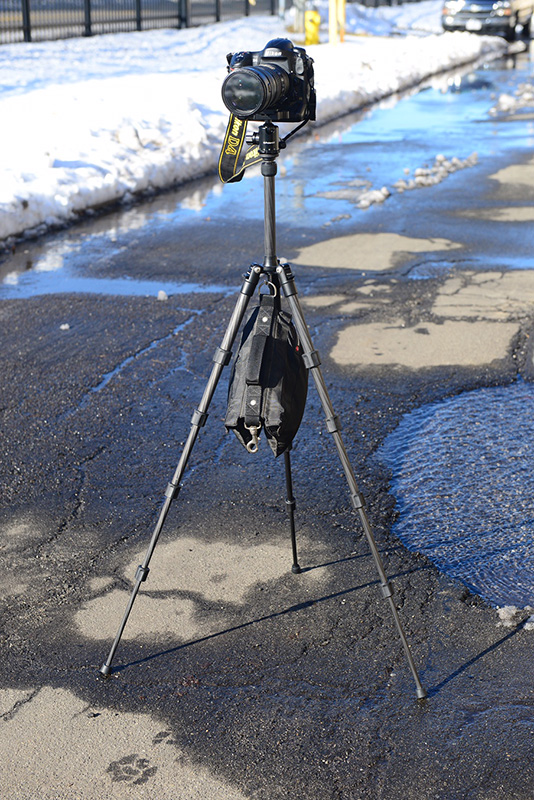 The ballhead is, like other elements of the tripod, also made from machined aluminum. It's solid and locks easily in place, with no noticeable give. Again, it handled my heaviest camera without any problems. The quick release is very similar (and likely can be used with) Arca-style plates, and uses a series of knobs to tighten and loosen as you need.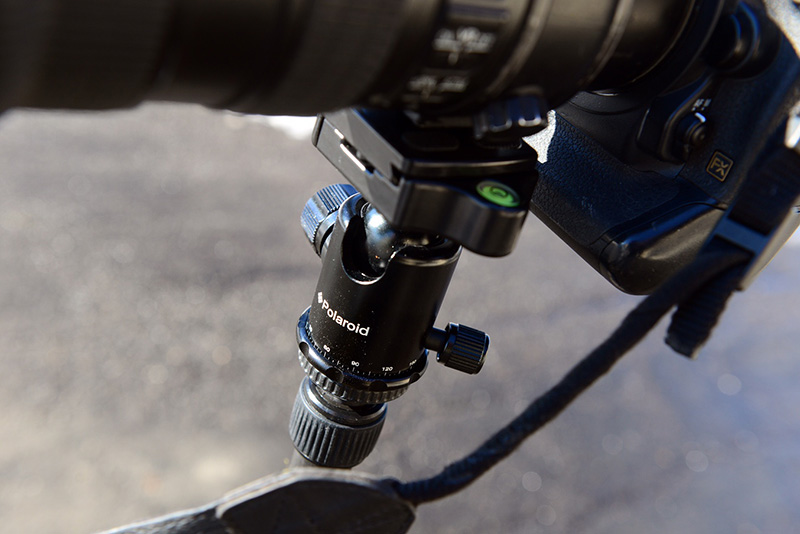 Folded down, the tripod fit easily in my Tenba Messenger bag, along with my laptop and two bodies. The bag it came in was thick nylon, but instead of a zipper Polaroid elected to use draw-strings to open and close it. I didn't care for that system (it takes some time to get it out of the bag, which could cause you to miss your shot) so I left it at home after the first few days.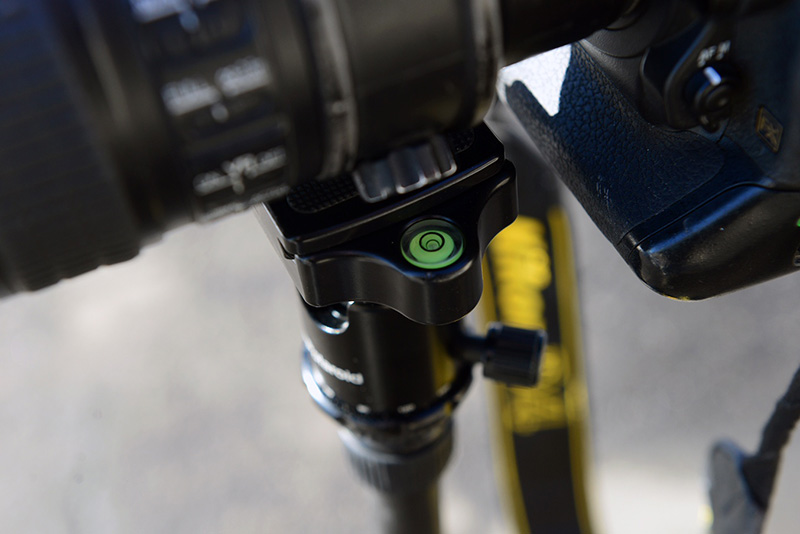 The quick release plate is well-made, but I do think Polaroid should trade out the lug underneath. Many plates these days have a flip and twist-system that allows shooters to quickly attach it to their camera or lenses without the need for any tools. The lug on the Traveler tripod requires a coin or flathead screwdriver to really get it locked down. That can be a pain in the butt if you're working in the field and don't want to carry any more than you need.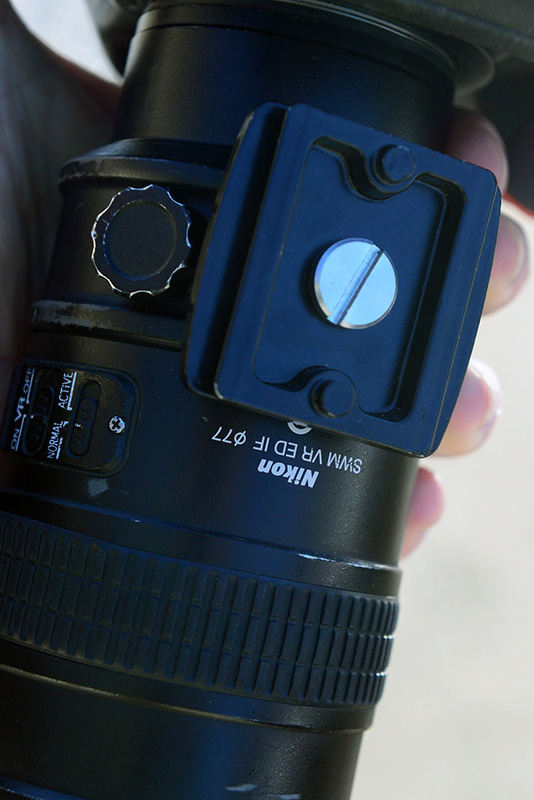 In the Field
I used the Traveler tripod over several weeks, most recently bringing it along with me to the inauguration of Donald Trump in Washington D.C. and the protests that followed. For one shot, I decided to use it to capture a long exposure of the massive anti-Trump crowds moving through lower Manhattan. It took very little time to assemble and get everything in place, and I was able to get the frame I was looking for. You can go into all kinds of nitty-gritty details on a product, but the best review a company can ever hope for is that their product does what it's supposed to do, and does it well.
Conclusion
While there were a few items I would change, I found the Polaroid Traveler Tripod to do exactly what it promised. The carbon fiber posts were sturdy and lightweight, the metal joints and ballhead proved sturdy enough to carry my heaviest gear, and it folded down small enough to fit into my camera bag. While it may not be the best tripod for certain types of scenes (sports, aircraft in flight, etc) it's a great everyday set of legs that will satisfy the needs of most shooters.
PROS:
– lightweight
– affordable
– folds down into a manageable size
CONS:
– quick release plate could use a better lug
– center post should be moveable