John Howe
is a 40 year old photographer in the Kansas City, Missouri area, and is the team photographer for the Missouri Mavericks Hockey Team. John has been a professional photographer for 5 years, and focuses on sports and portraiture. John runs Howe Creative Photography in his off time, and has been a full time police officer for the last 19 years.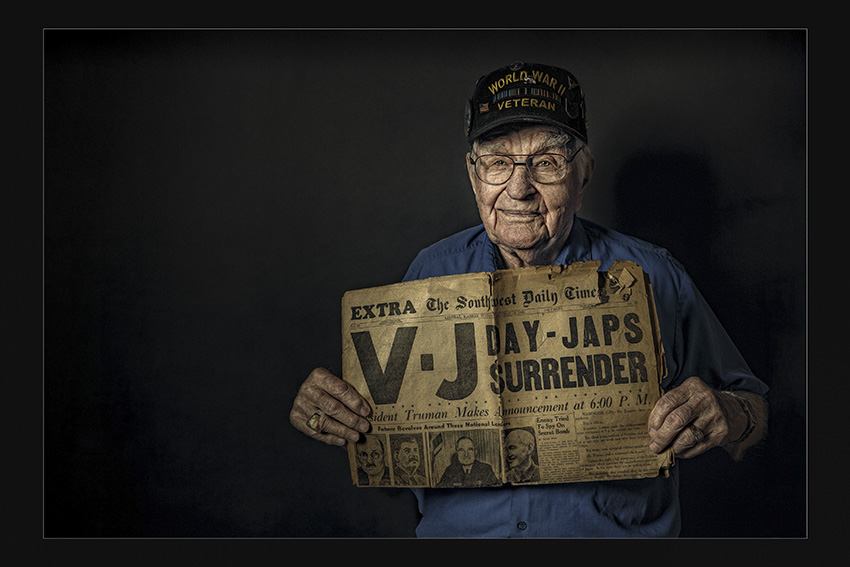 The Kansas City Veteran Portrait Project started almost 3 years ago. The project started because my grandfather was a World War II Veteran, and was actually taken prisoner of war at Battle of the Bulge. My grandfather died when I was 12 years old, so I didn't get to hear very many of his stories, or document the history that was in his head.
A few years ago I decided to start interviewing and photographing veterans, and focused on World War II and Korean War veterans due to their age. Since that time, I have interviewed almost 30 World War II veterans, and photographed over 100 veterans in total. I am still searching for additional veterans to interview and photograph, and eventually plan to create a website where the stories of these heroes can be displayed. Since this is a self funded project, I am only able to interview and photograph 4-6 veterans per month. Within a couple of weeks of the interview and portrait session, I provide the veteran with a free mounted 8×12 print.
In the future I would love to be able to put these stories into print, but am currently searching for a way to do so.