C.S. Muncy
is a New York City-based freelance photojournalist with a client list that includes The New York Times, The Wall Street Journal, Newsday, The New York Daily News and The Village Voice. His work has also appeared in Time Magazine, The Smithsonian Magazine and Wired Japan. In 2012, he was selected for the 25th Eddie Adams Workshop, received the NPPA Short Course Travel Grant and won first prize in the National Geographic/Nikon "Full Story" photo contest. A graduate of the Defense Information School, he enlisted in the United States Air Force in 2002 and is currently a combat correspondent with the 106th Rescue Wing.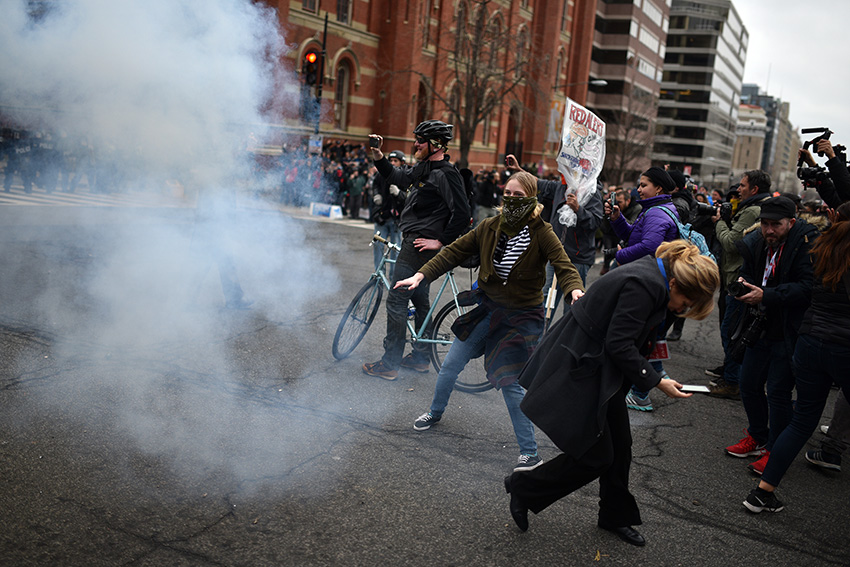 It doesn't take much to get a crowd to panic, and when it hits it sometimes feels like it came out of nowhere.
I was standing on top of an electrical box, a good seven or eight feet off the crowd when the scene started to turn ugly. The anti-Trump march had been hemming and hawing back and forth between calm and restless for the better part of an hour. Shortly before, members of Black Bloc had smashed the windows of several businesses, but now they were mostly caught in a kettle across the street. The rest of the protesters were hanging across from them near 12th and K, or inside Franklin Park. The police were taking their time, arresting those caught in the kettle one by one leading them away. At times the crowd was calm and relaxed, at others boisterous and aggressive. Still, the numbers weren't huge and it felt like the energy had died down.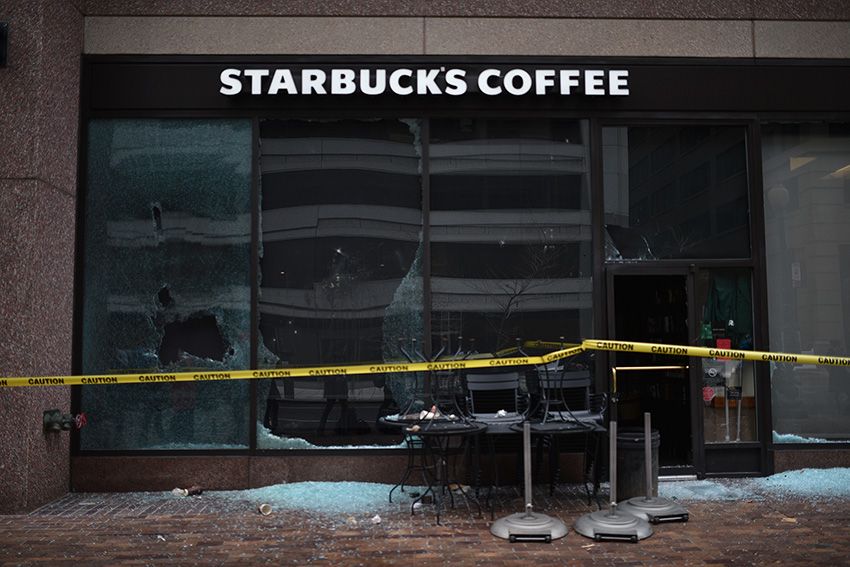 Like I said, it doesn't take much to change things. A larger anti-Trump crowd started making its way towards the park. The numbers doubled — then tripled — and soon the entire park was filled. The crowd was getting angrier and angrier.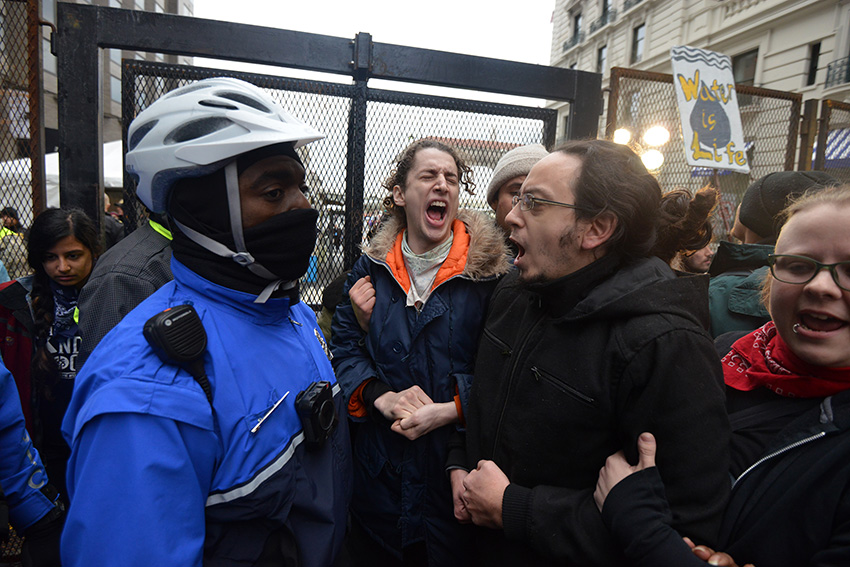 I didn't see what caused everyone to panic. At the front of the crowd, I think somebody threw down with the police but I didn't see it. Suddenly the cops were spraying streams of orange pepper spray into the mass of people, followed by the "poppoppop" of pepper rounds. I was still stuck on the electrical box, looking out over the crowd as they stumbled and fell over each other to get clear. The police fired a few more streams of spray into the crowd and started moving forward. I knew if I let the line of officers get past me there would be a better than even chance I'd end up arrested, so I said screw it and jumped. Thankfully I managed to get to my feet in time to scramble with the rest of the crowd. More spray and pepper rounds followed.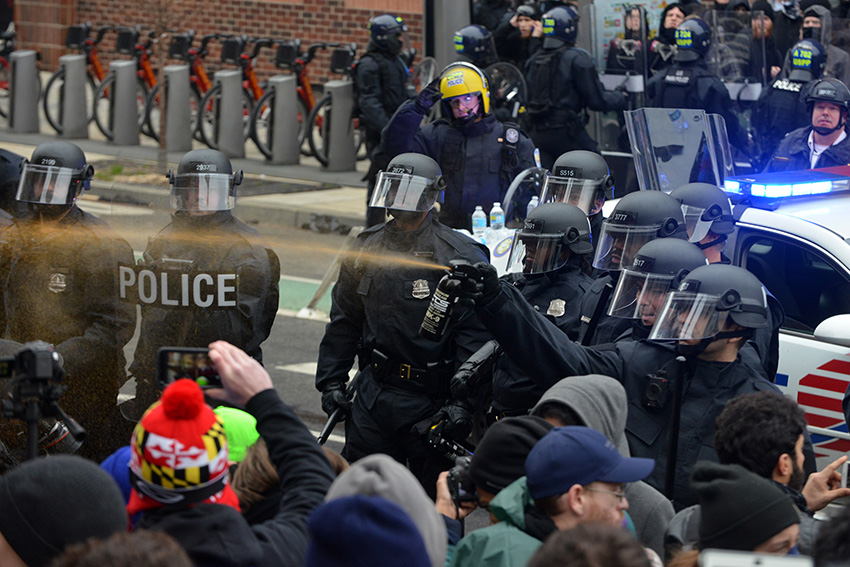 The cops would move forward ten feet at a time, throwing flashbangs and firing as they went. One the other side, the more militant protesters were smashing bricks and hurling them towards the officers. Members of the press, alongside a lot of other photographers and activists with cameras were caught in the middle. I tried to remember some of my MOUT training — which basically boiled down to "move fast, stay low, keep something between you and the shooting." I tried not to think about what would happen if one of those pepper rounds or flashbangs caught me in the eye.
Getting caught between angry, rock-throwing anarchists and riot police isn't a fun experience. It's one of those situations where everyone looks at you like a target. The Black Bloc kids get pissed off because they see you as either a member of the evil "corporate media" or as somebody who's documenting their illegal activity (in fact, I received several vaguely threatening emails a few days later when the images of this event went live, demanding I take them all down.) The police may or may not be targeting you specifically, but when you're just another face in the middle of a rock throwing crowd, they're not going to take time and effort to avoid hitting you. Scenes like this suck.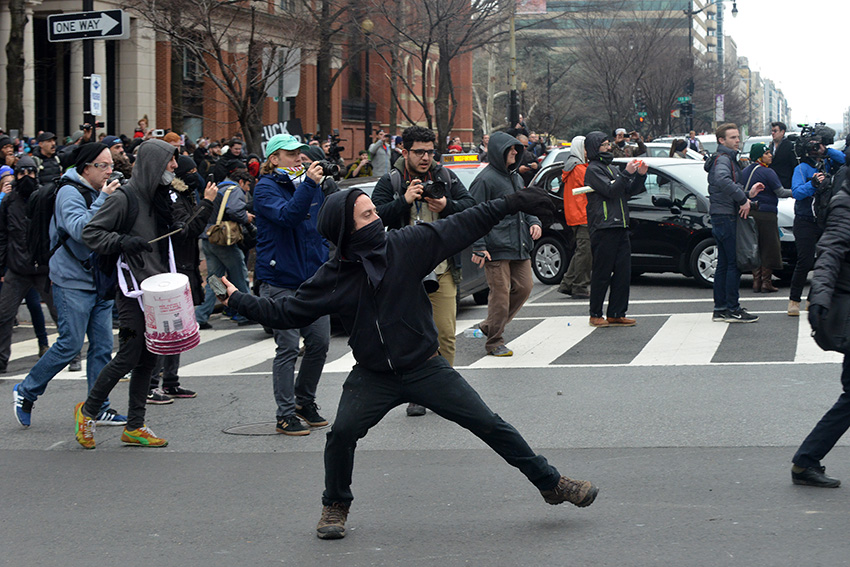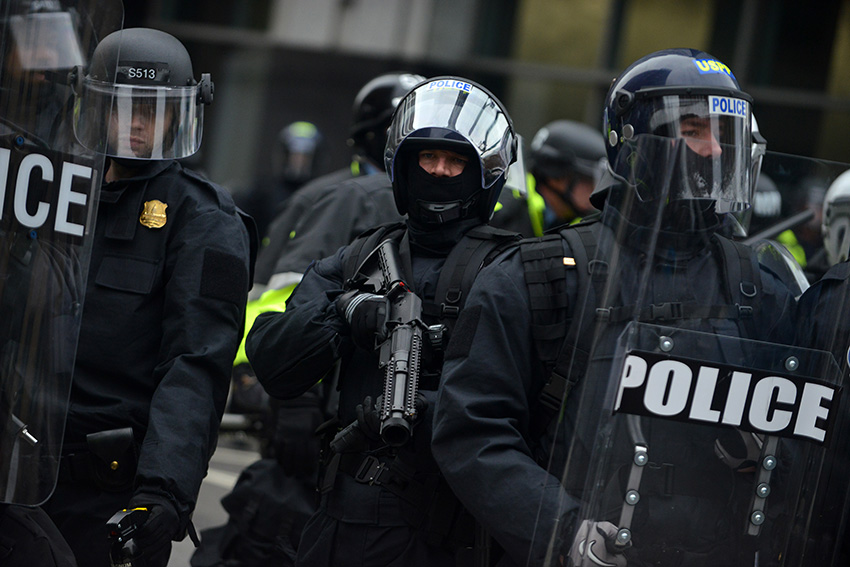 Younger photographers sometimes ask me for advice when shooting these kind of things. The best I can offer is this: your best friend (or worst enemy) can be nothing more than dumb luck. You can keep your head on a swivel, but it's pretty hard to watch your back while trying to make a shot. Dumb luck's going to decide whether you end up taking a chunk of brick to the back of the skull, or a rubber bullet to the face. You can try to gauge the mood of the crowd and figure out where the fire's going to start, but it only takes one angry person to cause the cops to start spraying everyone down.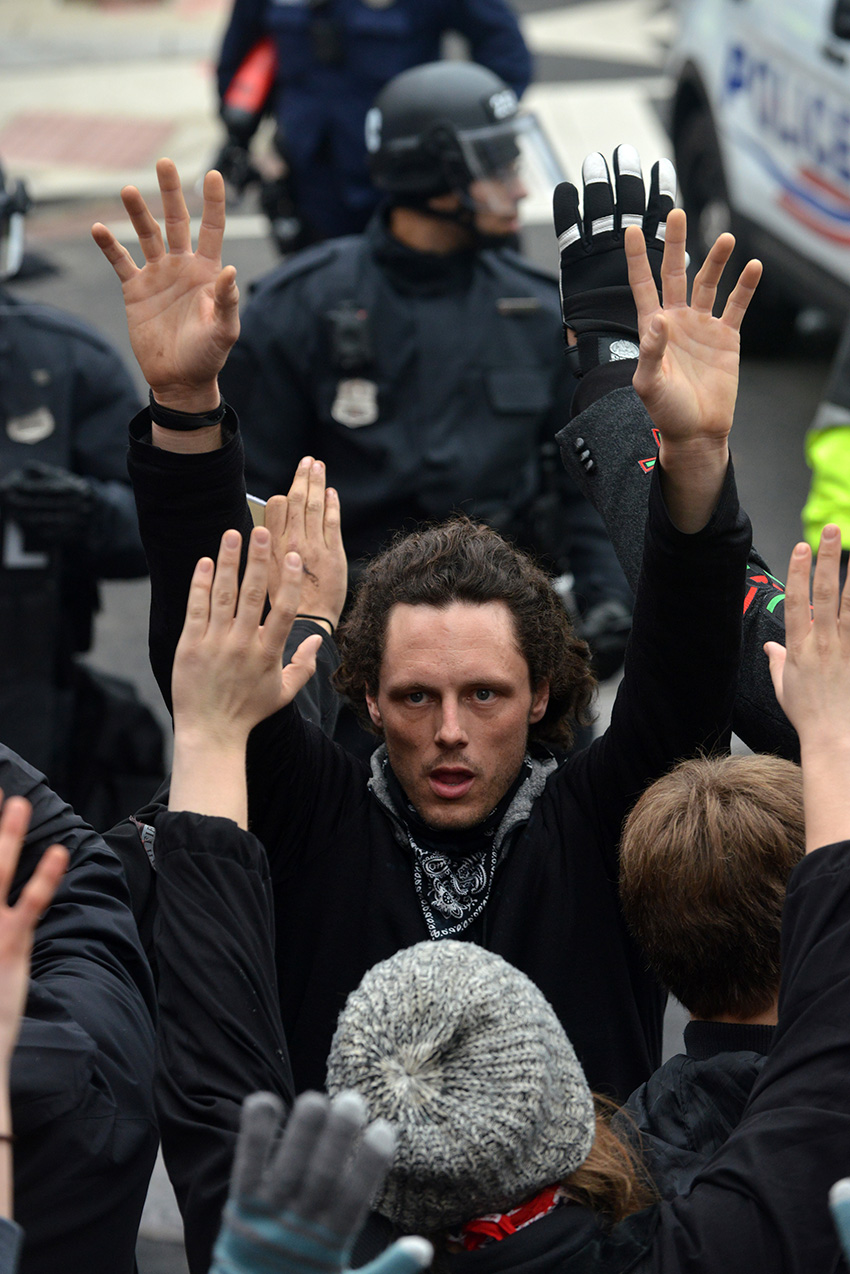 I can give some basic tips. Bring a helmet and goggles — and don't get that "tacticool" crap, just get a basic bike helmet and some safety goggles. I banged my head pretty hard while trying to get clear of that mess, and it was my own fault for leaving the helmet behind that day. If you get sprayed, don't wash it out with water. Most of that stuff is moisture activated — dab it off and let it dry. Carry earpro — I keep a set of earplugs in my press pass pouch at all times. Those flashbangs are loud as hell, and will leave your ears ringing for days. Have a first aid kit — I have an IFAK pouch in my bag most of the time these days — and more importantly, know how to use it.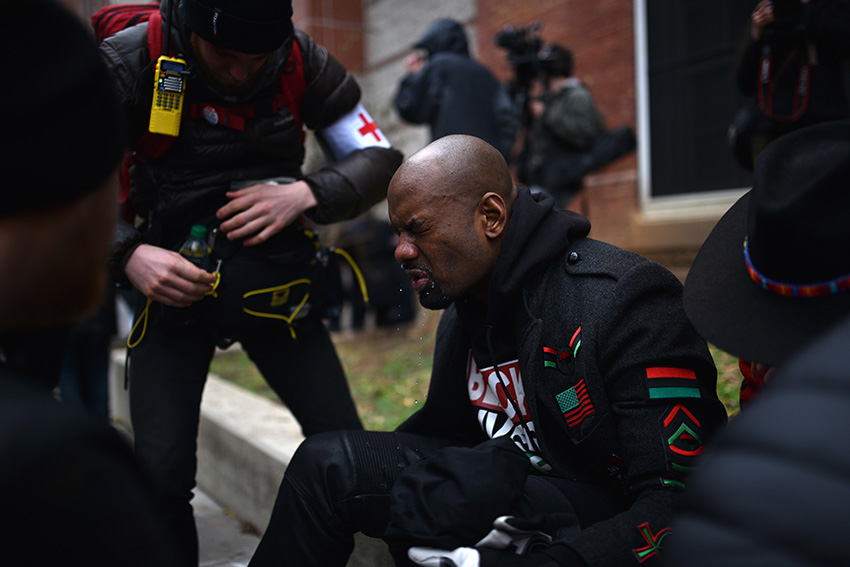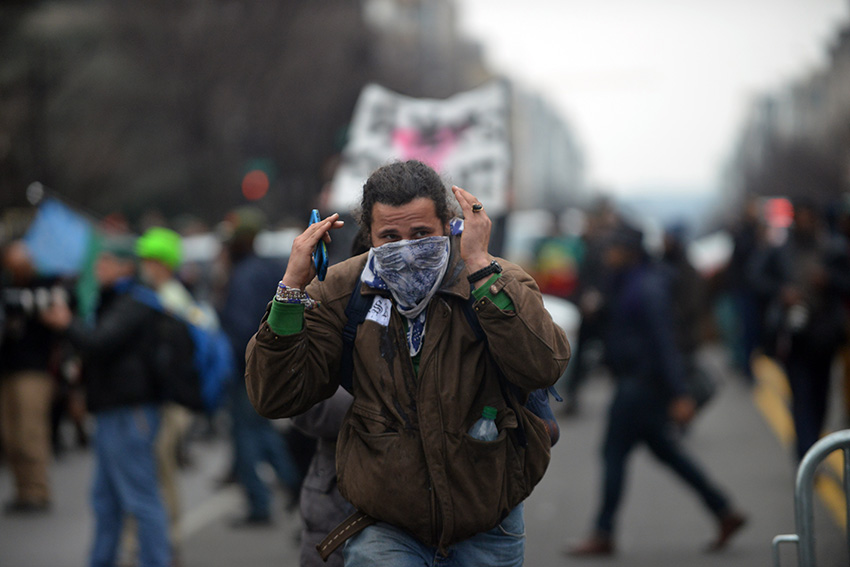 In the end, the best advice I can give is to have a damned good reason to be there. Have somebody backing you; an editor or client who can vouch for you if you get arrested. Have a valid press pass, either from your employer or from your city. At least six journalists were arrested that day, but I witnessed several who were cut loose because they had valid credentials or producers who could call the Metro PD on their behalf. Have a reason to be there and clients to buy the images because it's just not worth it to hit these type of scenes cold. Flashbangs aren't toys — if one goes off too close to your face it can easily blind you.
I get the feeling we're going to be seeing a lot more protests and events like we saw on Inauguration Day. Get some first aid training — or better yet, go take a RISC course. If you feel like this is the kind of story you have to cover, be prepared to do it right.