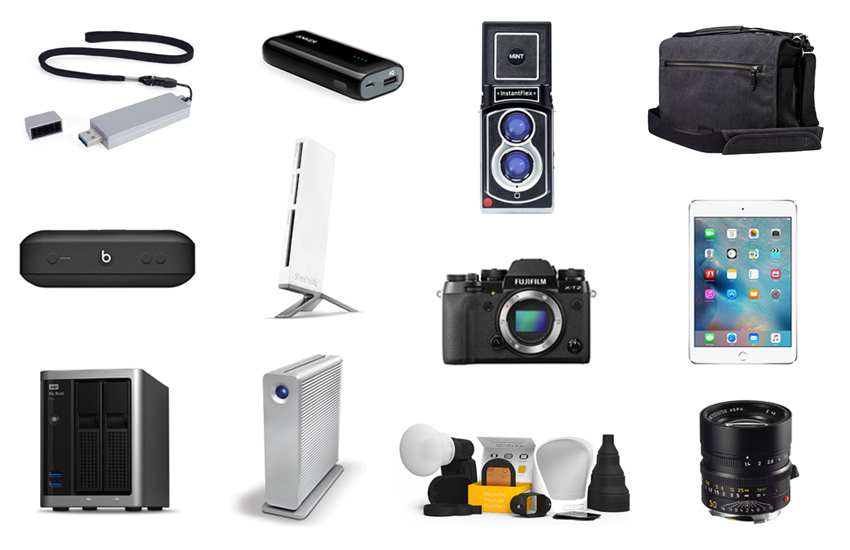 Keeping with our yearly tradition, we've asked a number of our friends in the photography community to share with us some gear they either highly recommend or hope to receive this holiday season! We'll continue adding more gear to this list over the coming weeks, so keep checking back!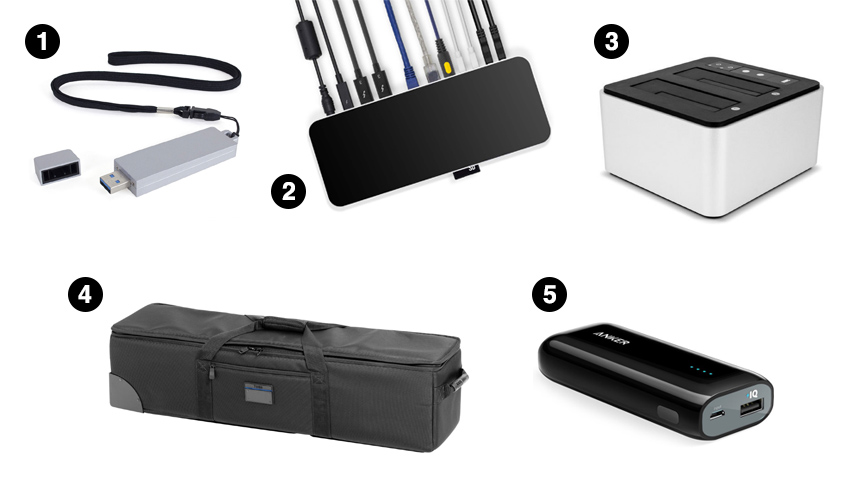 1. OWC Envoy Pro Mini
Storage has gotten smaller and more affordable in recent years, so why not pick up a super fast solid state USB thumb drive from OWC? It's nearly twice as fast as the average thumb drive. Sustained speeds up to 427MB/s mean real-world performance you can depend on. Available in 120GB, 240GB, and 480GB capacities, it's a powerful little workhorse to drive any project! Pick one up on Amazon.
2. OWC Thunderbolt 3 Dock
If you're like me and many others who are looking to pick up the new MacBook Pro with touch bar…you might notice there's only one USB 3-type ports. Our friends over at OWC have the perfect solution with their Thunderbolt 3 Dock that delivers more connectivity, more power, and charging capability at the fastest speed available today so all your connected devices perform at their maximum. You can drive two 4K displays, connect and charge up to six USB devices, work with legacy FireWire storage, enjoy pristine audio, wired networks, and read SD cards, all at twice the speed of Thunderbolt 2 and all through a single cable. I'm getting two!
3. OWC Drive Dock
How do you back up your archives? You can buy pricier "enclosed" drives from LaCie, G-Tech, etc, or you can buy high capacity bare SATA drives for a fraction of the price and use this great Drive Dock, which makes hot-swapping a breeze. Two drive bays accommodate both 2.5″ and 3.5″ drives and can access a drive in each simultaneously to easily make redundant backups of your most important files! Pick one up on Amazon.
4. Tenba Transport Rolling Tripod/Grip Case
Lately I've been working on larger productions that involve numerous light stands, video tripods/monopods, light modifiers, and other random grip accessories. I've always used a larger shoulder case to lug this equipment, but do these pieces of gear get heavy! Tenba makes a great rolling grip case is available in 38 and 48-inch lengths. Each case in hand-built in Tenba's Brooklyn, NY factory to provide the best protection available. Custom-made, air-channeled ABS walls and ballastic nylon exterior ensure amazing durability, and heavy-duty, ball bearing wheel assemblies make it easy to move heavy tripods and stands.
5. Anker Astro E1 5200mAh Compact Charger
I can never recommend having extra portable power banks around for your emergency charging needs. You never know when you're going to be in a position when your mobile phone, tablet, or computer dies. With the new USB C laptops in the pipeline, you'll even be able to use these power banks to charge your laptops! It adds almost two full charges to an iPhone 7 or 6s or at least one full charge to a 7 Plus, Galaxy S7, Nexus 5 or other smartphone. Anker always makes a solid power bank…and these prices, pick up a couple…one for every bag!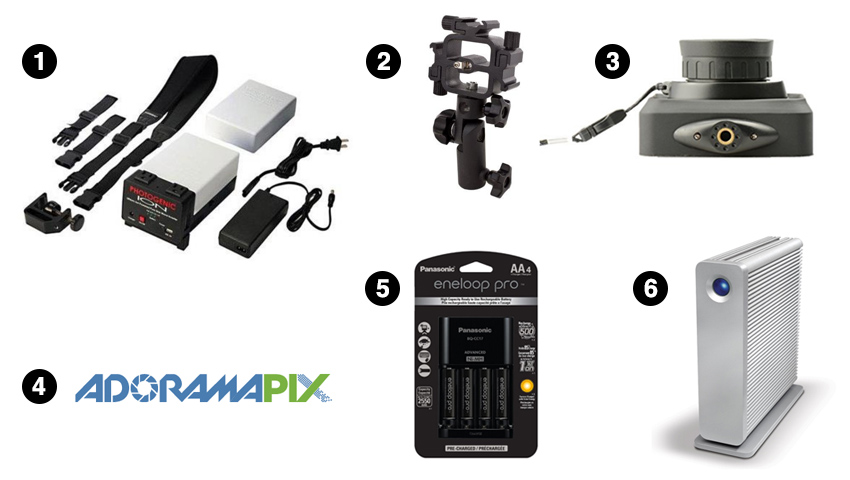 1. Photogenic ISB2182 Lithium- Pure Sine Wave Inverter System with Spare Battery
I never used battery packs on my shoots before, so I wasn't sure which one I should get when I recently had a photo shoot on a historic site location with no power source. I got this pack, which was the less expensive option, but it was wonderful. And this kit comes with an extra battery, which provided me with some extra peace of mind on that remote location.
2. Flashpoint Triple Shoe Mount Bracket-Cast Metal with Umbrella Tilt Holder
I just love that I can use more than one flash on one light stand,and this convenient holder works great when you need some extra power while using speedlights. You can mount up to three speed lights on it. Watch David Bergman's Two Minute Tips tutorials on Adorama TV to learn how to use it.
3. Hoodman Compact HoodLoupe Optical Viewfinder for 3.2″ LCD Displays
I never leave for a photo shoot without my trustee HoodLoupe. It helps me look at the screen on the back of my camera during daylight and I even use it at night, just because it helps me check focus more closely, and in general, helps me asses my images on the run. When I cannot shoot tethered, this is the best next thing for me.
I love Adorama Pix's photo printing service. The quality is unbelievable and the prices can't be beat. I use it for all my clients printing needs. Whether you are a professional photographer or not, I'm pretty sure you have some images to print, which is what makes an Adorama Pix gift card the perfect gift for everyone.
5. Panasonic 4 Position Charger (AA Approx 9 Hours, AAA Approx 7 Hours) with 4 Eneloop Pro "AA" NiMH 2550mAh Rechargeable Batteries
These batteries with no doubt outlast any other batteries I have ever used. I use those on all my speedlights and the radio transmitters. Can never have too many batteries.
6. LaCie d2 Quadra 5TB External Hard Drive with USB 3.0, 7200 RPM, FireWire 800/eSATA Ports, Up to 130MB/s Data Transfers via USB 3.0
I love these hard drives. I have two on my desk. One for storage, and one for my Time Machine backup.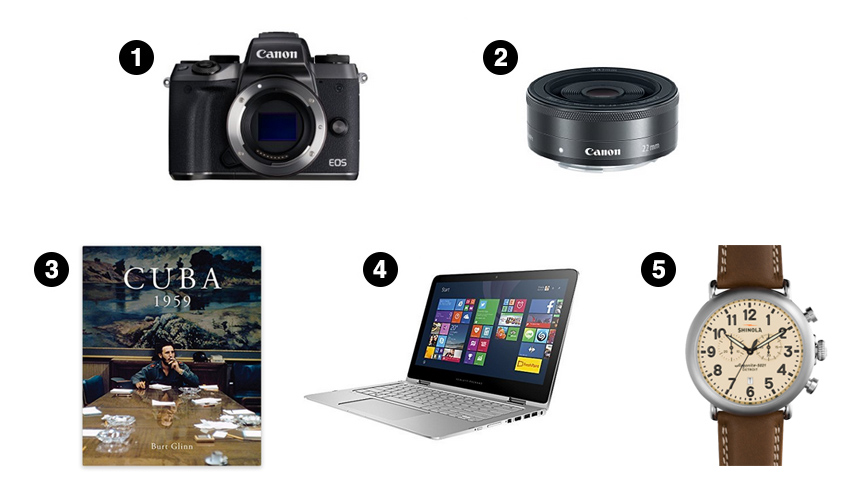 As a very happy user of the present Canon M3 mirrorless camera, the upgraded M5 model is top of my holiday list. The camera feels solid in your hands and is the perfect sized small form factor camera to use when you don't want to carry a pro DSLR around town.
For that new Canon M5 mirroless camera you bought, the perfect small, fixed focal length lens to leave on it for all your street photography is this 22mm lens. Downsize your gear to save room and weight.
Fidel has died so what better way to remember the Cuban revolution than through these classic photos by Burt Glinn.
4. HP Spectre x360 Convertable Laptop
Now that the new MacBook Pro is out and you need 25 dongles to use it, I am ready to return to a Windows PC rather than use Bootcamp to run Windows on a Mac. The x360 is a beautiful machine especially the black version and is easily equipped with 16 GB of RAM and a 512 GB solid state hard drive. The biggest bonus is the touch screen making this also a tablet. Sorry Apple you are missing the boat again by refusing to make touch screen laptops just like you held out for years making only a 4 inch iPhone screen.
5. Shinola Runwell Chrono Watch
Not sure why but photographers love sharp looking watches. Take a look at the entire Shinola line as they are some of the best reasonably priced time pieces on the market. I have one that I love but this chrono model is very nice indeed. If you are covering President-elect Trump you will make him happy when he sees you wearing a made in the USA product!
I am a Nikon shooter but I really wanted a small, low-profile camera for my project work. I got on board with the X-T1 when it was released and loved it even though it had some quirks. The XT-2 is a major improvement and I have two of them. I can't tell you how much I love this camera. Its low light capabilities are great and the build and ergonomics of it make it feel made for my hands. Highly recommend! Check it out on Roberts Camera.
2. Fujifilm Fujinon XF27mm F/2.8
To stay with Fuji for a minute, if you are a street photographer, I think you will love the XF27mm. With a 35mm focal length equivalent of about 40mm, and its low profile on either the X-T1 or the X-T2, it makes a great street package. Check it out on Roberts Camera.
3. Think Tank Photo Retrospective Lens Changer 3
I have this bag for my project work when using the Fuji X-T2 cameras and lenses. Lightweight and compact with a great shoulder strap. Plenty of room for an extra body and lots of lenses accessories. The people at Think Tank just keep making great products that last. Check it out on Roberts Camera.
4. My Book Pro
I use this external storage device in my desktop system for archiving and backup. Fast and reliable. It is expandable up to 16TB and has both a USB 3.0 and Thunderbolt 2 interface and two hot-swappable drive bays.
5. Digital Silver Imaging Gift Certificate ($10.00-$500.00)
As far as I am concerned, Digital Silver Imaging are simply the best at what they do. Their true silver gelatin fiber printing services are raved about by photographers making fine art prints. I have used them exclusively for a couple of years now to print all my B&W work. The prints are truly spectacular! They also offer much more including fine art color inkjet printing, film processing services, as well as framing, scanning and retouching. The staff is first rate and always ready to help!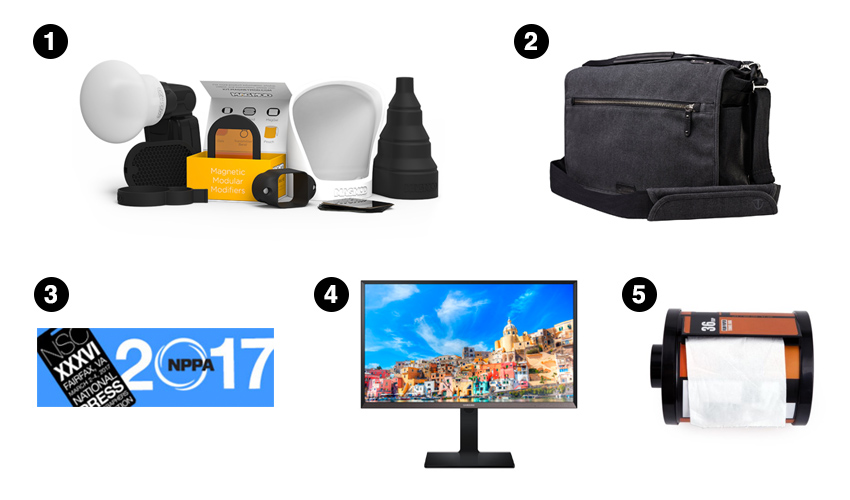 A lot of my friends have been talking to me about this company for over a year now, and only recently did I have a chance to check it out myself. I've used a lot of different light modifiers on my flashes over the years…but this one is the best without a doubt. Versatile, easy to use and if you invest in the whole kit…your go-bag set up just got a WHOLE lot easier. While the entire package is worth the bucks, you can start out with the MAGMOD Basic Kit for around $90.00
I've been doing a LOT of travel back and forth to San Francisco lately, and my satchels have been taking a beating. Robert himself was the one that turned me on to this Tenba model, and I couldn't be happier. Enough room (if you get creative) for 2 bodies, 2 lenses, a flash and other accoutrements PLUS a 15" laptop…I'll never go back. Added plus for those on the go, a WeatherWrap rain cover. TENBA FOR LIFE!
3. The 2017 Northern Short Course In Photojournalism
Not every gift has to be a physical one. I'm a huge believer in continuing education, and what a great gift it can be to a friend of family that's a photographer (photojournalist or otherwise). Brought to you by the National Press Photographers Association, The Northern Short happens yearly and brings some of the industry's top photographers and editors to its attendees. Where else can you find a legend like Magnum Photographer Eli Reed breaking bread with a "legend in his own mind" like myself? Personal note: as it is with most photo conferences, what you'll learn after hours is just as important as what you'll learn during the day. 2017 dates are March 2nd to 4th, 2017 in Fairfax, Va.
4. The Samsung SD850 32" Monitor
The older I get, the larger a screen I need. I've been in love with this one since I took it out of the box. Rotates easily from landscape to portrait mode. While it doesn't have an Adobe color matching profile (you'd have to spend about $800.00 more for a monitor that does) it's pretty spot on for sRGB. I still calibrate my monitors weekly though…because I'm OCD like that.
And finally….
5. The Fun Film Toilet Roll Canister
Yes…nothing says "you're in the house of a photographer" quite like this toilet paper dispenser. Sadly, because I'm married, and my wife doesn't have the same sense of humor I do, they were forbidden in our house…but I do showcase them proudly in our studio. There are a ton of bad jokes about developing I could make here…but I'll leave those to someone else. HAPPY HOLIDAYS EVERYONE!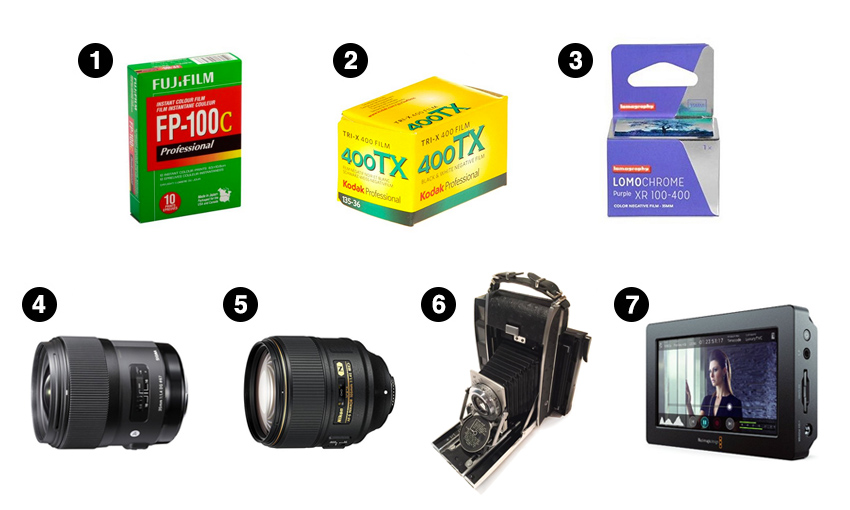 While the famous Fuji color instant film is out of production, there's still a sizable stock out there available for purchase. While companies such as The Impossible Project may pick up the slack in the future, this is currently the only available 4×5 peel-apart instant film still on the market. Pick some up while you can.
One of the best film stocks out there. Not as sharp as TMax 400, but in the right hands you can make magical frames with this film.
I played around with this two years ago while shooting portraits at the Holi Festival of Colors, and have since kept a brick in my fridge. Similar to the old Aerochrome stock, Lomochrome Purple can produce unique results in a wide range of colorful situations.
So let's say your budget has increased somewhat. The Sigma 35mm 1.4 A series lens is one of the best bits of glass I've ever used. If I was forced to use a single lens for the rest of my life, this would be the one.
I just picked this up, and it's one of the best telephoto lenses I've ever used. The bokeh is butter-smooth, it works great in very little light, and it's far smaller than my other telephoto lenses. At just over $2000, it's relatively expensive though.
6. Polaroid 110B, converted to 4×5 by Patrick Putze
Polaroid 110B and 110A's aren't hard to come by, but the film they use has been out of production for decades. Thankfully, there are gentlemen like Patrick Putze out there who can convert them to shoot almost any film stock you'd like. I had mine adapted to fit 4×5 holders, allowing me to shoot on almost anything with the right back. Right now I've got an instant film pack and some Fujifilm FP100C mounted on mine.
I had the chance to test one of these out recently, and it was a blast. Not only does the Video Assist offer you a larger screen for video work., but it can also record uncompressed video straight from the camera. There's also a 4K version available for a little bit more.
It's the best point and shoot camera in your pocket. I never carry a point and shoot any more because the iPhone is so great. The only need for a point and shoot is a night party camera with a rear shutter synchro that the Canon SD1000 series has.
2. Mint Camera InstantFlex TL70 2.0 Instant Film Camera
The Mint is a fun new instant camera in, like a Rolliflex.
3. Ona Bag
If you carry a camera, lens and a few other accessories through the city, Ona Bags are great camera bags and they're stylish.
4. Beats Pill+
Beats Pill is excellent for portable music. I use them on photo shoots and any other fun adventurous excursions.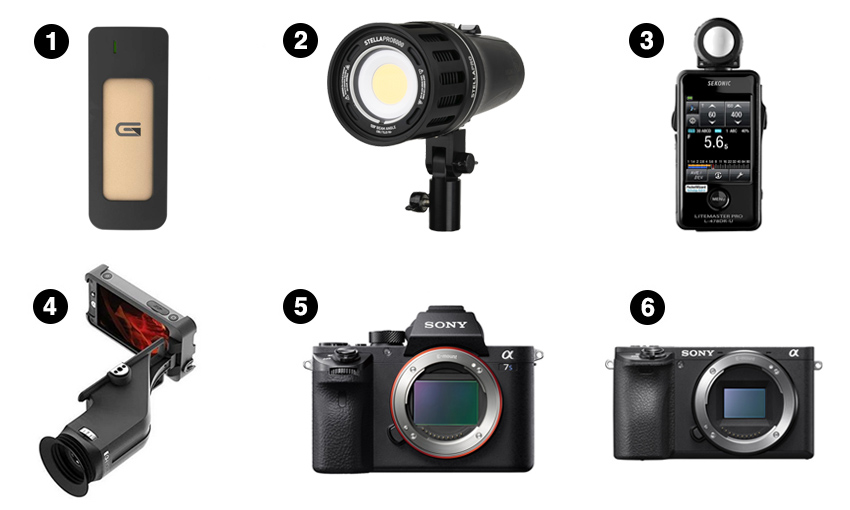 A very small solid state drive with a USB C connection and capacity up to 1TB. Its a must for small scale video and photo shoots in the studio and for fast backups on location. They are even available as a RAID.
2. Light and Motion Stella Pro 5000
Have you always wanted a single point LED light that puts out a ton of light and is submersible and has an internal battery? Well… I have and now it exists. Possibly the coolest new lighting product on the market.
3. Sekonic L-478DR-U Light Meter
The next generation of light meter that has a color touch screen and is compatible directly with Elinchrom, Photix or Pocket Wizards or can be used with any other continuous or strobe lighting set up. This meter is serious, and important if you want to know exactly how to expose for available light or you want to be able to control your lights from the meter.
4. SmallHD 502 Monitor and SideFinder
SmallHD makes some of the best on-camera monitors in the world. You'll see them on almost every professional video rig out there. The new 502 monitor (HDMI and SDI in and out) is compatible with the new SideFinder that can turn your monitor into an on rig EVF. Add peaking, zebras, false color and 3D LUTS for a seriously powerful tool. I just got one and I don't know what I did without it.
5. Sony A7SII
A fantastic still and motion camera that can see in the dark. I've never had a camera that has such incredible low light capability. It's nuts. Shoot by candle light with very little noise.
6. Sony A6500
Brand new from Sony this month is the A6500. A very small 24mpx APC camera with an incredibly fast autofocus and frame rate. It will shoot 11fps for 301 jpgs before it runs out of buffer. It also shoots 4k video and has touch screen focusing. It's a beast of a camera but small enough to travel with and be inconspicuous.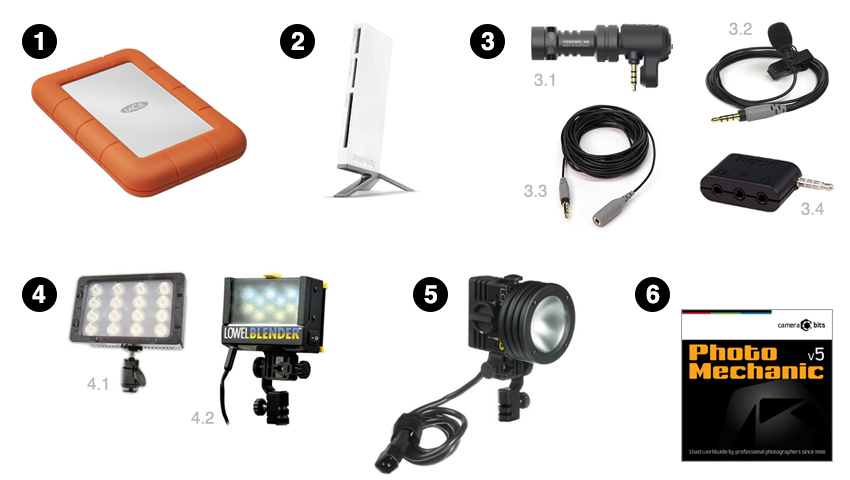 1. LaCie 4TB Rugged Mini Portable Hard Drive
I have learned the hard way about losing work due to a fallen external hard drive. I work a lot on location with a large volume of images and this protective casing and large memory, mini portable external hard drive is something I always have with me for my post production needs.
2. Sandisk ImageMate All-in-One USB 3.0 Reader/Writer
This is a compact flash card and SD card reader that downloads at a very high speed for USB 3.0. I have very large image files and this card reader makes the process faster for me for the beginning stages in post production.
I have had other brands, such as Lexar, but have found that they are not so durable. So far this one is working well, but I have noticed that the pins inside the compact flash card port are fragile so be careful when you put in the compact flash card so they don't bend.
3. Audio gear for iPhone
3.1. Rode VideoMic Me Directional Mic for Smart Phones
3.2. Rode smartLav+ Lavalier Condenser Microphone for Smartphones
3.3. Rode SC1 TRRS Extension Cable For SmartLav Microphone – 20′
3.4. Rode SC6 Dual TRRS Input and Headphone Output for Smartphones
For jobs on the go where you might have to do video interviews with your iPhone, this directional mic and sound system is very good.
I also find the lavalier with extender cable of 20 feet, high quality in audio gathering as well for interviews.
The Input and headphone output is perfect so you can hook the sound gear to your phone and listen back to you track with your headphones.
4. TorchLED
4.1. Switronix TorchLED Bolt 220W On-Camera Light TL-BT220R
or
4.2. Lowel Blender, 120V and 240V LED Light Head with 4 Diffusers
For jobs where you need a little extra light that is continuous and you are on the go, but have no plug in power source, this is a great light source you can hold off camera or put on a tripod.
The lighting options that range from tungsten to daylight help you balance the light temperatures to make your subject look natural. The Torch LED is a good option as it is compact, but the Lowell Blender is a higher end option as well.
It has a greater color temperature spectrum and a head that is easier to move for tilting if put on a tripod. You should also invest in the large batteries, not the small ones, so your light will have a longer life span while on an assignment.
5. Lowel Pro-light, Focusing Multi-voltage Quartz Light, 12v, 30v, 120v; 50-250w
I love this light and use it a lot for my portraits. I also mix it with other lights. It has a high intensity focus but can also be diffused with a side knob that allows you to control the output. There are barn doors that you can get with it, and I recommend that as well for betting control on how the light is spreading.
This is my go-to editing software. I have used this program since it came out and it has evolved a lot over the years with ways to directly transmit from the program, etc.
This program has a very efficient way to sort your files, with many options in ways to edit and batch caption your images.
I use this in tandem with Adobe Photoshop and it makes for a fluid, solid work flow with a high volume of images.
I have used other editing programs as well, but none of them compare in the usefulness this one brings to a photojournalist who has a lot of post production needs.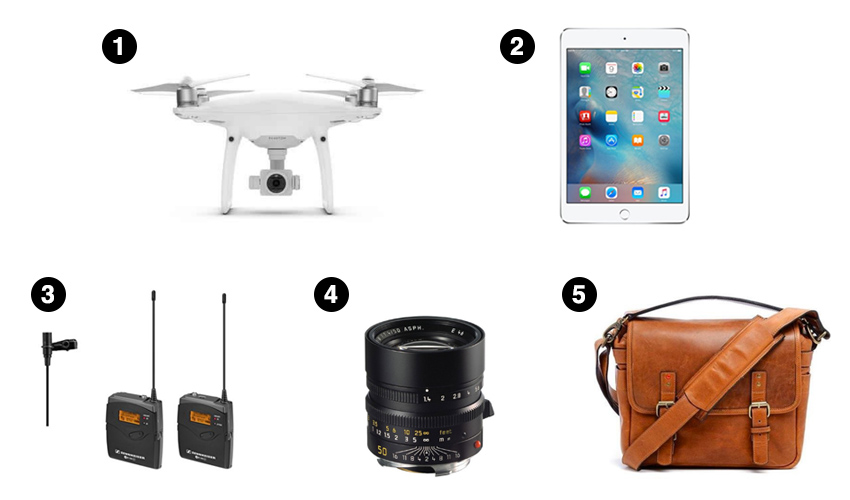 Some of these I own, some of these I want! These are things that will make time on and off the job a bit better.
1. DJI Phantom 4 Pro+ Quadcopter Drone with 5.5″ FHD Screen Remote Controller
More and more clients are asking me if I have a drone, so now is the time to get one. And if you get one, might as well get one from a company with a proven track record of innovation. DJI does not disappoint.
2. Apple iPad Mini 4 Wi-Fi 64GB
I just got an iPad mini, 64 gb and I love it. It's perfect for reading books on a flight, showing off your portfolio in meetings with editors, and blowing off steam with a game or two.
3. Sennheiser ew 112-p G3-A Wireless Microphone Kit
Video is part of what we do, and the key to good video is great audio. Sennheiser mics are the way to go.
4. Leica 50mm f/1.4 SUMMILUX-M Aspherical, Manual Focus Lens for M System
The 50mm lens is my absolute favorite. It is one of the most versatile lenses you can have, shooting everything from portraits, spot news, landscapes, you name it.
5. ONA Berlin II Messenger Bag for Leica M-System
This is a beautiful camera bag that looks nothing like a camera bag. Discretion and style = win.
Save
Save
Save
Save
Save