Kevin D. Liles
is a documentary, portrait, and commercial photographer based in Atlanta, and is a regular contributor to The New York Times, Washington Post, and Sports Illustrated. He serves as president of the
Atlanta Photojournalism Seminar
, the longest running photojournalism conference in the country (now in its 44th year). Kevin worked as a reporter and photographer for small newspapers, and later as an assistant with Sports Illustrated, before going full-time freelance in 2012.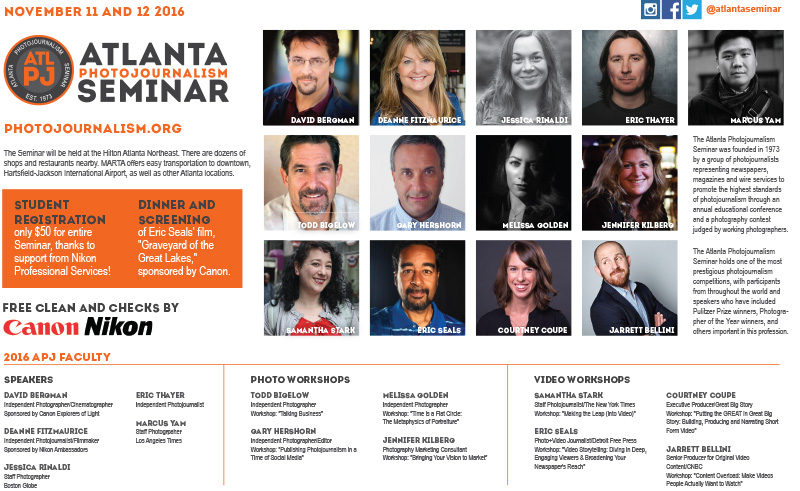 If you want to learn from some of the best in the photojournalism industry, make the trip down South for the Atlanta Photojournalism Seminar in two weeks. They've got an all-star speaker lineup for their 44th year, including Canon Explorer of Light David Bergman, Pulitzer winners Deanne Fitzmaurice (Nikon Ambassador) and Jessica Rinaldi, freelancer badass Eric Thayer, and L.A. Times staffer Marcus Yam.
The Seminar also offers photography and video workshops and free portfolio reviews to registrants. And thanks to a generous sponsorship from Nikon, student registration for the entire Seminar is only $50! That's a $200 savings!
They've got some great photo workshops. Todd Bigelow is hosting three different workshops on business — licensing, contracts, and copyright. Gary Hershorn will talk on how to use social media to get work and avoid giving your rights away. Melissa Golden will delve into her approach to portraiture, and consultant Jennifer Kilberg, in her marketing workshop, will show proven methods on how to get more clients.
They've also got some heavy hitters for video workshops: Samantha Stark, a New York Times staffer; Eric Seals, an Emmy-winning video storyteller and filmmaker; Great Big Story's executive producer Courtney Coupe; and CNBC producer Jarrett Bellini. Canon is sponsoring a dinner and screening of Seals' documentary, "Graveyard of the Great Lakes: A Shipwreck Hunter's Quest to Discover the Past," Friday evening.
Students working on personal projects should apply for the David Martin Student Grant, which is for a cool $1,000. It is named after longtime Associated Press photographer David "Mullet" Martin, who passed away suddenly on Jan. 1, 2014 while on assignment in Atlanta.
The Seminar also has an internationally recognized photography and video contest, the deadline is 11:59 p.m. Nov. 10.
It's gonna be a great time!
Save