Simon Bruty
excels in action photography and innovative portraiture, especially on location. Simon has traveled extensively through Europe, Latin America, and Asia to capture stories as diverse as soccer in Ecuador to youth programs in Madagascar. His main clients include Sports Illustrated, The Players Tribune, and FIFA. He has been featured in a film directed by Michael Apt, and one of his photographs was featured in an ad for Canon Europe before the World Cup games. The London Observer chose one of Simon's photographs- the rugby punch-to be included in their list of the World's 50 Greatest Sports Photographs.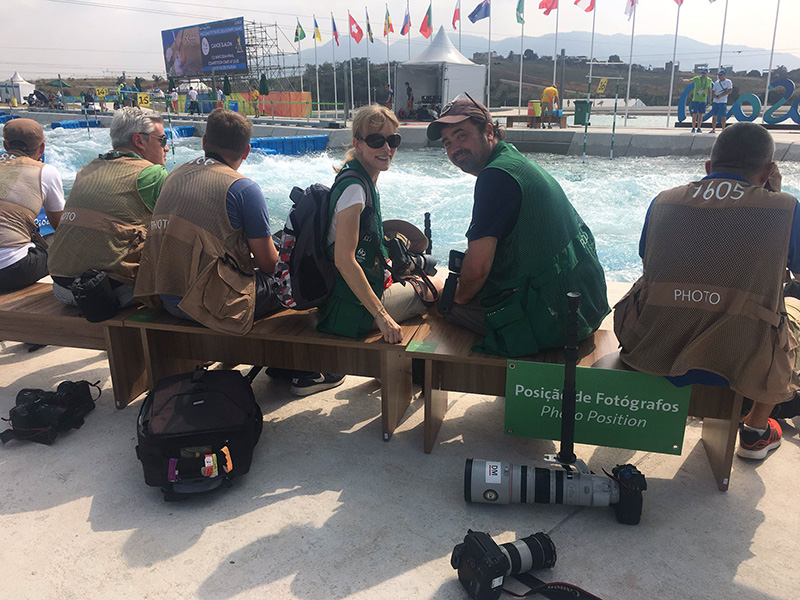 If an economic disaster means a drop in your 401k to you, then you are in for a treat in Brazil: Trumpanomics and the one percent rule here. It's one thing to come here as a tourist and leave the gold Rolex at home. Being a sports photographer—with a vest and a credential—you become one big bullseye for a thief.
Before I came here, I had been told repeatedly to be careful. Time Inc. sent me white papers explaining every conceivable way I might die, ending with a cell number for the head of global security in case I was in trouble. As much as I want to make fun of that, photographers themselves can be equally stupid. During the Opening Ceremony I worked on a roof in a favela close to the stadium. On the way into the neighborhood I saw another photographer walking in. He was wearing his photo vest and his credentials which might as well read: "Carrying expensive equipment able to be sold on the black market." Another photographer learned the hard way that the Main Press Center, known as the MPC, is not a safe haven when he put his bags down and never saw them again. AFP lost eight cameras from its office. A photographer's bag was stolen while he was waiting for a bus. Gear was stolen on Ipanema and Copacabana beach.
The most unbelievable loss happened during Opening Ceremonies. Sports Illustrated along with a couple of other agencies lost the remote cameras they wired into the roof of the Maracana stadium. To get the camera up there, you have to take a safety test, wear a full harness, have your blood pressure taken, and wait endless hours to get permission to get on the roof. There is also CCTV up there. It was probably the safest place on Earth, and still, the cameras were stolen.
All the photographers here want to produce the same stunning images they produce back home but you really need to change the mindset. If you need a pee, take your equipment with you. Travel way lighter; choose between the 400mm and the 600mm lens. Yes, it's a compromise but it's better than spending endless hours filling out paper work while you shoot the Games with your iPhone.