Simon Bruty
excels in action photography and innovative portraiture, especially on location.  Simon has traveled extensively through Europe, Latin America, and Asia to capture stories as diverse as soccer in Ecuador to youth programs in Madagascar. His main clients include Sports Illustrated, The Players Tribune, and FIFA. He has been featured in a film directed by Michael Apt, and one of his photographs was featured in an ad for Canon Europe before the World Cup games. The London Observer chose one of Simon's photographs- the rugby punch-to be included in their list of the World's 50 Greatest Sports Photographs.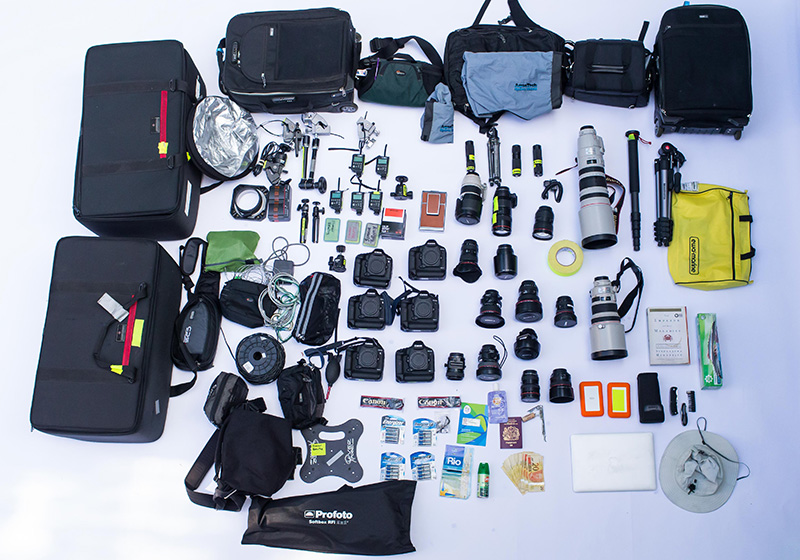 This is my eighth Summer Olympic games so you would have thought by now I know what to take. But I have learned during those years how to overcomplicate things instead. Now I have the ability to use remote cameras. I have lighting gear. And this time I wanted to try out the Canon tilt and shift lenses so I have a whole set of those. Then there is the peripheral stuff—the grip gear for the remotes, the 100-meter long hard wire, the Pocket Wizards, etc. I have tried to pare it down as much as I can do. I am taking one magic arm instead of two, for instance.
The actual packing of the equipment is important because you don't want the gear rattling around in the cases. I use Versaflex cases and they are brilliant. Of course, when TSA opens these bags—and they will open them—they tend to mess things up. The gear I am taking depends a lot on what I am actually shooting. For the track & field assignments, I need the ability to run three-four remote cameras at these events. The other thing I am taking into consideration when I am packing this gear is that if I have forgotten to bring something, it is going to be expensive and difficult to get it in Rio.
I am ending up with three bags to check—each one weighing 50 pounds. I will have a Think Tank rolling bag and a Think Tank backpack with me on the plane. My flight to Rio is via São Paulo and there is always a chance with a connecting flight to lose gear.
Gear for Rio:
– Canon 1DX II (x5)
– Canon 1DX I
– 200-400mm
– 200mm f2
– 70-200mm f2.8 (x2)
– 24-70 f2.8
– 16-35mm f2.8
– 135mm f2
– 11-24mm
– 1.4x converter
– TS-E 90mm f2.8
– TS-E 17mm f4
– TS-E 45mm f2.8
– TS-E 24mm f3.5
– 8-15mm f4
– 20-35mm f2.8
– Pocket Wizards – R/T (x6)
– grip gear – mini pods, clamps and magic arms.
– softbox and ring
– hard wire for remotes – 100m