Nic Coury is a photojournalist based in Monterey, Calif. He has had work published in Sports Illustrated, Cycle World and Bicycling magazines, and has shot commercial jobs for Specialized Bicycles, Ferrari and Bugatti. He also covers crime for a local newspaper. In his free time, he drinks too many espressos and wins mustache competitions.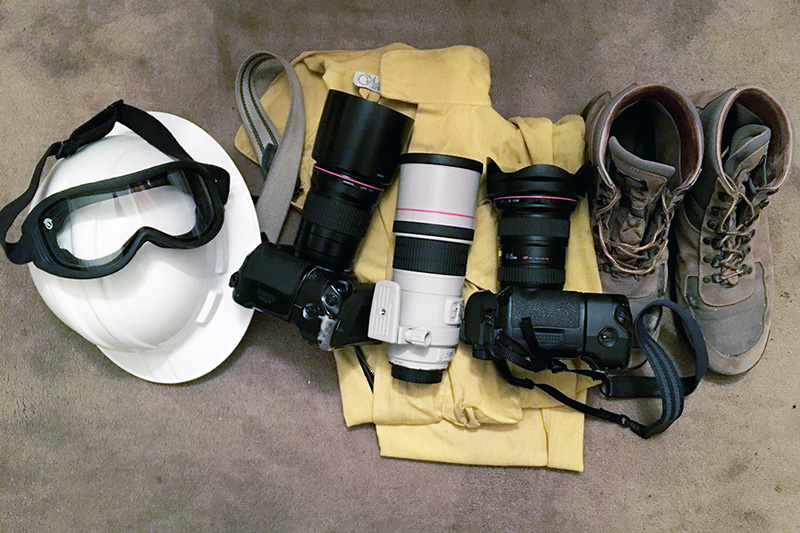 A lot of California is on fire at the moment and I've been on the Soberanes Fire in Monterey County since day one for Monterey County Weekly.
Just before 9am on Friday, July 22, the fire broke out two miles up a popular hiking trail in Garrapata State Park on Highway 1. By noon, it had grown to 150 acres and by 8pm, it grown to over 1,000 acres.
As of the end of August, it has scorched over 90,000 acres, including part of the Los Padres National Forest in Big Sur, and destroyed 57 homes.
The Soberanes Fire has since been joined by the Clayton Fire in Northern California and, most recently, the Blue Cut Fire 60 miles east of Los Angeles.
A lot of great fire images, both city and wildland blazes, are of the fire itself, but like sports and politics, many other great images exist outside of the breaking news pictures.
Cal Fire and the U.S. Forest Service have been stellar to work with for information and escorts to the fire lines where necessary, which makes our job in the press much easier.
As with the 2008 Basin-Complex Fire and 2013 Pfieffer Fire, I have had a number of friends lose their homes and spent a lot of time in the wilderness where it's currently burning, so it's been hard as a local to cover but I've made a conscious effort to be professional and ethical with my dealings with all people and with my images.
I've met a lot of great folks, including some really great firefighters from Alameda County who insisted I have coffee with them made on a small stove on the front of their truck at 10pm one night. It was elegant.
My cameras have stayed simple, as I'm a simple shooter as I get older and more experienced.
– Canon 5D II (x2) — wish I had faster bodies, but these work for now as I'm poor.
– Canon 16-35mm f/2.8 II — wide, sharp and contrasty, but mostly shot in the 24-35mm range.
– Canon 50mm f/1.4 — can't go wrong with a 50 in the bag.
– Canon 135mm f/2 — sharp, light and fast.
– Canon 300mm f/4 IS — great long glass, nearly perfect on the full-frame.
– Batteries, CF cards and the like.
– Think Tank waist bag for the field and a tattered Domke F-6 for the car.
My fire gear includes:
– Leather boots that I've owned for nearly 20 years.
– Clean socks every day — very important!
– Nomex coveralls — bought on clearance as a M Tall, which is perfect for the skinny jean-wearing hipster I am…
– Helmet and fire goggles — the latter are a must when the wind shifts and you're on the fire lines as smoke in the eyes ain't fun.
– Leather gloves and a fire shelter.
– Water and snacks in the car.
– Uniden Bearcat scanner — most all the Cal Fire crews were cool to help me dial in their tactical channels.