Sal D'Alia
is a NY-based filmmaker. In 2009,  Sal started his career as freelance director, producer, cameraman and editor and has worked for numerous cable and corporate clients such as Citroen, Unilever, Nike, Food Network, Glamour & GQ (Conde Naste), Bravo, Berman Braum, DanceOn & Machinima, Ultra Records, John Varvatos and The Warner Sound with artists such as Madonna, Blake Shelton, Flo Rida, B.o.B., Cee Lo Green, Ed Sheeran, Regina Spektor. His viral work on YouTube can be quantified with 80+ million views. In 2013 he directed the short movie "The Word Trader" which has been selected at the Cannes Film Festival 2013, Big Apple Film Festival 2013 and received an honorable mention at Manhattan Film Festival 2013. Sal is currently Senior Video Producer at Adorama in NYC where he produced, directed and edited the web series "Through The Lens' and the documentary 'Spotlight'.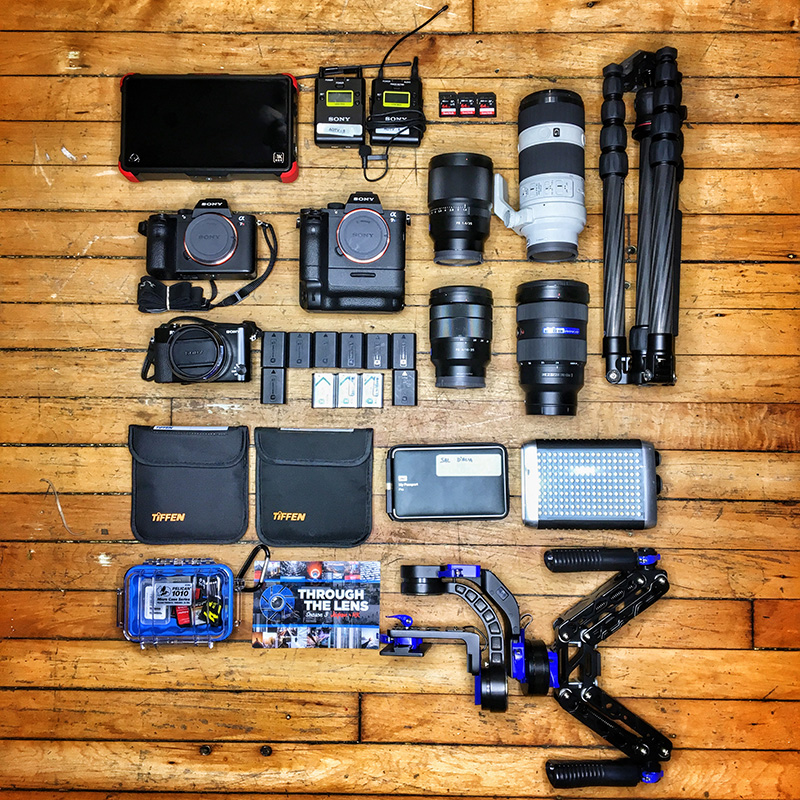 I'm about to start shooting the third season of 'Through The Lens' for Adorama. 'TTL' looks at the evolving aesthetic of photography as seen through this generation's creator class. After season one, entirely shot in NYC, and season two, shot between California, Washington State, Illinois and Ohio it's now time to feature photographers outside the US and we picked Hong Kong & Japan.
I'll shoot 12 episodes in 14 days, sometimes 2 episodes in one day so gear-wise the key is portability & quality. I fit everything in one backpack and I shoot handheld most of the time, since most of the shoot is chasing the photographer on assignment. My shoot is run & gun to the core; I use my tripod only for the interview part, that's why I go for carbon fiber so that it doesn't weight much on my backpack all day long.
The video quality from the a7s II is already great but when I need that step above (especially for color depth) I use the Atomos Ninja Flame. I use the a7r II as still camera; every time I get a break from video I try to get as many photos from the beautiful locations where I'm going. When I need some cinematic motion I use the Nebula 4200, it fits in my backpack and it's easy to setup which helps a lot when I'm on a tight time frame (always!). I dump footage every night on my WD Passport Pro and edit on Premiere Pro CC in my office in NYC once the trip is over.
List of gear:
– Sony Alpha a7s II
– Sony Alpha a7r II
– Sony 24-70mm f2.8 G
– Sony 35mm f1.4
– Sony 16-35mm f4
– Sony 70-200mm f4
– Atomos Ninja Flame
– Sony UWP-D11 Digital Wireless Bodypack
– MeFOTO RoadTrip Carbon Fiber Travel Tripod
– WD My Passport Pro 4TB
– Tiffen Variable ND 82mm
– Tiffen Variable ND 72mm
– Nebula 4200 5 axis stabilizer
– Tenba Shootout 24L Backpack