Simon Bruty
excels in action photography and innovative portraiture, especially on location. Simon has traveled extensively through Europe, Latin America, and Asia to capture stories as diverse as soccer in Ecuador to youth programs in Madagascar. His main clients include Sports Illustrated, The Players Tribune, and FIFA. He has been featured in a film directed by Michael Apt, and one of his photographs was featured in an ad for Canon Europe before the World Cup games. The London Observer chose one of Simon's photographs- the rugby punch-to be included in their list of the World's 50 Greatest Sports Photographs.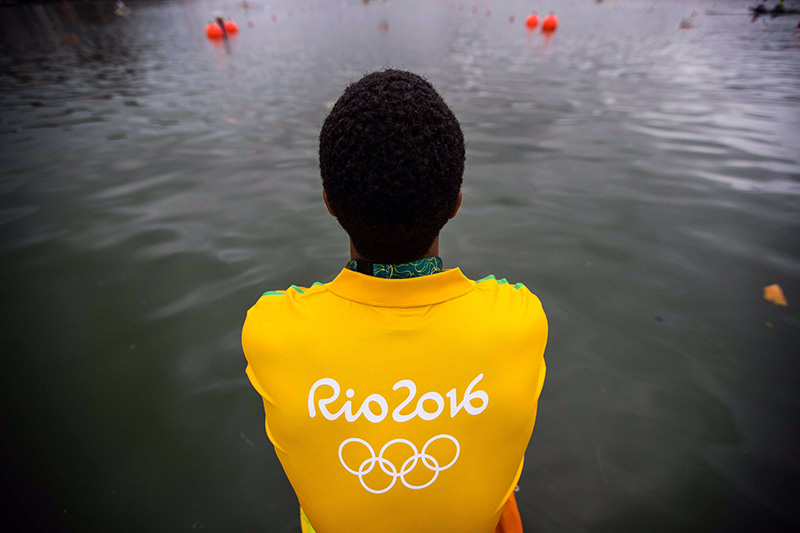 Made it to day 3: cycling, beach volleyball, handball, tennis, gymnastics, and rowing are the sports that I've managed to get to so far. For the Opening Ceremony, I worked in the Mangueria favela. I had a fixer who knows the neighborhood well and helped keep me and the equipment from getting into any trouble. The favela is a complicated area with its own rules and I don't want to assume that an Englishman like me who knows very little Portuguese can just waltz in and make a photograph. I traveled light with a couple of Mark II, a small tripod for the slow exposures and a Polaroid sx80 for some portraits of the locals. See 360º view of my spot:
I am in Copacabana and it takes about 1 hour and 20 min by bus to the MPC (Main Press Center) and Olympic Park; a schlep, in other words. Transport is a bit up and down so I'm using taxis and Uber to get around in the downtown area. Definitely traveling light with a 200-400mm lens, a backpack with 5 lenses and two Canon 1D X Mark II. I would certainly like to have more gear, but keeping it with you all the time stops it from being nicked.