Chuy Gutierrez
is a New York based freelance cinematographer. He graduated in '12 with a BA in TV/Film from The University of Texas Pan-American and specializes in short form documentary and narrative work. Chuy also provides technical direction in live web broadcasting for Adorama and CBS Radio event studios.
The first time that I had ever heard of Tenba bags I was a poor college student in south Texas. I recall stalking their website and looking at their gear bags. So, I've been using their Shootout 24L camera backpack for a few weeks now and here is my review:
Quick specs before we move on to my thoughts on the pack itself.
– Fits 1-2 DSLR bodies
– 4-6 Lenses
– Laptop pocket (15in)
– Tripod Holster
– 7 accessory pockets
– Nylon construction
– YKK Zipers
– Built in rain cover
– 12W X 17.5H X 9D in (external, carry on friendly)
My initial thoughts when I received the Shootout bag were positive. The bag had a sleek design that just seemed cool without being too flashy. The design was stealthy. The backpack felt sturdy and it basically just proved that it could take a beating. From the zippers to the tough bottom design that were built to be placed in rain, snow, and muck. This thing was not going let up.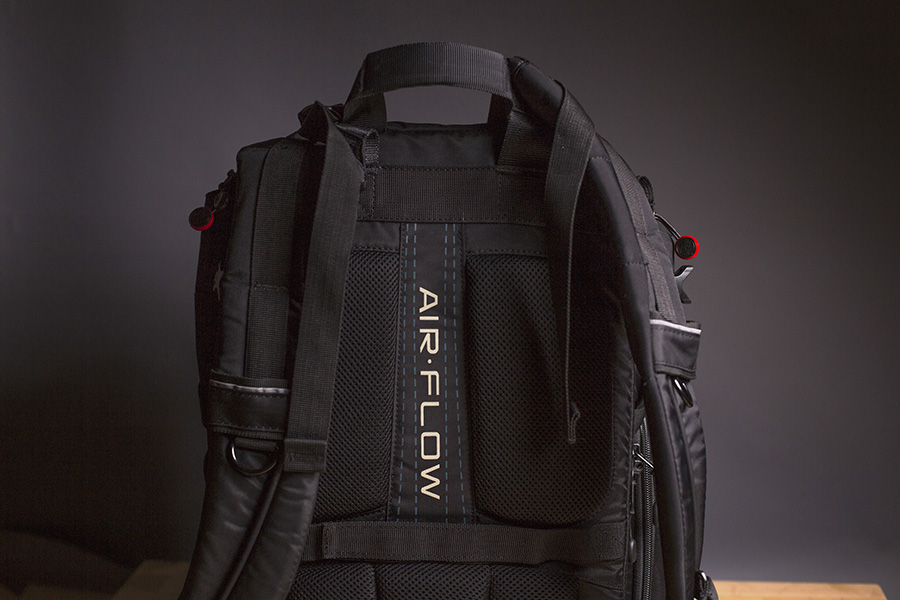 Internals
The Shootout comes with a bunch of removable dividers to ensure a custom fit for all of your gear. This is a huge plus. Most of the bags that I've used in the past gave you some custom adjustments but the entire back could not be stripped out, so thanks Tenba! On the inside you also have two tough clear pockets for accessories such as batteries, chargers, cables, and I'll even put some screw drivers and a multitool without worry of it piercing through.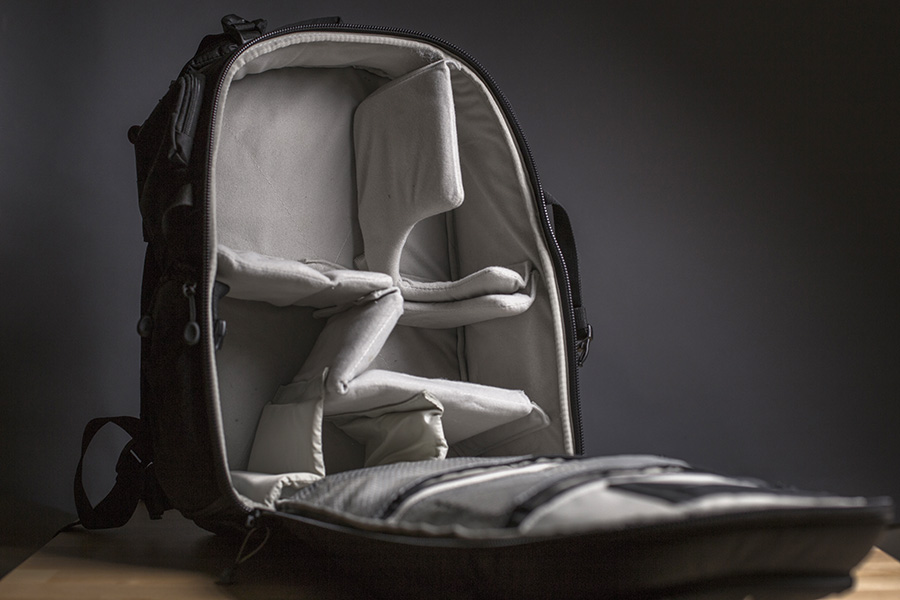 The 24L is their mid/large sized of the Shootout series and can carry quite a bit. My documentary set up consists of a Canon C100 body, 4 lenses, follow focus, 15mm rods, lavaliere microphone, shotgun microphone (and its fuzzy!), Canon 6D, XLR/HDMI cables, atoms ninja recorder, 15-in MacBook Pro, batteries, chargers, and a Nintendo DS (for traveling purposes…). Oh, and my Manfrotto monopod or tripod.
Packing this much to a reasonably compact backpack is a huge deal. Especially if I'm running around NYC shooting and getting in and out of various cars, buses, trains, and even planes. Aside from taking off my monopod or tripod I've had no issues taking this on any domestic flight as a carry on.
Exterior
This bag was with me recently when I traveled to north California and Colorado. Rain, shine, dirt, snow this thing gave me no issues and I felt like I was prepared for just about anything outside of jumping in a lake. The Shootout has a tough exterior that can (in my opinion) handle some rain or snow with no issues. That being said if things get messy outside the Shootout 24L has a built in rain cover that easily goes over the pack and straps right on and we keep moving. The tripod holder is a major plus for me on this pack. From a video monopod to a mid sized tripod with a video head, this thing handled it with no issues. We are not talking about travel pods here. The hold is sturdy and safe. I've strapped this thing on the pack and hopped on a bike without any worry that it would fly off my back. One minor setback is the strap itself. If it's not being used, I don't have a dedicated spot for it. However, this only becomes an issue when I pack this guy to the brim.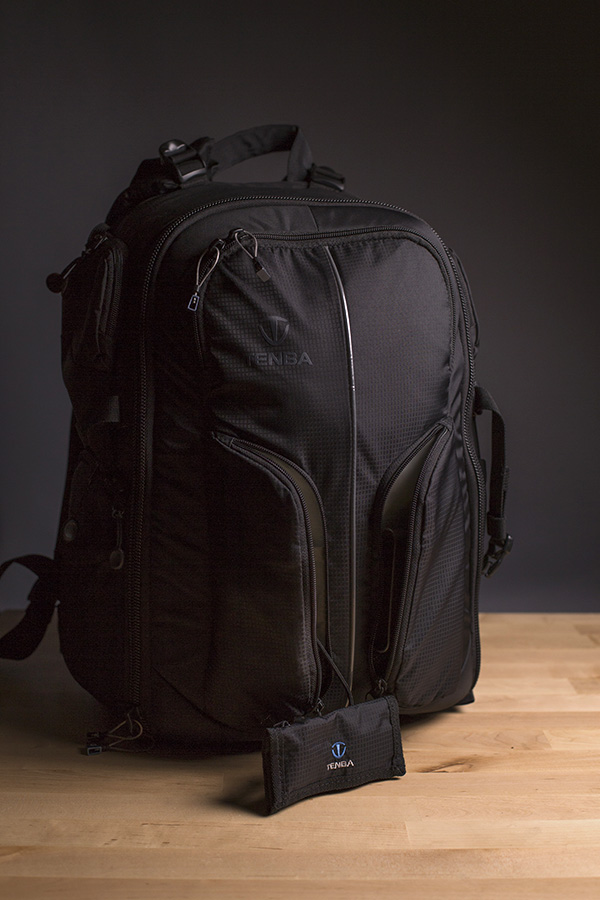 The fit
I am by no means a little guy. I have wide shoulders, but this bag has more adjustments than I know what to do with. It doesn't matter if I'm walking around the city, hiking up stairs, standing in the subway or riding my Vespa, this pack is literally five seconds away from being the most comfortable bag that I have ever owned, with a few adjustments and everything is accessible from one position. With that being said, I put a lot of weight on my shoulders so the back padding and added waist strap give me plenty of support.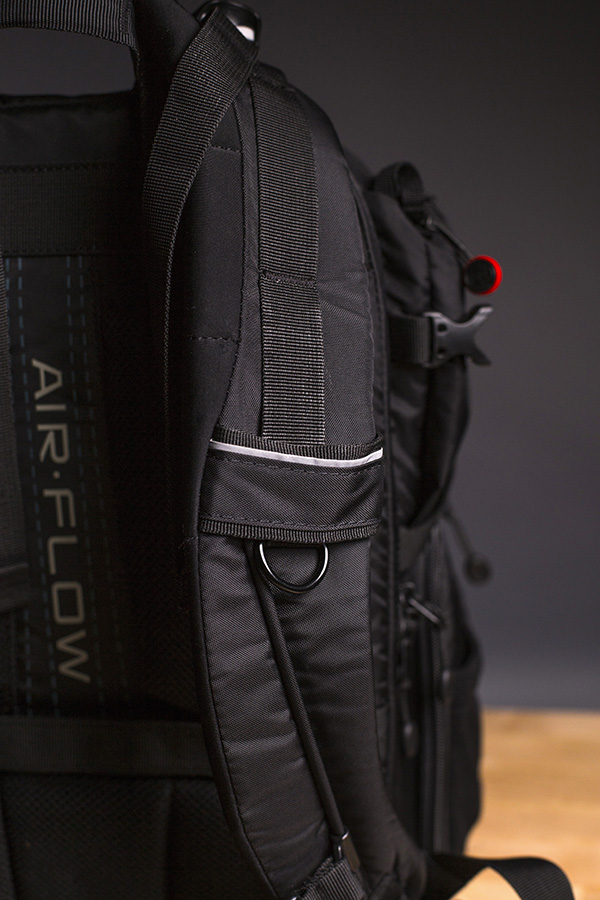 All in all I'm quite fond of the Shootout. Tenba takes a no compromises approach to their products and it shows. When you're carrying 5k to 15k worth of equipment with you, that's something you take note of. This is a super thought out and efficient product line with few if any drawbacks.
Pros
-Thought out design
-Tough build
-Spacious
-Comfortable
Cons
-No dedicated tripod strap compartment (if I'm being picky)