C.S. Muncy
is a New York City-based freelance photojournalist with a client list that includes The New York Times, The Wall Street Journal, Newsday, The New York Daily News and The Village Voice. His work has also appeared in Time Magazine, The Smithsonian Magazine and Wired Japan. In 2012, he was selected for the 25th Eddie Adams Workshop, received the NPPA Short Course Travel Grant and won first prize in the National Geographic/Nikon "Full Story" photo contest. A graduate of the Defense Information School, he enlisted in the United States Air Force in 2002 and is currently a combat correspondent with the 106th Rescue Wing.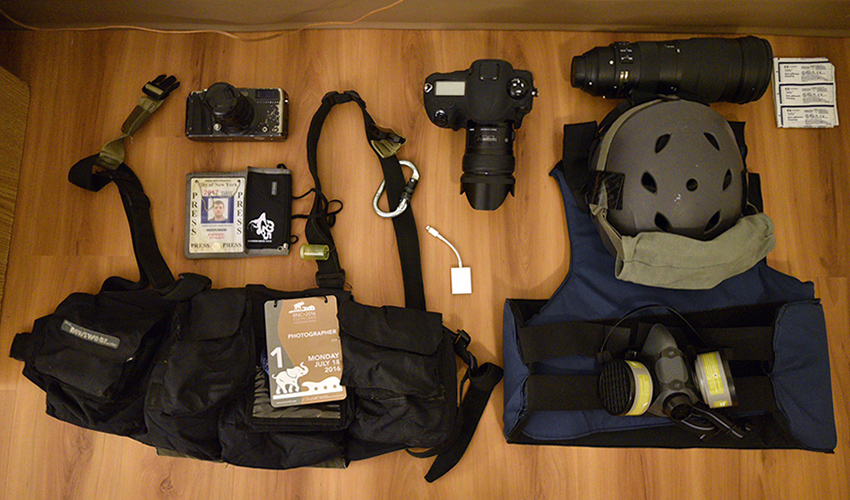 I'm covering this year's Republican National Convention in Cleveland for The Village Voice and given the expected protests, recent shootings, and open-carry law in Ohio, I've decided to bring some safety/tactical gear just in case.
I've had this for years, and despite the fact that it makes you look kind of goofy, it's tough and dependable. Having all your lenses available and right in front of you makes it so much easier to swap out your lenses on the go. I also can keep my press pass in the holder I had sewn onto one of the pockets, my IFAK (Individual First Aid Kit,) batteries and film also fit in there. It's pretty worn out after all the use I've put it through, but it still works like a champ.
2) Hasselblad XPan (with 90mm and 45mm lenses)
I like being able to bring something new and different to the table. The Hasselblad XPan is a panoramic 35mm rangefinder with some of the sharpest lenses I've ever used. I've also brought a handful of Tri-X, T-Max and chrome films with me.
3) Nikon D4
One of two bodies I'll be using for the RNC/DNC, the other being my Nikon D750 (not pictured.) I also keep them both in rubber body armor, to prevent any damage when they clank together.
4) Lenses
I tried to pack light this time around, but I still needed to bring a good collection of glass. I brought my 70-200 2.8, 200-500 5.6, Sigma 24mm 1.4 and 35mm 1.4, and my 16-35 f4 VR. This should be enough for most things.
5) Protective Gear
This includes body armor, helmet, eye protection and hearing protection. With luck, I shouldn't need any of this, but it's better to have it and not need it rather than need it and not have it.
Save