Greg Kendall-Ball
is a photo editor for Nature, a hard-core science journal that also does news about science. While he mostly pays other people to take pictures, he still occasionally freelances in the Washington, DC area where he is based. He previously worked as a photo editor at the Washington Post (where he saw many, many photos of the Ebola outbreak, the Ferguson protests, the Gaza conflict, the 2014 midterms and other big stories), and also worked on the 2015 National Geographic Traveler photo contest (where he saw many, many photos of waterfalls in Iceland). Before moving to Washington he was a graduate student at the University of Missouri School of Journalism (where he saw many, many photos of basketball players dribbling up the court away from the camera) and before that he was a multimedia journalist for the Reporter-News in Abilene, Texas (where he shot many, many photos of wildfires and car wrecks and football games).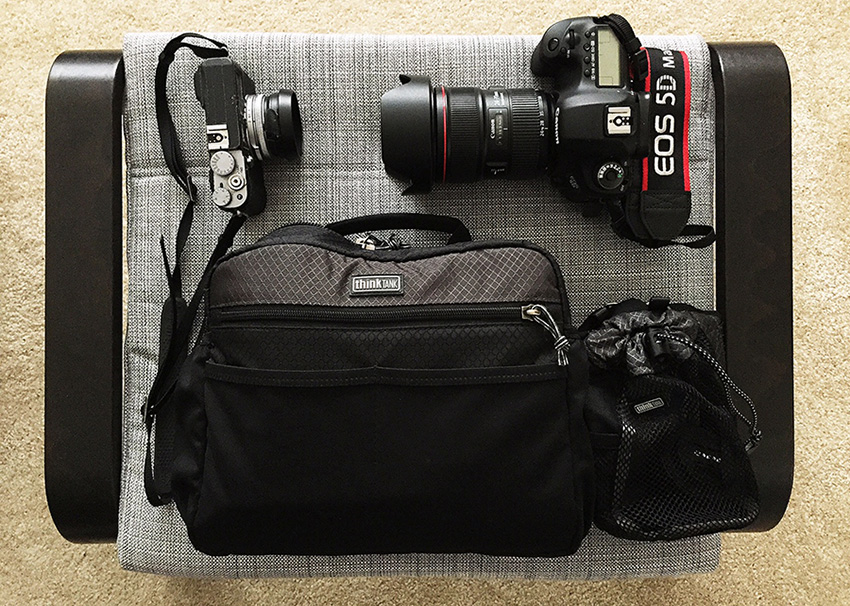 I made this quick photo of my newly pared-down kit on my way out the door on assignment recently. Parking in Washington, DC is…shall we say…a challenge, so most days I try to pack as light as possible so I can jump on the Metro or hop in a cab. When I know I need lights, I have an ultra-portable light stand, a convertible umbrella and PocketWizards to use with my flashes.
But for my average newsy, featurey, run-and-gun assignment, this is what I use these days:
– Canon 5D MkIII body
– 24-70 2.8 L II zoom lens
– 70-200 2.8 L II zoom lens
– 50mm 1.8 STM
– Fuji X100S (but sometimes I cheat and edit the EXIF data to say it's an X100T so I can use the Classic Chrome film emulator).
– POÄNG ottoman in black-brown with an Isunda Gray cushion from Ikea (but I don't take it with me on every assignment)
I also use a variety of Think Tank bags, but mostly I use my Change Up (v1) with an extra pouch on the side to haul whichever lenses I'm not using, batteries, a granola bar, a flash if needed, and so on.