Andrew Renneisen
is an American freelance documentary photographer based in Nairobi, Kenya focused on issues related to race, religion, ethnicity and their role in conflict. He is represented by Getty Images Reportage and is a frequent contributor to The New York Times.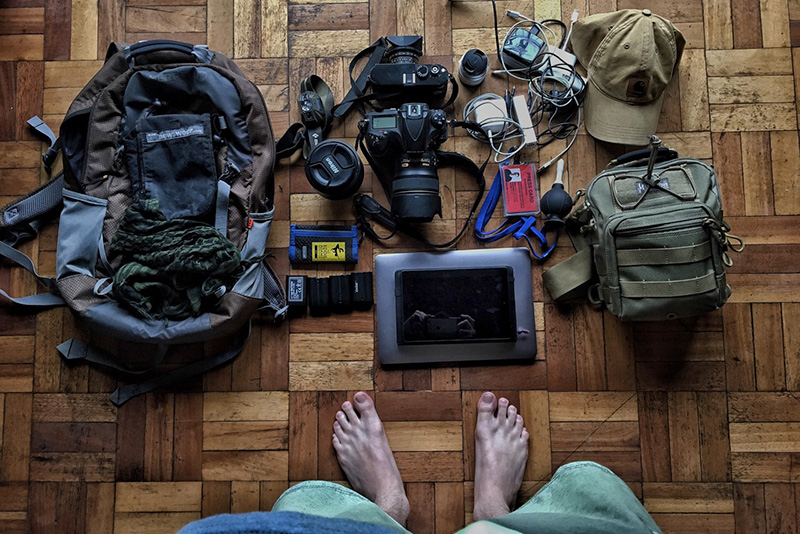 Last week I spent four days in very rural northwest Kenya on assignment for Scientific American Magazine. This was also my recent kit for a Smithsonian Magazine assignment in Egypt. Obviously things change depending on the trip but this has become kind of a go to as of late. It's a pretty light kit and makes my life easy.
– Nikon D810
– Nikon 35 mm f1.4
– Nikon 85 mm f1.4
– Leica M240
– Leica 28 f2
– Zeiss 50 f2
– extra batteries
– cf/sd cards
– press cards
– card reader
– rocket blower
– headlamp
– lucky hat
– IFAK (medical kit)
– scarf for dusty African desert
– Newswear pouch
– Merrell backpack
I generally like to keep it simple with the D810 and the 35 and Leica with the 28. The 50 and the 85 generally come out more when I need to shoot portraits. I have a 24-70 and 70-200 I barely use, but sometimes they are needed for certain assignments, or if I can only use one camera the 24-70 is nice to have.
The new MacBook is so incredibly light, I am really enjoying it. I bring the Kindle to read books and publications on the go. Traveling with the medkit seems important to me, especially in areas where help might be far if someone gets hurt.