Matt Hecht
is a photographer based in southern New Jersey near Atlantic City. He has traveled the world with the military, including South Korea, Japan, Germany, Kuwait, The United Arab Emirates, Qatar, Kyrgyzstan, Turkey, Iraq. and Afghanistan. His work has also included local coverage of music events such as Raven Simone, The Beach Boys, Frankie Avalon, and Steppenwolf. His photographs can be seen in Time Magazine: Battlelands, National Geographic.com, The Atlantic: In Focus, CNN, FOX News, Space.com, Gizmodo, Spin Magazine, Stars & Stripes, Business Insider Magazine, Airman Magazine, and National Guard Magazine among others.  He has also had video work featured on The National Geographic Channel, The Learning Channel, ABC, NBC, BBC, History Channel, The Pentagon Channel, and The Military Channel for shows such as The Hunt for Bin Laden, and Dateline NBC.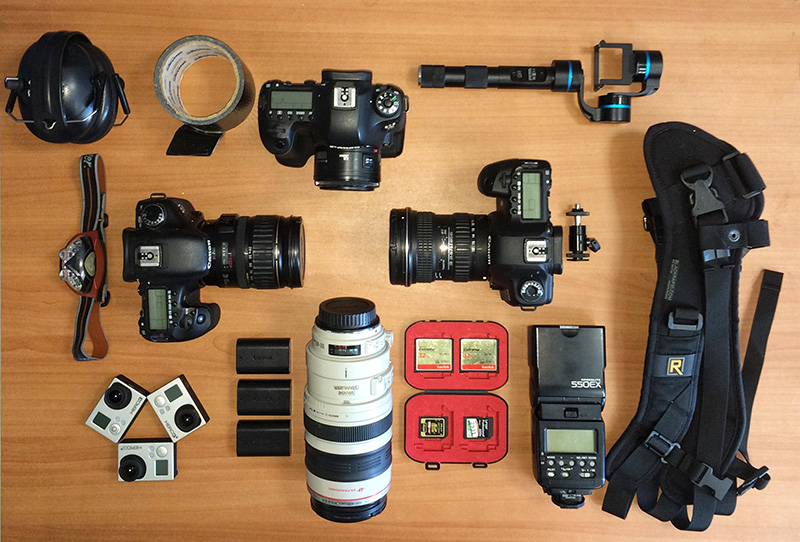 I work as a photojournalist for the New Jersey National Guard's Joint Force Public Affairs Office, where I am part of a talented team of Air and Army National Guard storytellers. On any given day, I can be shooting an awards presentation, out in the field covering combat training, or up in the sky documenting the aerial mission. It's a huge privilege to be able to document Department of Defense activities.
The key word for shooting in the military is flexibility. I try to stay light and lean, and usually roll out to jobs with two bags: A Tamrac 5612 Pro 12 as my primary for cameras, and a Kata KT DR-467 Digital Rucksack for my laptop and accessories. I'm very impressed with the Kata, it withstood rough treatment during a six month deployment to Afghanistan.
I usually carry three bodies: A Canon 6D and 5D Mk II as primaries, and a Canon 7D as backup (with extra batteries). Through trial and error I've whittled down the lenses I carry to a Canon 50mm f/1.8, Canon 28-135mm f/3.5-5.6, Canon 100-400mm f/4.5-5.6, and a Tokina 11-16mm f/2.8. The Tokina has been a favorite of mine, and is great when I switch over to video mode. To provide some light, I occasionally use a Canon Speedlite 550EX. To go along with my cameras, I prefer using a rugged waterproof camera card case that can hold both CF and SD cards.
Situation permitting, I'm a big fan of the BlackRapid RS DR-1 double camera strap. It fits easily over body armor, and has been great for securing cameras tight to my body in cramped shoots in helicopters.
The expectation for most jobs is to provide some type of video documentation or story to go along with photos, so I recently added a Feiya G4 QD 3-axis handheld gimbal and as well as Polar Pro neutral density filters (not pictured) to go along with my selection of GoPros. One of the best accessories I can recommend for GoPros, or is great for emergencies in general, is a roll of 100 MPH Mil Spec tape. Another useful piece of gear is a hot shoe adapter. Sometimes I'll mount a Zoom H2N (not pictured) on a DSLR when I want to capture some higher quality ambient sounds.
A major concern when shooting any military imagery is safety, and while I have some standard issue gear, like a helmet and body armor, I also use Predator Pro Ears when around gunfire or loud vehicles and airplanes. We also tend to work in low light situations, so a head lamp comes in handy too, and doubles as a flashlight. I recommend one with a red light setting for tactical situations.
– Tamrac 5612 Pro 12 Bag
– Kata KT DR-467 Digital Rucksack
– Canon 6D
– Canon 5D Mk II
– Canon 7D
– Canon 50mm f/1.8
– Canon 28-135mm f/3.5-5.6
– Canon 100-400mm f/4.5-5.6
– Tokina 11-16mm f/2.8
– Canon Speedlite 550EX
– Rugged Card Case
– BlackRapid RS DR-1 Double Camera Strap
– Feiya G4 QD 3-Axis Handheld Gimbal
– 3 GoPros
– Polar Pro Neutral Density Filters
– 100 MPH Mil Spec Tape
– Hot Shoe Adapter
– Zoom H2N
– Predator Pro Ears
– Head Lamp