Photo Brigade presents a panel discussion with four of the world's leading sports photojournalists. Elsa Garrison (Getty Sport), Maddie Meyer (Getty Sport), Ariele Goldman Hecht (New York Yankees) and Kathy Willens (Associated Press) have covered virtually every type of major sports event, and they share their experiences with us at Adorama's NYC Event Space. They touch on subjects from how they broke into the business, their favorite athletes, what drives them and how they compete in the small and competitive field of sports photography. The panel is moderated by Brad Smith, former Director of Photography at Sports Illustrated and Sports Desk editor at The New York Times.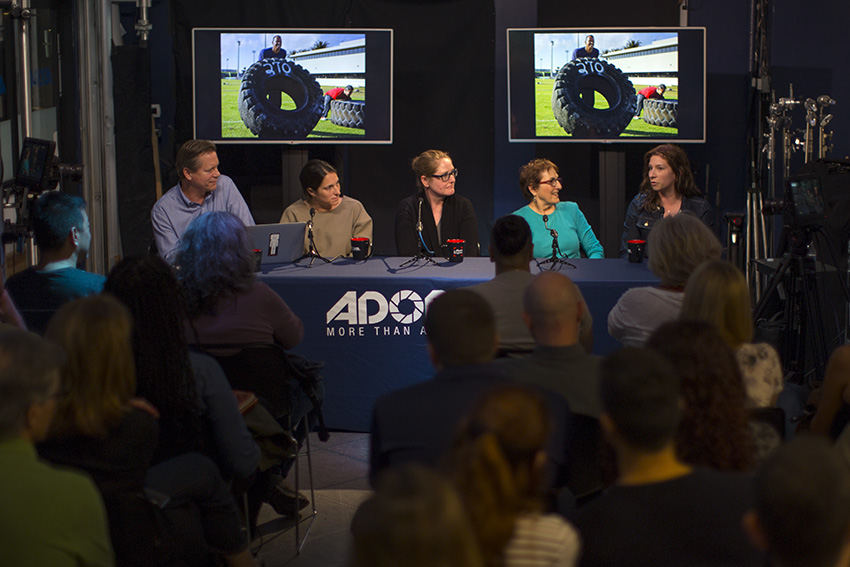 About the panelists:
Ariele Goldman Hecht has seen a lot through the lens of her camera in her 12 seasons with the New York Yankees. As the team's only staff photographer, Hecht oversees all day-to-day photo needs. This includes shooting games, press conferences and special events at Yankee Stadium. Aside from photographing World Series games, All-Star activities and player milestones, Hecht often gets to travel outside the Stadium walls and into the personal lives of her subjects. She has visited the homes of legends, traveled to some of the most historic fields in the country, and has dined with greats from the world of sports, capturing each experience in photos that have appeared in the pages of Yankees Magazine and on the walls of Yankee Stadium. In addition, Hecht's work has been featured in various publications worldwide. Besides the work she does behind the camera, Hecht is also the senior photography editor for the New York Yankees. She fills the pages of Yankees publications and contributes to the team's social media outreach by editing, organizing and making sure the best images grace the pages of Yankees publications and online.
Elsa Garrison is a Getty Images Sport staff photographer based in New York City. She started her career with Allsport in 1996 in Los Angeles, which was aquired by Getty in 1998. As a staff photographer she is responsible for a wide variety of assignmnts including such events as the World Series, NBA Finals, Stanley Cup Finals, World Cup Soccer, the Summer and Winter Olympic games, the Kentucky Derby, Belmont Stakes, among many others. Her work has been published on websites and magazines around the globe including the New York Times, Time Magazine, Sports illustrated, ESPN the Magazine, The Los Angeles Times, The Chicago Tribune, Boston Globe and more. Elsa is a graduate of the Missouri School of Journalism.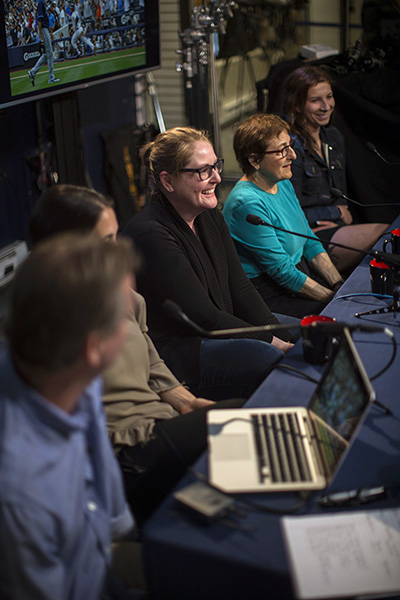 Kathy Willens began her career covering night and weekend sporting events as a freelance photographer for several suburban Detroit newspapers. Hoping it would lead to a staff position, she took a job as a lab technician at the Miami News. She landed a staff job at the News after earning a string of front page pictures and feature stories shot on her own time. A year and a half of front pages later in 1976, Willens joined the Associated Press as one of their first female photographers. In 1993 she moved to AP's New York headquarters where she remains, now celebrating her 40th year. From the collapse of the World Trade Center and the ongoing reconstruction of Lower Manhattan, whether working in Somalia, Latin America or on Wall Street, Willens' pictures are often memorable and frequently award-winners. Specializing in sports, Willens has covered summer and winter Olympics from Los Angeles and Nagano to Sydney, four World Series, the NBA Finals, the Final Four, and numerous Super Bowls. She frequently shoots breaking news and is adept at capturing intimate story-telling moments and peak action in sports. Willens is a three-time winner of the Newswomen's Club of New York "Front Page Award, " a two-time winner of the Baseball Hall of Fame Award, was honored with an Associated Press Managing Editors Award for Reportorial Excellence and is a nine-time winner in the New York Press Photographers Association's annual contest.
Maddie Meyer is a recent graduate of School of Visual Communication, Ohio University – Athens and currently works as a staff photographer for Getty Images based in Boston.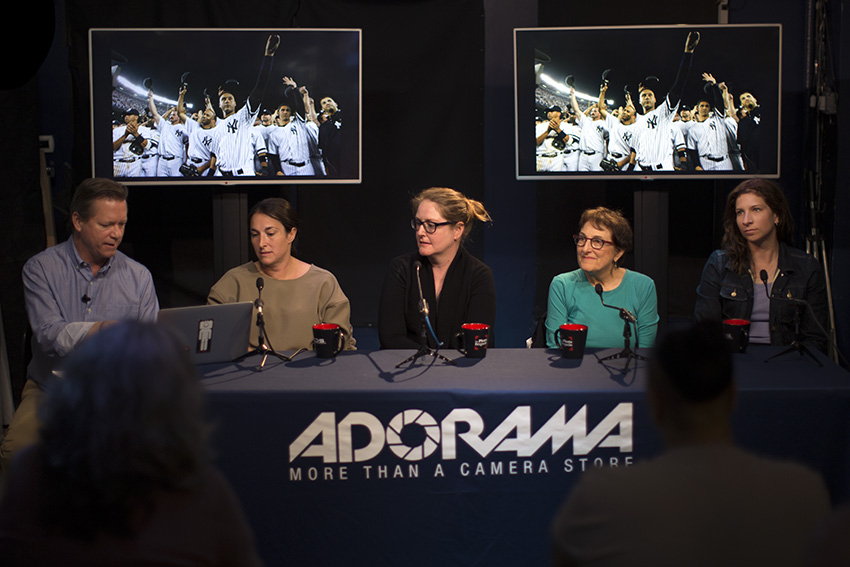 About the moderator:
Brad Smith is the former Director of Photography at Sports Illustrated and Sports Photo Editor for The New York Times for 12 years. Before that, he was the Assistant Director of Photography and Photo Editor for the White House during the Clinton Administration. He also worked at Sygma Photo News and the National Audubon Association. He is a guest lecturer at the School of Visual Arts Masters in Photography program. He is on the faculty for Fotofusion and the Rich Clarkson Sports Photo Workshop. He's also on the faculty for the Eddie Adams Workshop, as well as being on the Board of Directors. Most recent awards were placing 1st, 2nd and 3rd in Sports Story Editing for this year's POY (along with Becky Lebowitz of the NY Times). He's been an onsite Editor for 7 Olympics, 14 Super Bowls and more NBA, NHL and World Series games than he can count. He's a proud Florida Gator, and he lives in Suffern, NY.