Pulitzer Center on Crisis Reporting grant recipients Daniella Zalcman, Jake Naughton and Alice Proujansky take you on the inside of photographing long-term projects. From procuring funding to demystifying what it's really like to complete self-generated work, these photographers discuss the responsibility of exploring under-reported issues worldwide. They share how they make project work a sustainable part of their careers and what drives them to keep going.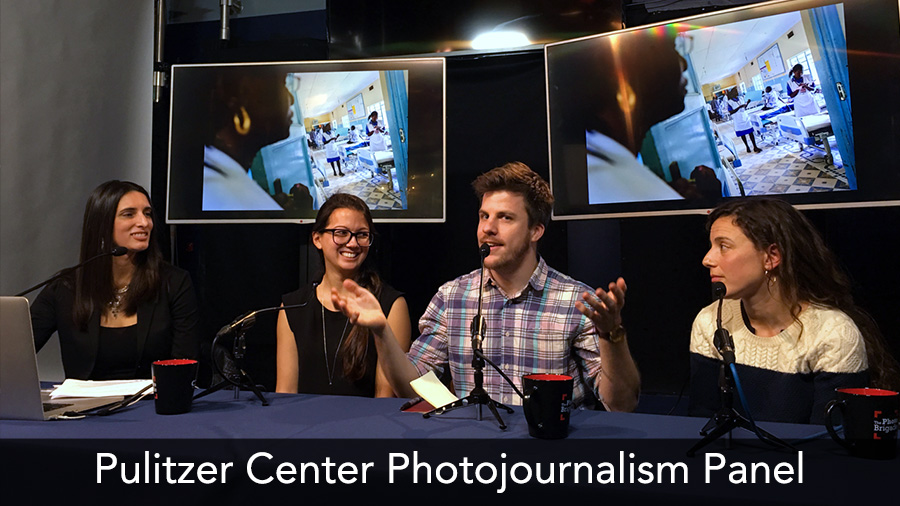 About the panelists:
Daniella Zalcman is an award-winning photojournalist based in London and New York. She is a member of Boreal Collective, a multiple grantee of the Pulitzer Center on Crisis Reporting, and a fellow with the International Women's Media Foundation. Her work has been published in The Wall Street Journal, National Geographic, CNN, and Mashable, among others. Her first book, Signs of Your Identity, won the 2016 FotoEvidence book award and will be available this fall. She graduated from Columbia University in 2009 with a degree in architecture.
Jake Naughton is a visual journalist working on stories about LGBT and immigration issues, but mostly he's just in search of the sublime. He is a frequent contributor to The New York Times, and additional clients include Al Jazeera America, Highline, VICE Magazine and The MasterCard Foundation. His work has been recognized and supported by American Photography, POYI, NPPA and the Pulitzer Center on Crisis Reporting, and he is a founding member of the creative cooperative Black Box.
Alice Proujansky is a documentary photographer covering women and labor: birth, work, motherhood and identity. She has been photographing Birth Culture since 2006, and Women's Work since 2013. Her work has been published by New York Magazine, the New York Times, the Wall Street Journal, the Nation, The New Republic, CBS, the Guardian, Harpers and others. She has received support from the Magnum Foundation, the Pulitzer Center on Crisis Reporting, the Solutions Journalism Network and the Economic Hardship Reporting Project, and was selected for the Review Santa Fe 2014 and the New York Portfolio Review 2016. In addition to her documentary work, Alice has taught photography to at-risk young people and their teachers since 2002 and currently coordinates educational partnerships for On Sight, Aperture's community programs initiative.
About the moderator:
Carey Wagner is a photojournalist and cinematographer based in Brooklyn, NY currently an International Reporting Project Fellow to Indonesia. After ten action-packed years as a staff photographer at newspapers in California and Florida, she bravely went independent to pursue work about women around the world. Through her photography and cinematography, she has told stories about gender-based violence in Papua New Guinea, child marriage in Nepal, sex trafficking in Seattle, meth addiction and childbirth in California, street harassment in New York and domestic violence in Florida. Although her work has been received with awards, the conversations that follow are what keep her committed to telling these difficult stories.
Carey has lived and photographed extensively throughout the Caribbean, Latin America, and Asia Pacific. Her clients have included The New York Times, NBC News, Wall Street Journal, the Los Angeles Times, CARE, and Sports Illustrated.