C.S. Muncy
is a New York City-based freelance photojournalist with a client list that includes The New York Times, The Wall Street Journal, Newsday, The New York Daily News and The Village Voice. His work has also appeared in Time Magazine, The Smithsonian Magazine and Wired Japan. In 2012, he was selected for the 25th Eddie Adams Workshop, received the NPPA Short Course Travel Grant and won first prize in the National Geographic/Nikon "Full Story" photo contest. A graduate of the Defense Information School, he enlisted in the United States Air Force in 2002 and is currently a combat correspondent with the 106th Rescue Wing.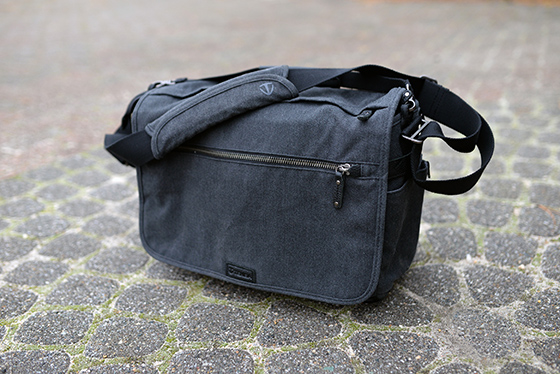 It's always been a struggle finding a camera bag that fits all my needs. On the one hand, I want a bag that's sturdy, comfortable, water resistant, and that can fit everything I need for a day's worth of shooting. On the other hand, I need something that doesn't stand out; nothing's worse than having a bag that screams out "I'M A PHOTOGRAPHER. LOOK AT ME AND MY EXPENSIVE GEAR, YE THIEVES." Or worse, something that's "tacticool" (I'll address "tacticool" in a bit.)
I've reviewed several bags over the last few years, and I stand by those reviews. The thing is though, many of those bags were great at some things, but never quite did it all. I could stuff in a ton of gear, but there wasn't really a place to stick my 17″ laptop. With some, the strap would be uncomfortable, or the metal attachments had a tendency to break off.
The Cooper 15 is a vast improvement over Tenba's previous bag, the DNA 15. That's not to say the DNA isn't a great bag—it really is, and I still use it. But over time, several issues did pop up. First, the metal clasps connecting the strap to the bag eventually snapped off. I fixed this by having the strap sewn around the metal D-loop, getting rid of the clasps all together. The shoulder padding sometimes got twisted up with the rest of the strap. The velcro was also somewhat loud, and over time lost some of its connectivity. The Cooper 15 addresses many of these issues.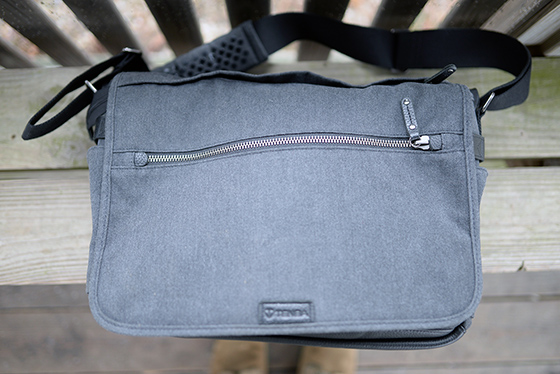 Let's start first with its appearance. The model I received was made of a dark gray fabric that looks great, but doesn't stand out as an obvious camera bag. The exterior material is constructed from waterproof peach-wax cotton with a leather base zipper pulls.  The interior padded pockets are stiff enough to maintain their shape over extended use, and is made from water repellent ripstop nylon.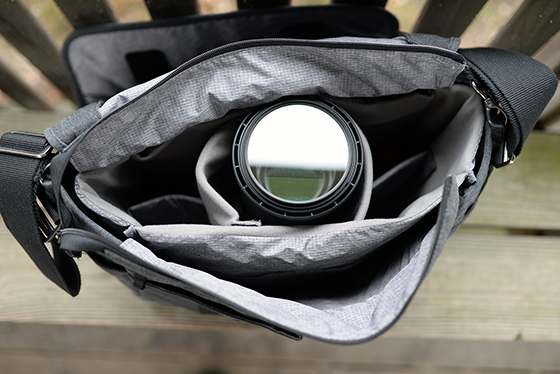 Appearance is a big thing. There are a lot of times when you don't want to stand out in a crowd. At the same time, having a lot of pockets and a sturdy exterior is just as important. Some manufacturers put out some "tactical" style bags—all black or green nylon covered in MOLLE strips. There's a time and place for this kind of gear, but generally I avoid it.
The side pockets have been vastly improved. The previous version was made from nylon webbing—for ease of use, these were great. It was easy enough to simply drop my keys or drinks into them without too much effort. The downside was that, again over the long term, they weren't terribly sturdy. The Cooper 15 pockets are made from the same waxed cotton, and extends out by unzipping the sides. This is a much, much sturdier arrangement.
The velcro itself is pretty amazing. By pulling directly down, and then out, the traditional ripping sound normally associated with velcro is almost entirely muted. When you're in the middle of a presser, or you're covering a moment of silence, nothing is quite so intrusive as that awful sound.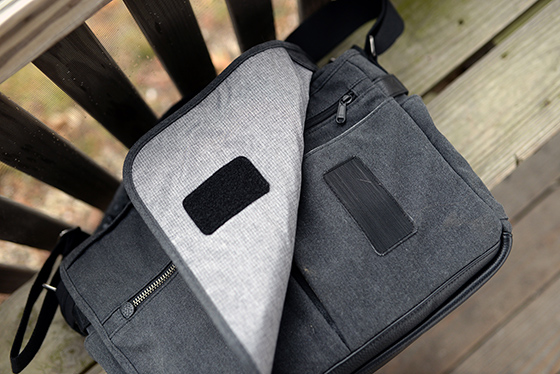 After some testing, I can say that this is probably the best every-day camera bag that I've ever used. There are others that are better at task-specific jobs (some have more carrying capability, for example) but I can't think of any other bags or manufacturers that have impressed me as much as Tenba has.
PROS
– very quiet velcro system
– sturdy build
– water resistant
– comfortable strap
– plenty of carrying space
CONS
– honestly, I'm at a loss for cons. This may be one of the best camera bags I've ever tested.