Logan Riely
is currently a senior at Ohio University majoring in photojournalism with a plant biology minor. He has interned with The Columbus Dispatch in Columbus, Ohio, and prior to that he interned with Pulitzer Prize winning photographer Dan Dry at Power Creative Advertising Agency in Louisville, Kentucky. Logan was a still photography participant at the 2013 Mountain Workshops. In October of 2014, he was a student at The Eddie Adams Workshop XXVII. He has been recognized by the College Photographer of the Year, The William Randolph Hearst Photojournalism Award program, the Ohio News Association as well as the Ohio News Photographers Association. His images and multimedia work have been published in The Columbus Dispatch, The Louisville-Courier Journal, KentuckyDerby.com, The New Albany Tribune, Vype Magazine, WOUB Public Media and The (Ohio University) Post.
As a senior photojournalism major at Ohio University I am required to take the senior practicum class known as capstone. This class is required and you must pass it to graduate with a degree in visual communications. With that the class consisted of four individual projects.
Project one was of an event that we were required to cover, project two was of a person or personality profile on a unique individual, project three revolved around an issue, and project four was whatever we wanted it to be. Along with photographing each project we had to write up a 1500 word essay and design a newspaper layout, magazine layout and that one project had to be done with video.
I have never been pushed so hard in a class before but at the end of the day I do feel more prepared about designing, photographing and writing a story than when I came into the program.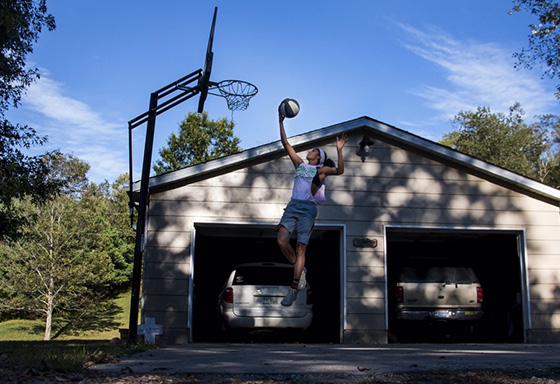 The Beginning:
This project began about seven weeks ago for my senior capstone class at Ohio University. It began as a photo essay for project two, which was supposed to be about a person or personality of an individual.
I was nervous because I hadn't found a subject until the day before my proposal was due, when via an espnW article I heard about the story of Jensen and her rise to being one of the nation's best basketball players. I immediately saw the story and then minutes later I called Sharon, Jensen's mother, and talked to her about the idea that I had of doing a visual story on her daughter. So I turned in project two and then two weeks later we had to come up with a story about anything we wanted for our final project. We were given five weeks for project four to either shoot images or video. I love the story so much that I ended up doing a video on Jensen rather than more photos because I thought the story would be better told in audio and video than through still images.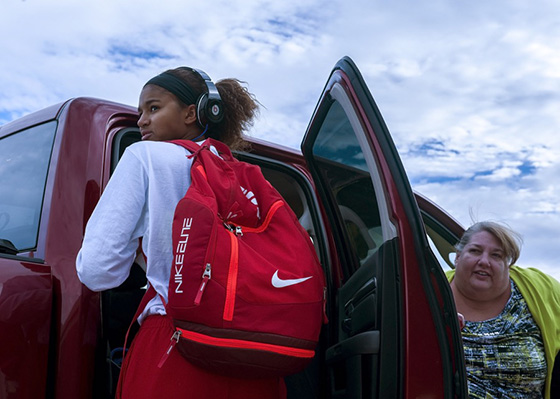 The Project:
The story is of Jensen Caretti who is from a very tiny town called Clarington in Southeast Ohio. Only 386 people live in the town and there's not a single stoplight. She went from being unknown in June of this summer to the most recruited player in the country all because of a happy coincidence that landed her in front of college coaches that she never thought she would ever play in front of.
Jensen was a foster child until the age of two years old and she was adopted along with 10 other brothers and sisters that Sharon and Daniel Caretti took in from being foster parents.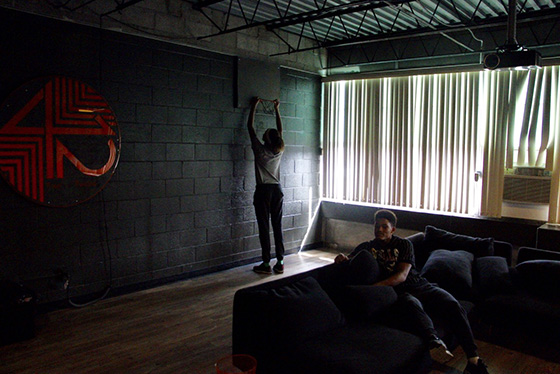 Difficulties:
The biggest difficulty of working on this project was how far she lives from school. It took me two hours to drive there which required a shot list that I would have to come up with in the car so that I didn't waste my time not knowing what to shoot. Thankfully I had great access from the beginning however it was difficult to get everything that I needed because of my schedule being in college and balancing that with her schedule and her family's schedule.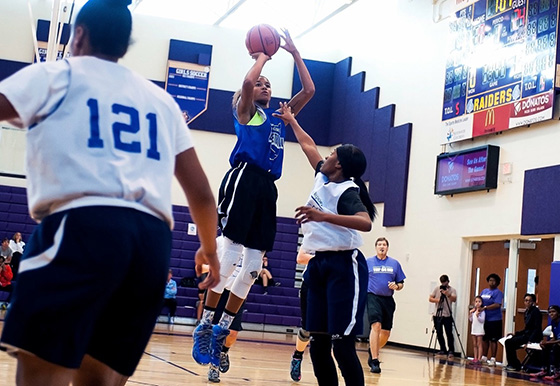 A Word of Advice:
Lastly I want to talk about the single greatest piece of advice I could give to someone: find a story that you are truly invested in and have fun with. I edited it for two weeks 3 to 5 hours a day on this project not because I needed it to be perfect but because it was that much fun. If you are having fun then the work will show that. I had fun every single day I worked on this project, not just with shooting but with editing and with interviewing and even driving to see them! And I believe that when you watch it you can tell I had fun every single day.