Chris Rusanowsky
(b.1990) is a freelance photographer based out of Los Angeles, CA. Christopher`s work is focused on cultural and current events, that take place in varies areas in the United States and the world. In 2012 Chris took a journey to Manila, Philippines to document child labor and poverty in the cities slums. This documentary trip cemented Chris to pursue a career in photojournalism. Chris`s goal for the last six years has been to become an independent photographer, that documents current events surrounding conflict and humanitarian crisis. In his young career, Chris has been published by a number of publications for his work in the Philippines and his photo essay about "Men in The Bakken." He has also been featured in "The Daily Dozen" by National Geographic for an image from a series called; Smokey Mountain. Chris is now pushing his ability to document and tell stories with multimedia tools and social networking.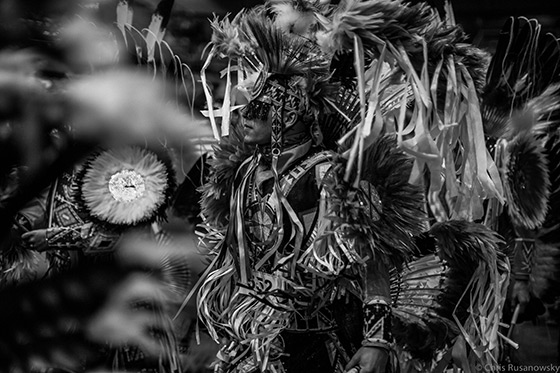 Stepping into the famous halls of the Rushmore Plaza in South Dakota, I was going to see my first Lakota Nation Powwow. I had an idea of what kind of pictures I wanted to take and if I had it my way I would love to have had a dark green backdrop with a two light setup, to capture the beautiful clothing and painted faces of the dancers. But this was not in my cards and I had to capture this event with another angle. I wanted to take images that showed the happiness these people had coming together to dance to their ancestor songs. I watched as the Sioux prepared their outfits with such concentration and perfection. The men put on a warrior face when my camera moved their direction, and the women would look through me. It was extremely difficult to hold a conversation with most of these dancers. I am a social person and like to talk up a storm and learn while photographing something I have never seen before. In this case I had to be a fly on the wall. I felt that I was a guest at a private ceremony. I kept to myself and spoke with the people that would speak with me. I was with a humble people that allowed me to witness their culture.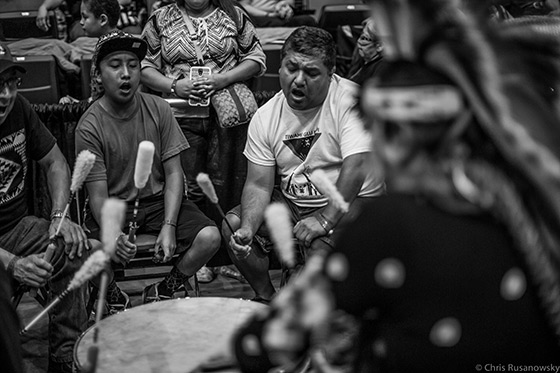 I loved every minute of the powwow, the drums and chanting would ring through my soul as if this music would lift me up and take me to a time when things where less complicated and peaceful. My eyes overwhelmed with the beautiful sight of people dancing and having a great time. I wanted to create images in color but as soon as I tested them in black and white I saw the emotion and feeling I had when I was there. There is a lot of history with the Lakota People and the United States, a lot was taken from these people and promises were never kept by the United States Government. I felt that this world can be so cruel and I don't understand how people with such beauty and grace could have been treated like this. It's a question that I have been obsessed with since Occupy Wall Street seeing people be beaten by police in the streets and in front of media.