C.S. Muncy
is a New York City-based freelance photojournalist with a client list that includes The New York Times, The Wall Street Journal, Newsday, The New York Daily News and The Village Voice. His work has also appeared in Time Magazine, The Smithsonian Magazine and Wired Japan. In 2012, he was selected for the 25th Eddie Adams Workshop, received the NPPA Short Course Travel Grant and won first prize in the National Geographic/Nikon "Full Story" photo contest. A graduate of the Defense Information School, he enlisted in the United States Air Force in 2002 and is currently a combat correspondent with the 106th Rescue Wing.
To say that Sigma has been knocking it out of the park with their Art series of lenses would be wildly understating the case. Over the last few years, they've managed to design lenses that are competitive, both operationally and in cost, with Canon and Nikon gear.
Just a few days ago they announced a new 20mm 1.4 lens—to my knowledge the first super-wide prime with a 1.4 aperture. And they offered it at the same price as their prior lenses, $899. The lens is due to start shipping next month, and I had the chance to get my hands on it at the PhotoPlus Expo yesterday, and wanted to share my first impression.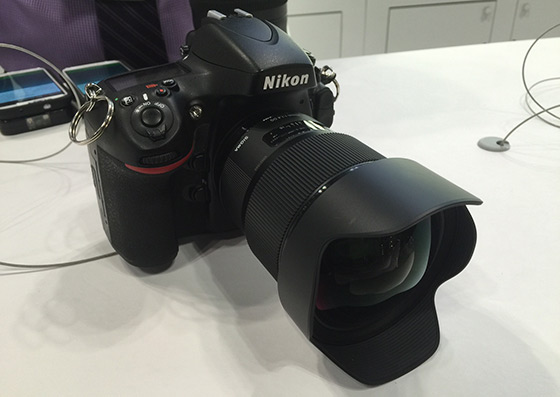 Build
Like the previous Art series of lenses, the 20mm 1.4 features a well-built, solid metal barrel, built in lens hood and a bulging front element. Also like previous versions, I did not see any weather sealing. The brass bayonet mount locked solidly to the camera with no noticeable give.
The bulging front element gives me some concern. The truth is they're hard as hell to keep safe. I actually traded in my Tokina 16-28 2.8—a lens I otherwise loved—for that reason. You can either buy a large, bulky filter holder to cover the front element, or spend all your time worrying about scratching or damaging the vulnerable glass. The built in lens hood will offer some impact protection, but it's still a gamble. Since I work a lot around prop wash (which kicks up a ton of debris in the form of rocks and sand) this is not an insignificant concern. I've got a Nikon 14mm 2.8 lens with the same issue—the glass looks like it's been sand-blasted.
Image Quality
I only had a few moments with the lens, but what I saw was shockingly impressive. Like the 24mm 1.4 before it, I can see this being used in a wide variety of situations. It strikes me as a go-to lens for news, wedding and event photographers. I've included one of the shots I managed to take at the Expo, where the lighting was relatively low. Still, that was pretty damned sharp all things considered.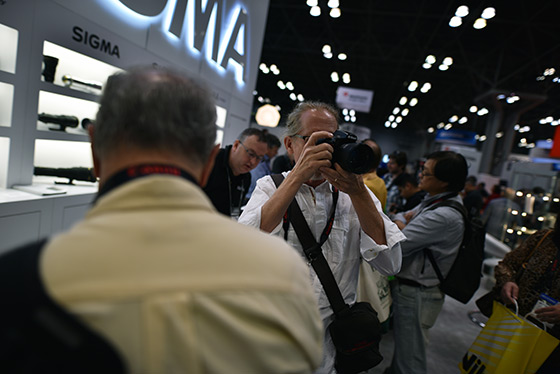 Final Thoughts
Like I said, Sigma's really taking it to another level. Lenses like these, offered at these price points, are going to open up the field for shooters who might not have been able to afford the brand-name gear. For professional shooters, it's a previously unavailable option that will open up new ways to create images. One astronomical photographer I talked to was particularly excited, seeing this as a new way to shoot starscapes. My only concern is that this was announced and released so soon after the 24mm 1.4. It's possible that the sales of the 24mm might eat away at sales of the 20mm, or vice versa. Even if that's the case, it's nice to have the option.
I imagine even once this lens ships, it's going to be a while before it's available for in-store pickup. Trust me—it's going to be worth the wait.