Dougal Brownlie
is an aspiring Visual Journalist who was raised in a small college town of Bellingham, Washington. The town itself had two big cities both north and south with Vancouver, British Columbia in Canada and Seattle, Washington respectively. From a young age, the passion for photography and capturing everyday moments had always captivated Dougal's interest. As a result, it was assumed that he was the designated family photographer, so more often than not their family of five turned into a family of four because he was behind the lens. A trip to South Africa in 2008 led to an obsession with documentary films and the use of moving pictures to help with telling people's stories and adding powerful imagery. As a result, when choosing colleges, Brooks Institute seemed to be the appropriate choice. Graduating high school in 2012 Dougal took the opportunity to pursue his love for the visual arts and move to Ventura, CA. Currently, Dougal is a recent graduate of Brooks Institute, and received his Bachelor of Science in Visual Journalism and looks to follow his dreams of becoming a one-day well known photographer and documentary filmmaker.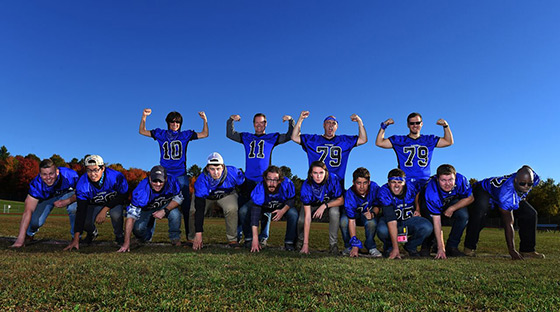 For the first time since I can remember I don't have anything to say. I am still in shock, processing, absorbing, rethinking, and trying to make clear what the past weekend at the Eddie Adams Workshop feat the Class of XXVIII meant to me. Since I found out in June that I was accepted to this once in a lifetime workshop and opportunity, it has served as the light at the end of the tunnel. Truth be told, this summer was harder than I ever expected it to be. I had all these desires, ambitions, and hopes of getting an internship for the summer after graduating college and working for a newsroom. Time after time after time I was turned down. A total of forty times being turned down and it began to get into my head. I questioned if I was good enough, was I supposed to be a visual storyteller or did I choose the wrong path for my career and taking out loans enough to pay for a small house or a very nice car. I would wake up in the mornings with self doubt and would reassure myself that Eddie Adams liked my work and that meant something, I would push through the days of summer applying, following up and trying to get my foot into the industry that I desired so badly. The outcome the same, "we regret to inform you that the position that you have applied is now filled, however we will keep your records on file for future internship or jobs for this organization." It was ten days before Eddie started that I got hired in Missouri for a newspaper photographer position. I can't begin to say how grateful I am for the job and begin this upcoming Tuesday. However, that will be for another blog post, this one is dedicated to how the Eddie Adams Workshop helped me find my voice. This past weekend helped me explore who I was at my core. It may have been the speakers, it may have been the staff, it may have been the assignment, it may have been the friends I made, but all I know is after coming out of this workshop, I was was able to internally find myself and to reevaluate and recreate my body of work from the technical to the creative side of my craft. After less than a combined 7 hours of sleep over the past four days, the numerous number of photos taken, meeting with professionals and receiving critical but highly important and helpful feedback, hearing truly incredibly and gifted industry professionals talk about their career, images, and vision, and most of all making some friends that now I consider family and who I love; I can say with the utmost certainty that the career path I have chose of visual story-telling was the right one thanks to this experience.
I was placed on the Blue Team which was the sports team and our team was led by Getty Images chief photographer Al Bello, Sports Illustrated Director of Photography Brad Smith, photographer and founder of PhotoBrigade.com Robert Caplin, and Washington Post staff photographer Toni Sandys Mallon as well as being blessed with an honorary member of the blue team Cliff Hausner of ProFoto lighting. Meeting the other students I thought would be terrifying, like when you are going to the first day of school and don't know a single person. What I came to discover was how much talent and diversity there was within the workshop and every single person, was outgoing, friendly, and enthusiastic. My group (the blue team), somehow connected on a much deeper level than I expected. We grew as a group and learned to respect one to another as well as show the highest level of praise and help that I could imagine. Like all the teams we had to have a team and our team's team was to cover a football game from the small town of Monticello, NY Superbowl style. We had photographers on the end zones, feature hunting, with both teams, in the locker rooms during the half and end of the game and really got to see what each student produced from the experience. The next day had the team shooting portraits of the players and cheerleaders in the woods behind the Eddie Adams barn and with the beautiful fall colors served as an incredible backdrop.
As well as our assignment we were able to have portfolio reviews by many in the industry with the exchanging of information, notes, and feedback on our work. One of the biggest highlights of the workshop was how many of the past participants or others in the industry would come up for the weekend and treat students like myself to presentations. This year the barn was able to have James Nachtwey, John Moore, David Guttenfelder, John Stanmeyer, Al Bello, Eugene Richards, Matt Black, Mary Calvert, Ruth Fremson many more share and impart their knowledge and work to us. The amount of work that was shown to us along with two reporters notebooks full of information, one thing held true to all those who spoke; finding something that you are truly passionate about as a person and visual storyteller and one that brings you the joy to continue to shoot daily is what matters.
Although I have tried to explain what the workshop is like, the best way is to go and witness it in person. Never have I struggled so much to articulate what something is like, but this is different, unique, and most of all gave me the drive to continue to follow what I love as a photographer, storyteller and someone who hopes that my work educates and informs the viewers what they are looking at while looking at my body of work. Finally last but not least by any means, thank you to the Black Team for being there to inspire, the White Team to feed me the most amazing food, the editors who came up for the weekend and offered their time and feedback, the other students who attended the workshop with me, and of course Alyssa Adams for continuing this workshop and the legacy of Eddie for many more years to come. I am beyond humbled and grateful for being a part of the Eddie Adams Workshop Class of XXVIII.