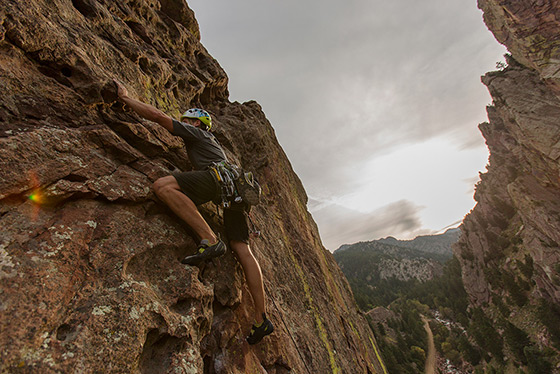 L.A.-based photographer Dan Krauss shares photos of his various shoots from the last few weeks.
Seems every month gets shorter and shorter. Over the last few weeks, I've been to Salt Lake City for Outdoor Retailer, Cleveland to visit family, Boulder for some shoots with Red Bulletin and JayBird Sport, and of course a few days home in LA. Here's a slew of photos from working with Brad Gobright and a few of his friends as he climbed 12b and 12d sport routes on run-out trad gear only, as well as a bold 350′ free solo of Outer Space, 10c, in Eldorado Canyon. It's always a pleasure to work with Brad, who is laid-back and humble, but an extremely bold and creative climber. Lesley Smith is a triathlete that I photographed at Coot Lake, near Boulder and Kristina Macias modeled for the JayBird shoot in Venice Beach. Thanks for looking and stay tuned for some fun shoots in September.
See more photos on Dan's blog.