Abby Lovis is an aspiring photographer currently based in Melbourne, Australia. Studying photography, both film and digital, since 2006, she is now a final year student at RMIT Melbourne studying a Bachelor of Photography with a keen interest in pursuing outdoor adventure and travel photography.
Abby was recently announced as the 2015 Maui Photo Expedition Scholarship Contest Winner and her work has been published online and in print across the globe. Abby is available world-wide for assignments of any genre.
The morning of April 1st 2015 would have to go down as one of the most exciting moments of my life. I never would have thought a quick trip to Cable Beach in Broome, Western Australia only 4 months previous would have led me to be announced that morning as the winner of the Maui Photo Expedition scholarship for 2015.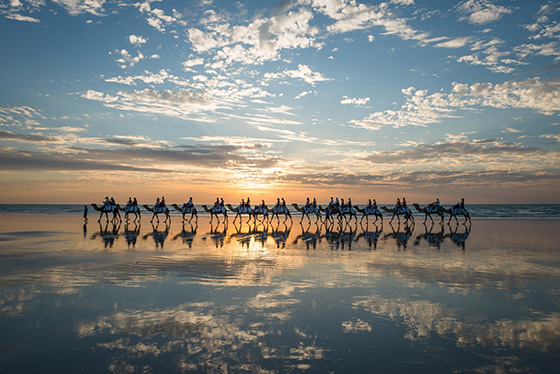 * * *
MEL ➡ SYD 1h 25min
SYD ➡ HNL 9h 40min
HNL ➡ OGG 39min
My long day of travel was immediately forgotten when I was given what can only be described as a royal welcome from the Four Seasons Resort Maui at Wailea. I was greeted by the lovely staff, offered refreshments and my very own fresh lei while being led through reception to take a seat in front of the most picturesque view.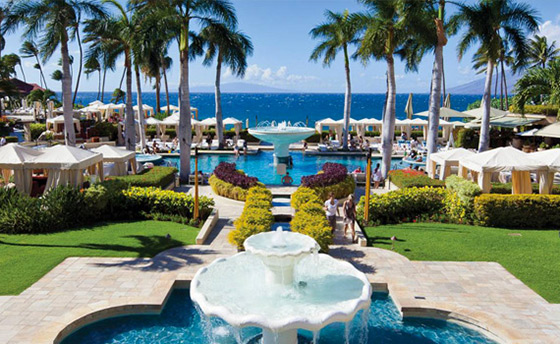 After meeting my instructors, Robert Caplin and Peter Lockley, along with some of the crew, I was led to my executive (yes… executive!) suite with a beautiful garden view – I'm not going to pretend here that I kept my cool, it was one of the most spectacular places I had ever stayed.
As the sun set, I headed over to the lobby lounge for our welcome champagne toast with introductions to expedition staff, sponsors and all other attendees. It was great to get to know each other, talk a bit about our upcoming adventure and look at some of the gear we would be using… the ideal way to start.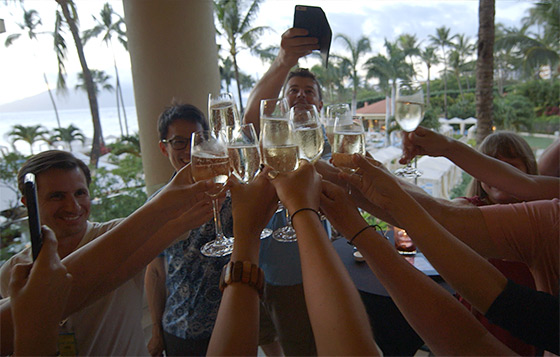 * * *
I am an early riser, and my first morning in Maui was no exception. I went to explore the resort and send some photos back home to Australia – which were met with complete and utter jealousy. Four Seasons had put aside a beautiful room dedicated as the Canon Lounge and this was where we met later that morning for distribution of gear and orientation.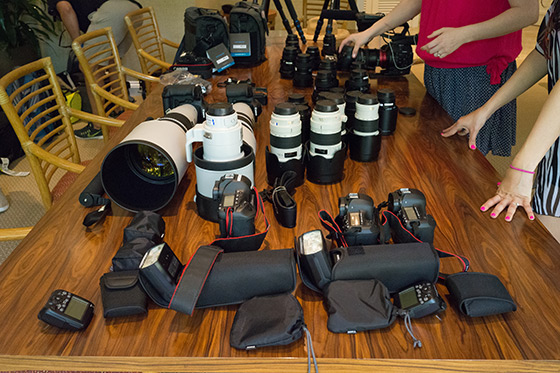 There was so.much.gear! Being told to not hold back and construct our ideal kit would have to be any photographers dream. After picking out way too much and telling myself to relax, I ended up with my equipment for the week that could be swapped and changed at any point. Life was tough.
Canon EOS-1D X
Canon EF 16-35mm f/4L IS USM
Canon EF 24-70mm f/2.8L II USM
Canon EF 70-200mm f/2.8L IS II USM
The rest of the day was spent going over technique, taking in some presentations from our instructors and sponsors and enjoying the amenities of the resort.
Peter Lockley started with the basics of digital photography, largely discussing exposure and composition. This ensured everybody had a good understanding before getting out into the field. Next was Canon representative Kelly Anderson discussing camera operation and functionality, while Robert Caplin finished with his photography including work from his previous visits to Maui.
After a break for lunch by the pool and the afternoon familiarising ourselves with the loaner equipment, we made our way to the docks where we set sail on the Alii Nui.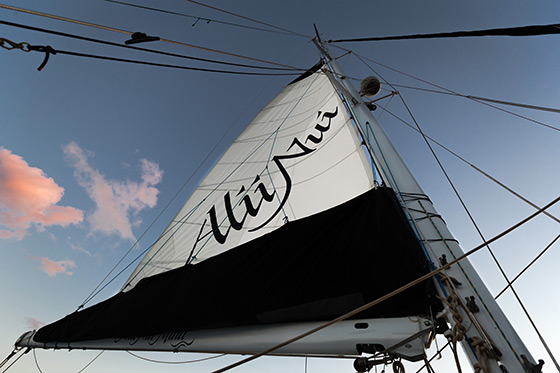 This was my first chance to venture out into some spectacular Hawaiian scenery, and it didn't hurt we were able to do this on a one of a kind, 65' luxury sailing catamaran. Putting the mornings learning into effect, we experimented with our cameras well after the sun had set, all while enjoying an outstanding array of seafood and cocktails provided below deck.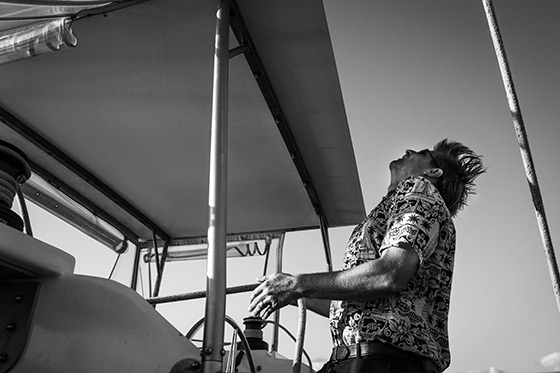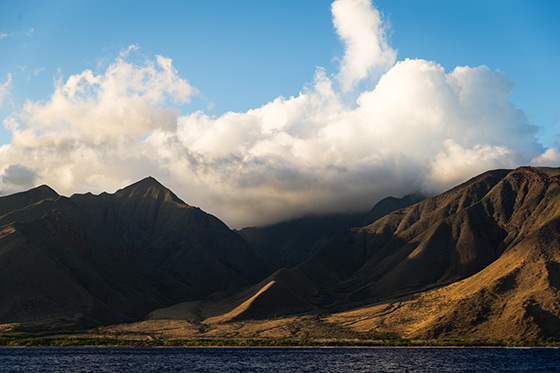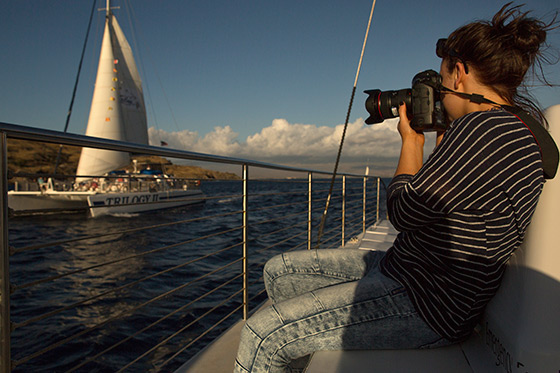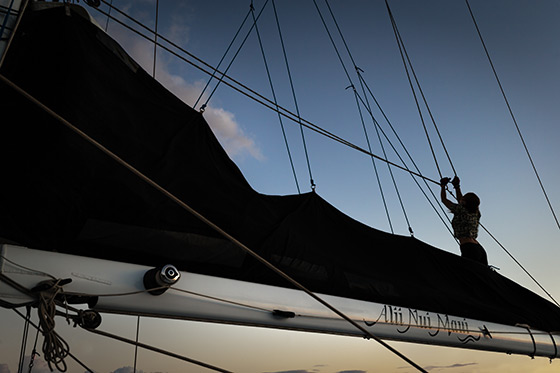 One of the biggest highlights however was the company, and by the end of the sail I felt like I knew everybody all that little bit better. I was so looking forward to the next few days.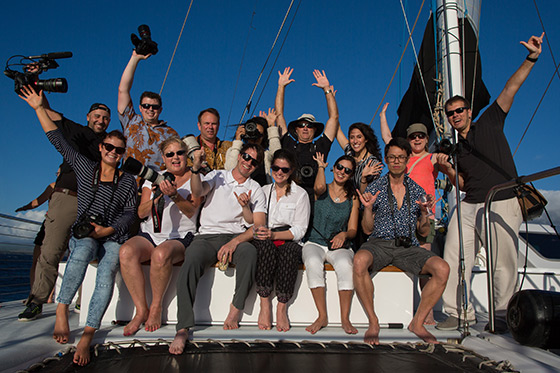 * * *
Today we went completely off the grid with the entire day dedicated to circumnavigating the rugged backside of the island on the infamous Road to Hana.
After a bite to eat we started the day at gallery Indigo Paia where we met our guest instructor Daniel Sullivan. Sullivan is an incredibly talented photographer who, when not out gathering images and stories from around the world, lives on the island of Maui. We were fortunate enough to have him join us for the day, as he became the ultimate tour guide. Sullivan's outstanding knowledge and eye for the Hawaiian landscape allowed us to experience many of the prime photographic spots.
We hit the road in our convoy of fwd's making numerous stops along the way. We were able to capture picturesque waterfalls…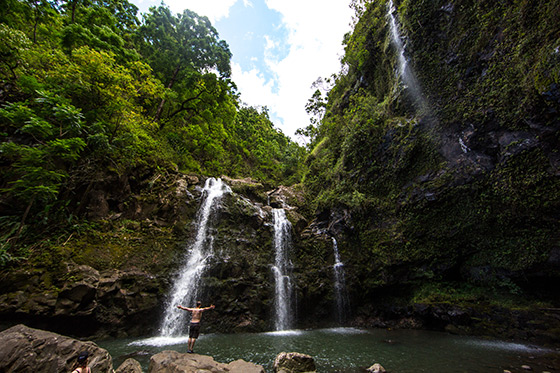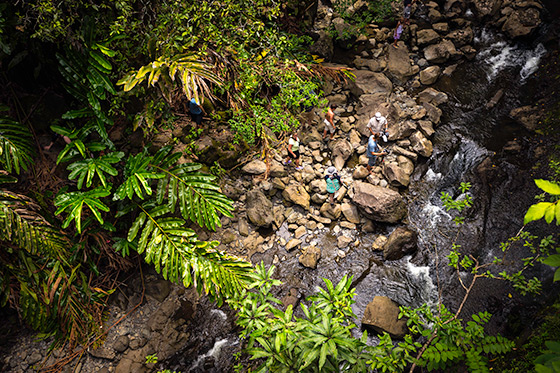 Taro field…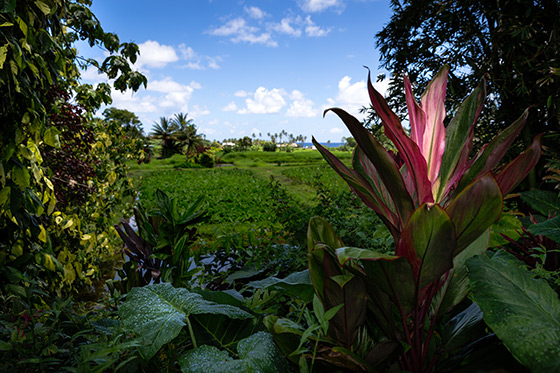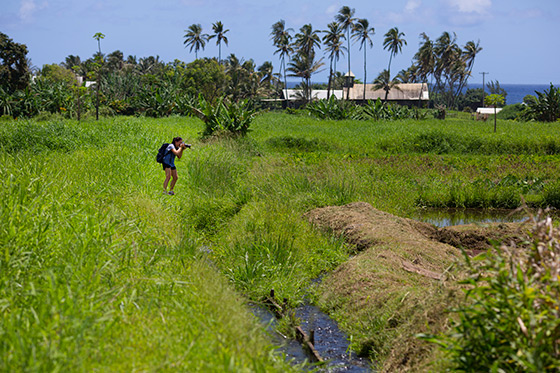 Grand sights along the coast, black sand beaches…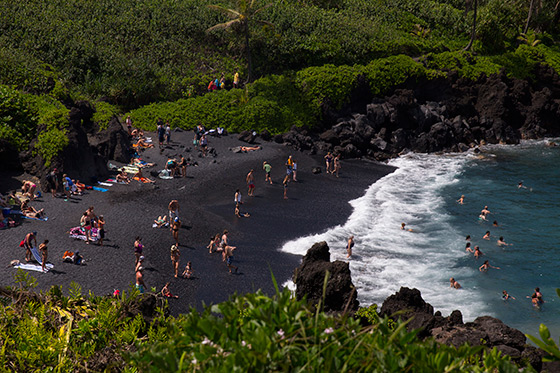 …and an epic hike through thick and thick bamboo forest to one of the most beautiful waterfalls I've ever seen.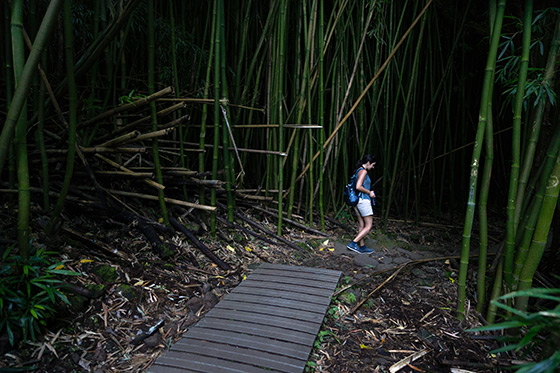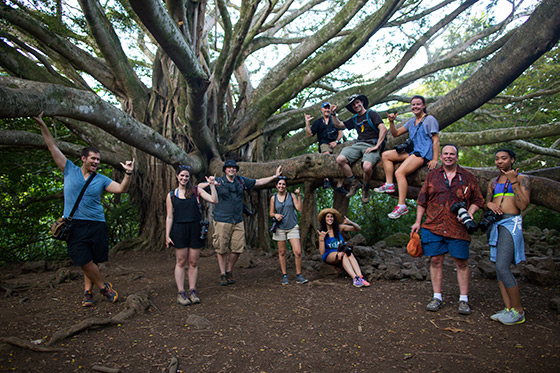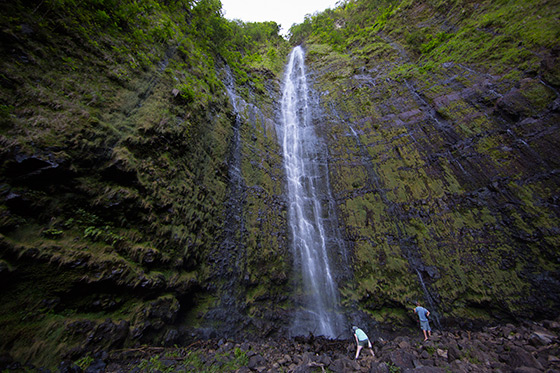 Arriving back at the resort well after sunset it was safe to say that everybody was ready for bed after a day packed full of adventure.
We were told there would be a morning portrait session for anybody interested, although much like everything offered throughout the workshop, it was indeed optional as the techniques could be repeated if necessary in tomorrow nights evening session.
* * *
Although I could have slept well past my alarm, there was absolutely no way I was missing out on what turned out to be the very best day of the Maui Workshop.
Meeting Robert and Peter before the sun had risen at the beach located directly in front of Four Seasons, I was told we would be photographing local dancers as we'd catch the early morning light.
With only one other attendee fortunate enough to wake up and take on the optional session, it was essentially a one-on-one private lesson with photographers I would have never even dreamt of meeting at this stage in my photographic career. It was truly a highlight.
The beautiful Hula Dancers were such a treat to photograph and I ended up with one of my favourite shots from the expedition. It really demonstrated that to achieve work I am most proud of I need to put in that extra effort – it will always be worth it in the end!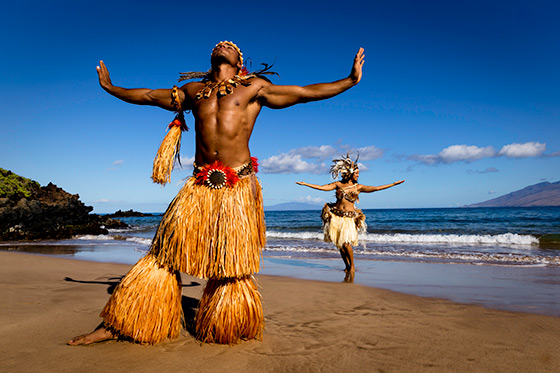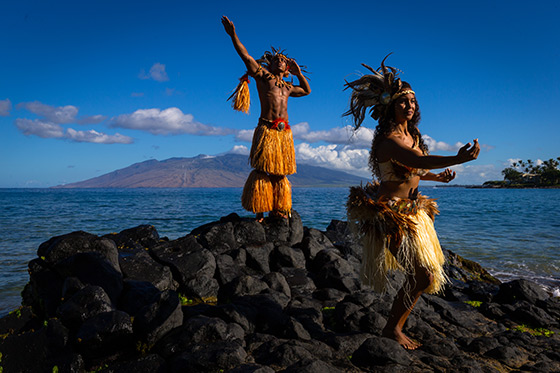 With plenty of photos to sort through and edit from the previous days of shooting, the Canon Lounge was opened for attendees who wished to edit their photos and receive feedback and assistance from workshop staff.
The afternoon brought an unexpected surprise with guest instructor PF Bentley sharing his incredible work. It included everything from rock legends to politics to picturesque scenes from the island of Molokai; where he now runs one-on-one photography workshops. These workshops are custom designed for each individual and I could see even in the short time we got to talk that he would devote considerable effort to every participant. I immediately added another must do to my photography bucket list.
Later on in the early evening, we headed to neighbouring Big Beach where we captured the action of skim boarders bracing the pounding waves against the brilliant Maui sunset. This was a huge thrill, using lenses up to 600mm to freeze the action all while maintaining incredible detail. Equipment I had never had a chance to use before.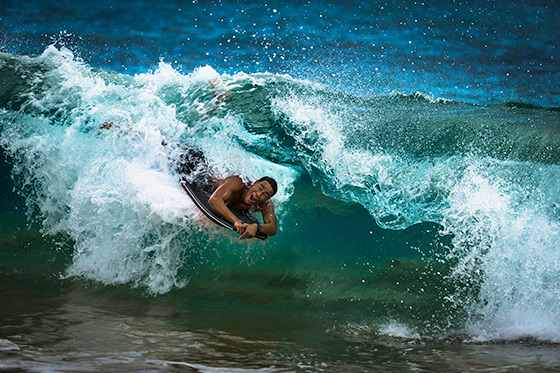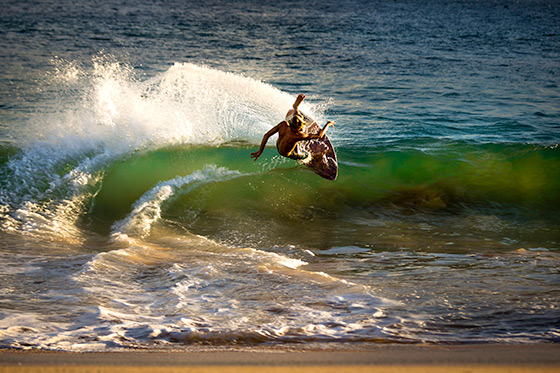 The instructors were outstanding; pushing us to get 'the shot' and making sure we didn't remain shooting in a single position (which was easily done out of awe!). We were told to turn around and look for different angles…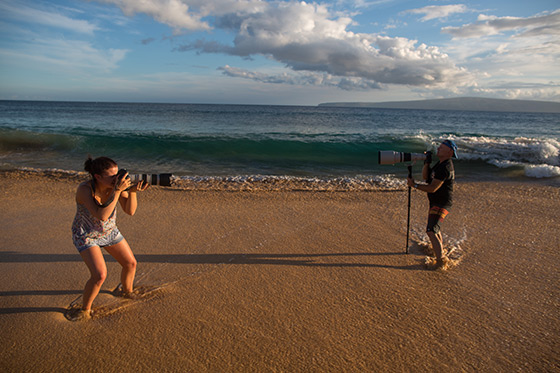 …not that it always went exactly to plan…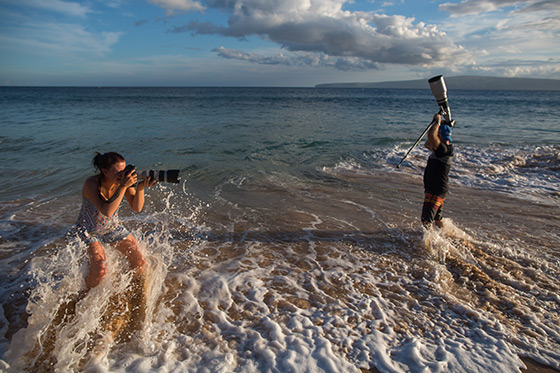 Afterwards, a dusk portrait lighting session had been organised with an authentic Hawaiian Fire Dancer. We had to move quickly as we were losing light by the second but what I remember most was how engrossed I became in getting the shot. I was down in the sand getting closer and closer (to the fear of some onlookers) as I knew the shot was there. This ended in a face full of sand but, more importantly; with what I believe to be one of the best photos I have ever taken.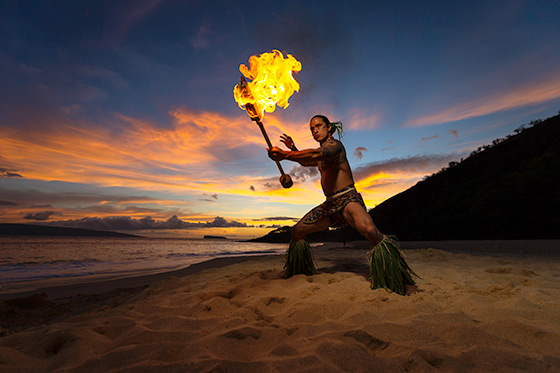 I was ecstatic from the day's events!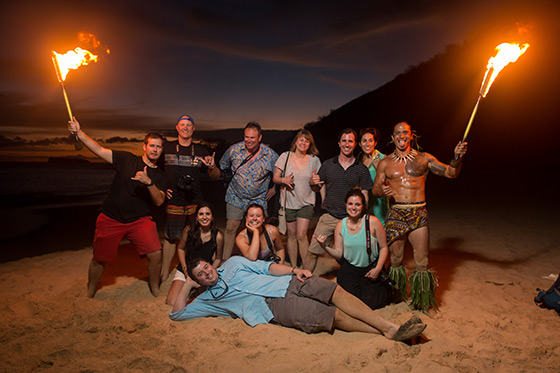 * * *
The final day of the expedition led us to the Ali'l Kula Lavender Farm where we were given the chance to photograph the natural gardens and breathtaking views. I began treating it like an editorial assignment as I wanted to improve my story telling imagery, however upon turning around I discovered a group of paragliders descending from Polipoli Flight Park; the main paragliding site on Maui.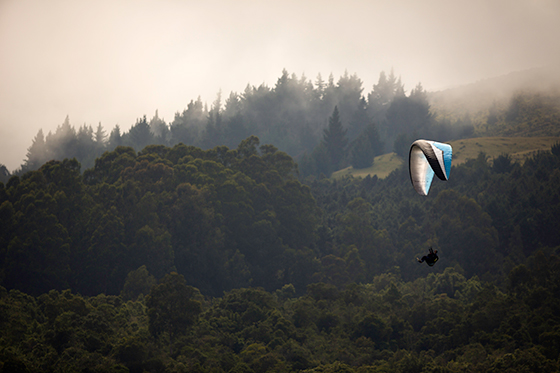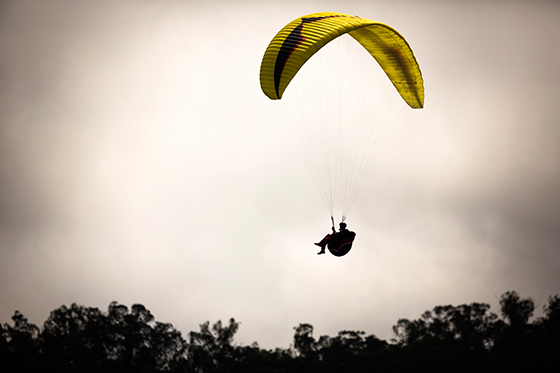 Luckily this was the type of workshop where a 600mm lens was readily available from the back seat of the car and before I knew it my assignment had changed. Robert and I jumped into the car and took off to the landing field and although discovering their day of gliding had finished, they were kind enough to jump again just so I could capture some more photographs.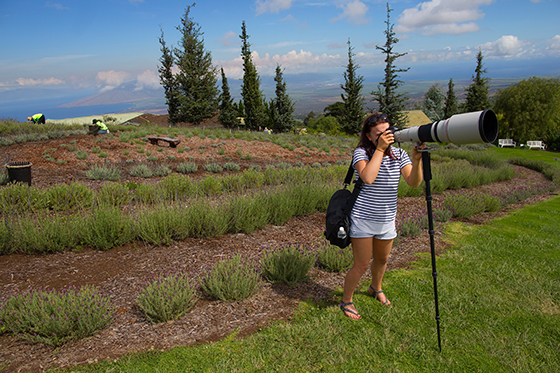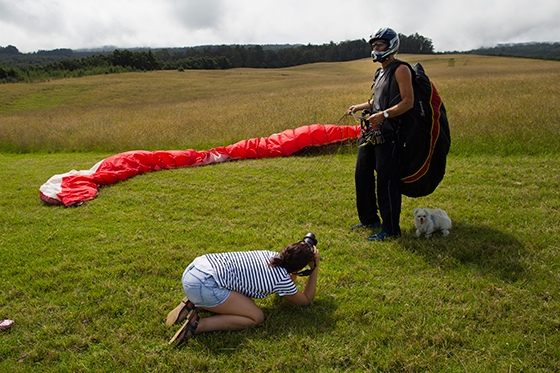 It was truly spur of the moment but it just confirmed how great this workshop really was. Instructors went far beyond any expectation I had originally come with and I walked away with some fascinating shots.
After we did our final edit and handed copies of our best images to the crew, the attendees were invited to dinner at the Four Seasons. With Robert, Peter and all five students, it really was the perfect way to spend the final evening. We over ate and enjoyed cocktails while the sun went down and it really hit home that I would be leaving all of these fantastic people tomorrow, they had become my Maui family.
We were led upstairs to reception and were thrilled to find our very own gallery photo exhibition featuring the work of all participants and open to the guests of Four Seasons. All of the people we had met over the past week were invited to attend and see the end results of the extraordinary expedition, which they had all contributed to in some way. It was a bittersweet evening, celebrating how far everybody had progressed while saying my goodbyes and promising to keep in touch.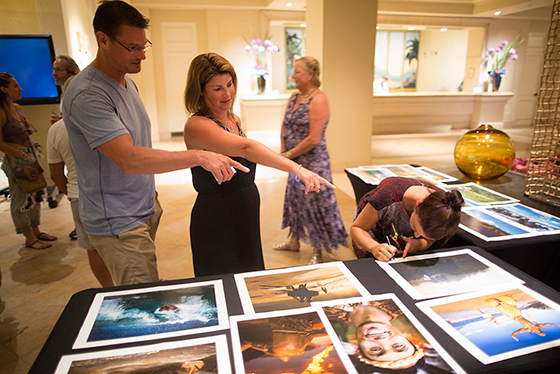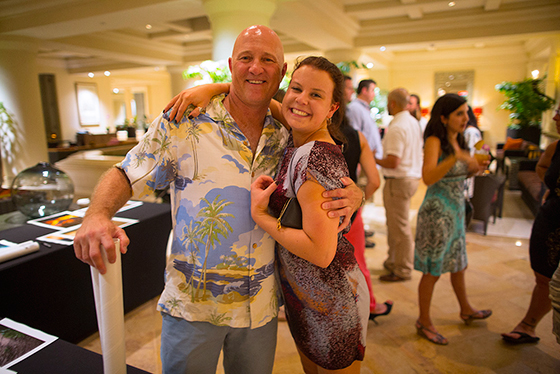 * * *
Reluctantly on the last morning I packed my bags ready to go back and face reality. I fortunately bumped into Robert and his partner Laia on the way out and got to have one final chat about the week's events and future possibilities (to travel and work with these incredible photographers once again is most definitely what I'm striving for!), all while taking in that amazing view one last time. To the instructors Robert Caplin and Peter Lockley, behind the scenes crew who made everything run so smoothly, attendees, host Four Seasons Resort Maui and sponsors Canon, Adorama, Tenba, Alii Nui and Photoshelter, I cannot thank each and every one of you enough, you made my dreams become a reality – as a 23 year old student whose ambition is to become a professional photographer, this expedition has made me realise that my goals are not only attainable but now within very close reach.