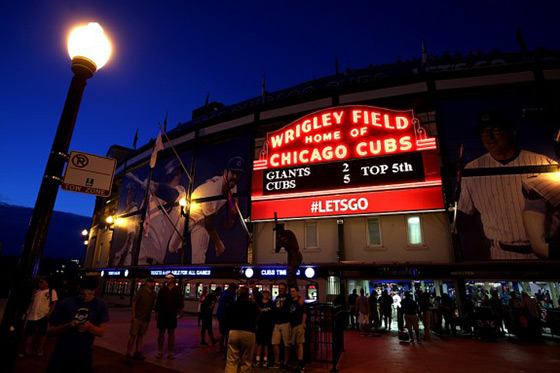 San Francisco Bay Area sports photographer Brad Mangin took photos of Wrigley Field in Chicago for the Players' Tribune.
As a baseball photographer who has been shooting in the big leagues since 1987 I have worked thousands of games in dozens of venues. Years ago I shot games at stadiums like Riverfront in Cincinnati and Veterans in Philadelphia. Thankfully the concrete, artificial turf stadiums from the 1970′s like these are long gone, replaced by newer ballparks that harken back to the yards of yesteryear like Fenway Park in Boston and Tiger Stadium in Detroit – both parks I am thrilled to say I worked in. The one ballpark in the Major Leagues that architects have tried to emulate more than any other place, and the one cathedral that was missing on my roster of ballparks to have walked in was Wrigley Field in Chicago. For many reasons I had never had the chance to work a Cubs game at Wrigley, let alone attend one as a fan. This needed to change, and it finally did a few weeks ago when I spent four fabulous days shooting a series between the Giants and Cubs at the Friendly Confines on assignment for my good friend Nate Gordon at The Players' Tribune.
Continue reading and see more photos on Brad's blog.