C.S. Muncy
is a New York City-based freelance photojournalist with a client list that includes The New York Times, The Wall Street Journal, Newsday, The New York Daily News and The Village Voice. His work has also appeared in Time Magazine, The Smithsonian Magazine and Wired Japan. In 2012, he was selected for the 25th Eddie Adams Workshop, received the NPPA Short Course Travel Grant and won first prize in the National Geographic/Nikon "Full Story" photo contest. A graduate of the Defense Information School, he enlisted in the United States Air Force in 2002 and is currently a combat correspondent with the 106th Rescue Wing.
Photographers don't often spend a lot of time thinking about camera straps. They typically come with the camera, and the average shooter doesn't often feel the need to go much further than that. Those photographers who want a little more tend to turn towards sling straps like Black Rapid or Sun-Sniper.
While those are fine choices, there's a growing number of photographers who want something a little more personalized. Leather workers of all stripes have started putting out one-off straps for shooters who want to invest in something designed for their own unique tastes.
I wasn't terribly familiar with Goatness straps before the review. I discovered their brand online through a friend, and immediately saw the appeal. Companies like Sun-Sniper and RapidStrap make some awesome gear, but it's not perfect for every job or camera body. When I'm out shooting for myself, and I'm only carrying one of my rangefinders or TLR's, it doesn't make a lot of sense to have them mounted on a huge sling designed for professional DSLR's. With my M3, I want something subtle.
László Balassa, one of the owners and designers behind Goatness, talked me through designing something for myself. I needed a strap that could hold a little bit of weight and survive in busy environments, but didn't stand out. After a few weeks, the customized "Traveller" strap arrived from Spain, and I set about putting it through my tests.
The strap certainly looked beautiful – made with hand-worked waterproofed leather and metal. The wide band fit comfortably on my shoulder without digging in as narrower straps often do. At first the material felt slightly stiff, but after only a day or two of use it softened considerably, much the same way a new pair of boots or a belt will with a new owner. There's even an area for memory and business cards. Balassa even stenciled my name into it – a nice touched which I certainly appreciated. And at fifty five euros, it remains competitively priced compared to other similar straps.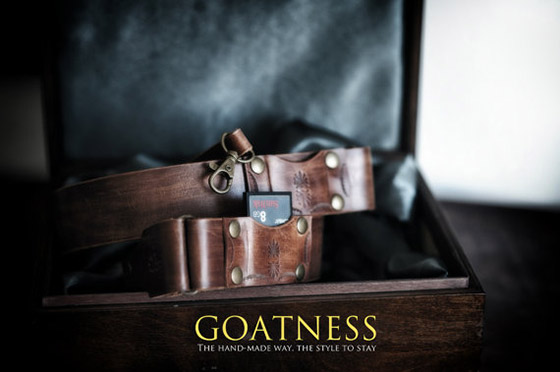 I rarely put out a review that isn't balanced out by a mix of both positive and negative elements. I immediately distrust a review that's overwhelmingly positive – but the truth is that I didn't find anything I could complain about with this item. As I mentioned before, it's comfortable, strong and holds up to the elements very well. After several months of playing with it, I'm very comfortable recommending it to others.