C.S. Muncy
is a New York City-based freelance photojournalist with a client list that includes The New York Times, The Wall Street Journal, Newsday, The New York Daily News and The Village Voice. His work has also appeared in Time Magazine, The Smithsonian Magazine and Wired Japan. In 2012, he was selected for the 25th Eddie Adams Workshop, received the NPPA Short Course Travel Grant and won first prize in the National Geographic/Nikon "Full Story" photo contest. A graduate of the Defense Information School, he enlisted in the United States Air Force in 2002 and is currently a combat correspondent with the 106th Rescue Wing.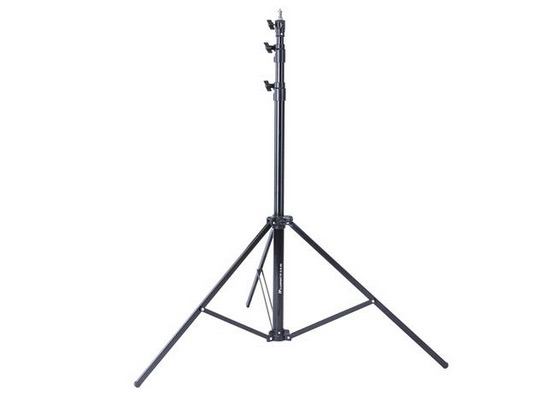 Sometimes I struggle to find the appropriate words when reviewing new items. Believe it or not, the simpler the tool, the harder it is to properly review. I mean really, how far into the tall grass can you get when it comes to basic lighting equipment? How much further do you need to go beyond "It does the job well, and doesn't cost an absurd amount?"
Thankfully, for those moments when writer's block has taken over, there's caffeine and serendipity.
Adorama sent me their new 9′ Auto Stand, a heavy-duty (yet lightweight) lighting stand, part of their ever-growing Flashpoint line of products. The Flashpoint line has been fairly impressive over the last year or so, with a growing list of innovative (but affordable) products designed for professional and semi professional shooters on a budget.
The Flashpoint Auto Stand is a decent choice for shooters who work by themselves or with small teams. One of the biggest problems with traditional light stands is that you have to choose between constantly loosening and tightening the legs when moving, or to tramp around with fully extended legs. This model actually features legs that automatically deploy when you set the stand on the ground, and retract when lifted up. It's a neat, discrete and convenient feature if you're working in a hurry or in a crowded environment.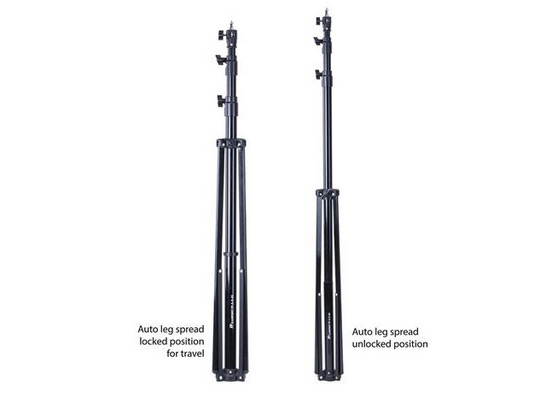 The nine-foot models compresses down to three and a half feet, is constructed of aluminum alloy and features twist-lock knobs. Another smart addition is the reversible top stud, which allows you to place both heavier studio strobes and portable flashes – it also allows you to mount it horizontally, something you don't see in a lot of light stands in this price point.
So what could use improvement? It'd be nice to see future models feature a joint or elbow, which would give you some more positioning options. Some of the metal also feels a little loose – certainly not enough to cause me to worry, but enough for me to comment here. It's certainly sturdy enough to work out in some fairly high-impact areas. I recently photographed some firefighters following a large brush fire, and it held up very well in the high heat, ash and mud.
All told, I can easily recommend this for other shooters.
PROS
– Affordable
– Easy to use by yourself, without having to worry about constantly adjusting
– Sturdy enough to work in some very harsh conditions
– Top stud can be positioned horizontally or vertically
CONS
– Could use a center joint. It'd be nice to be able to use this to mount lights overhead
– Rattles a bit when moved from place to place