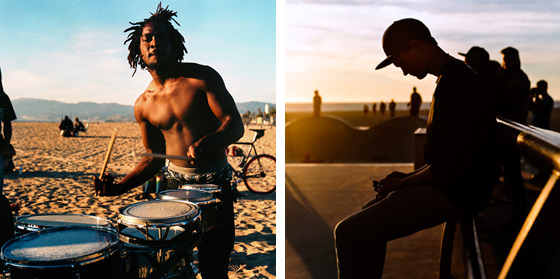 Photographer Jonathan Hanson recently moved from Baltimore to L.A. and started a new series, "Down by the Boardwalk".
"Down By The Boardwalk" is a personal project I started in January during a trip to LA. The mission for the trip was to explore the city and start laying the ground so that I could relocate to the area later in the year. Early into my first week here, I headed down to the Venice boardwalk and was hooked on the energy, culture and characters I met. After living in Baltimore for the past eight years, I was drawn to the stark difference in culture and lifestyle so I began a follow up project to my Baltimore series, "These City Streets". Over several trips before moving here in June, I walked the area between the Venice Pier and the Santa Monica Pier, shooting portraits and beach scenes during the last few hours of light. I plan on continuing to work on the project throughout the summer.

I want to breath new life into my travel and street photography by focusing on the portraits of the people that define the culture of a place while maintaining the energy and spontaneity of street photography. This series is a way for me to simplify things and return to type of photography that inspired me to become a photographer. I think what connects my work is my connection to the subject whether it's something broad like music, or specific like a portrait.
See more photos on Jonathan's website.