Born and raised in London, England, Dave Geffin is a photographer, videographer and video editor based in NYC. He loves fashion, portraiture and street/documentary photography.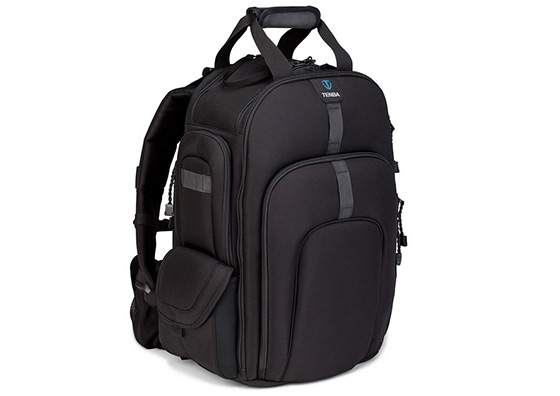 The Camera Bag With Serious Bang For Your Buck
When was the last time you got excited about a camera bag? For me, until now, it's basically been never. Of all the gear you can get excited about in the world of photography and video, bags are way down the list but I have to say, the Roadie 20″ HDSLR that I picked up by Tenba has kind of changed that.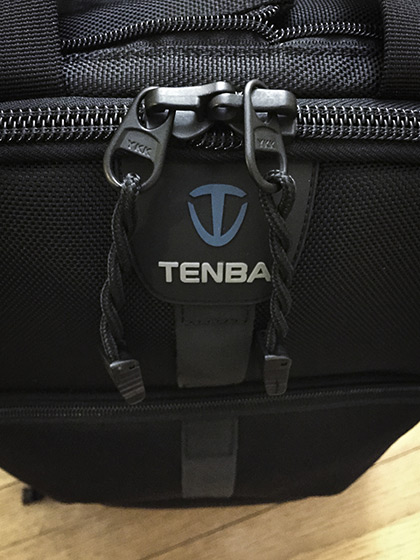 The last bag I bought was in 2006. It fit 2 DSLR bodies, a few lenses and it's served me perfectly well for 9 years. With the zipper one small job away from breaking, however, it was definitely time to look at another option. One thing you can't say about the camera bag market is that we're short on options.
There are so many companies producing so many bags, it makes choosing tricky but there are some universal elements that I think we all try to look for. We want something affordable, comfortable, functional – and most of all, will keep our gear safe.
Personally, I was looking for two specific criteria to be met. First, I wanted something comfortable and not at the expense of functional design, or capacity. With all the traveling I knew I would be doing, comfort was going to be essential.
Second, I needed a larger capacity than my previous bag. I've found myself shooting both DSLRs with more lenses and bodies, and using larger cinema cameras (and on my last job, both stills: a Canon 5D III and a C300, interchanging between them both). I needed a bigger bag, clearly, and I also really wanted a bag to take all my camera gear and my 15" laptop inside a protective sleeve. Yep – pretty specific criteria but that was the bag I was looking for.
Now, three months and close to 20,000 miles later, my Tenba Roadie 20″ HDSLR has traveled with me on jobs across New York, Switzerland, Amsterdam, Toronto, London, Barcelona, Berlin and Paris and I can safely say I'm actually excited about camera bags. At least, I'm excited about this bag. The reason is simple – it checks every box I could have asked for – and more.
Is it perfect? Absolutely not – no bag is, but this comes as close as I can get to being about as perfect for my needs as you can possibly get. Here are the 3 things it NAILS:
Comfort AND Functionality
First off, let's talk comfort. The shoulder straps on this bag are so padded and soft, it's incredible. I have no idea if they will ever wear out. They might have a slightly smoother finish than I would like (doesn't quite grip your shoulders, so much as just softly sit there and slide on and off easily). For the last 3 weeks I've traveled with close to 40lbs of weight in this thing and never ONCE have my shoulders felt it. Whatever magical soft filler is inside the shoulder straps has saved me over the last few weeks.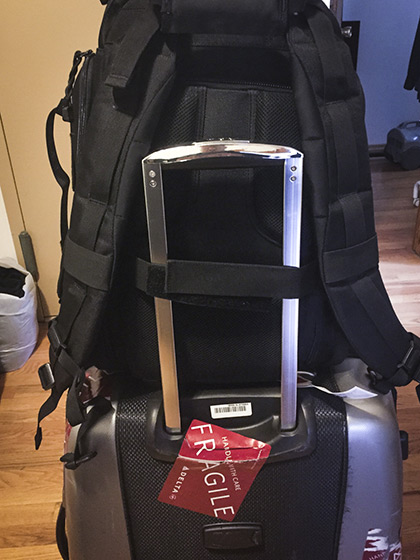 The backing of the backpack (the part that sits against your back when you wear it) is also made from incredibly soft and durable foam. This not only provides ample padding for your back (critical, as it's the back pad that opens up to allow access to the gear) but it has air channels and space in the foam so that the backpack sits off your back, and allows a nice free flow of air. When you're wearing this thing to keep the gear safe in a hot climate as I was in Barcelona, this sort of attention to detail is fantastic and much needed.
The zippers are also INCREDIBLY strong. At times I was worried there might be too much pressure against them with the fact the bag was so packed – but they are super strong and the nylon material the bag is made out of is incredibly tough – if you need a tough backpack, this is definitely up there with the best of them and WAY stronger than my old Lowep ro.
Capacity
This bag took all my gear (and then some) AND provides room for a 15" laptop in my protective sleeve in the front laptop compartment.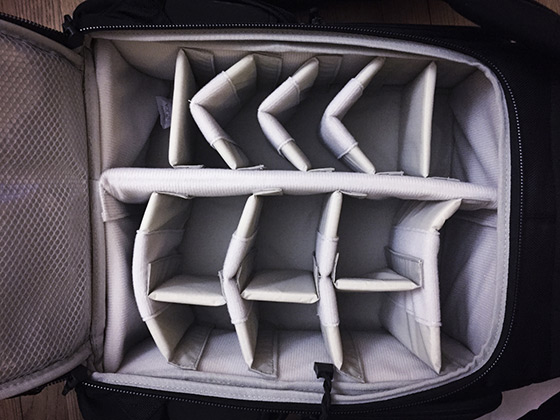 I've stopped having to carry two bags with me, now it all goes in this one. I've been carrying a 5D, a C300, 4 lenses, hard drives and accessories all in one place.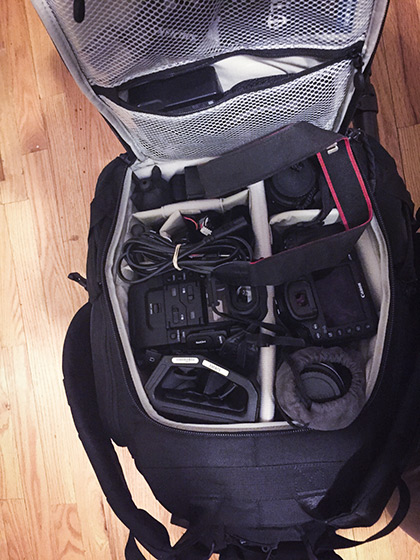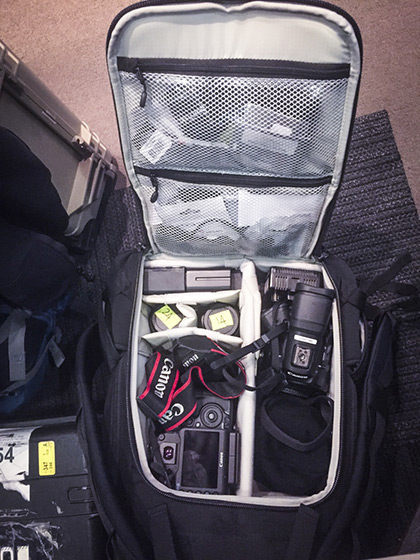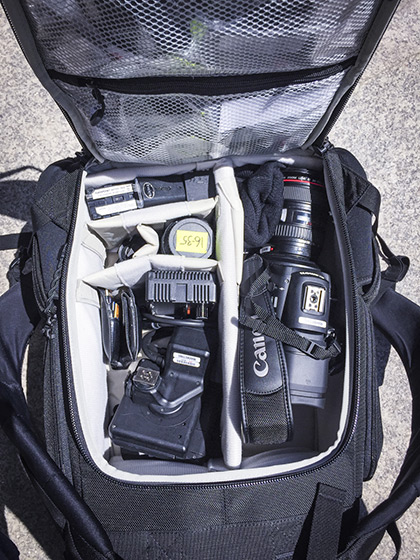 You can lay cameras down, or put a lens on and put them 'face down' to maximize the internal space. It's spacious enough to even double as a laundry bag when I had to get 2 weeks of washing done in Barcelona.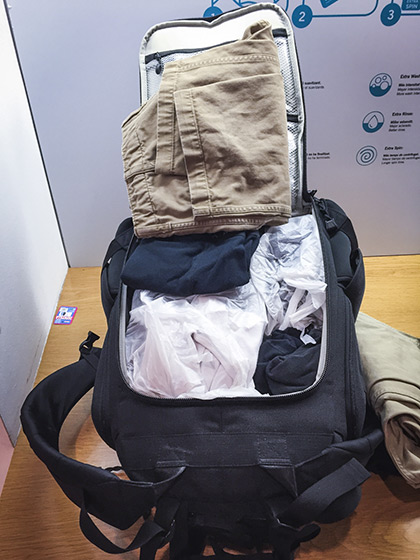 I've found there is a very fine line between having ENOUGH room and too much room. Too much room IS a problem because the more you put in to a bag, the bigger and heavier it gets – and if you have to put a bag into smaller overhead lockers in European airlines, or under the seat in front of you, you'll realize bigger isn't always better.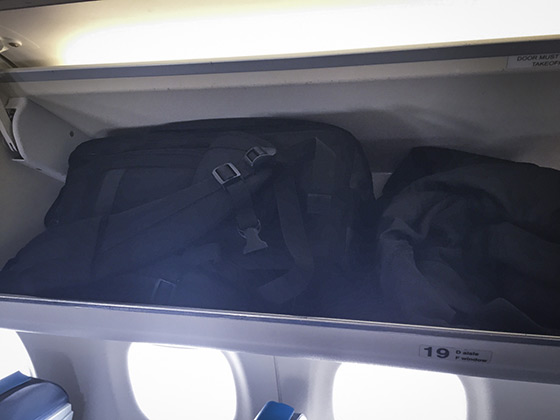 The HDSLR 20" does a pretty much perfect job of balancing capacity and just being unwieldy. When it's not packed to capacity, it feels great to have the space for carrying more gear – and when we do need to carry more, it handles it very well.
Security
The added bonus with this back pack is security for your gear – you will never have to worry about someone opening up the back of the backpack and getting access to any camera equipment because you have to remove the backpack and open the side that sits against your back to get into the main gear compartment. A smart move and designed specifically for those of us who are moving and traveling about, and carrying a lot of gear and need to make sure no one else has access to it while we're on the move. When I didn't have room in my pockets, I put my wallet in the bag, knowing it wasn't going to go anywhere, unless someone stole the entire back pack from me.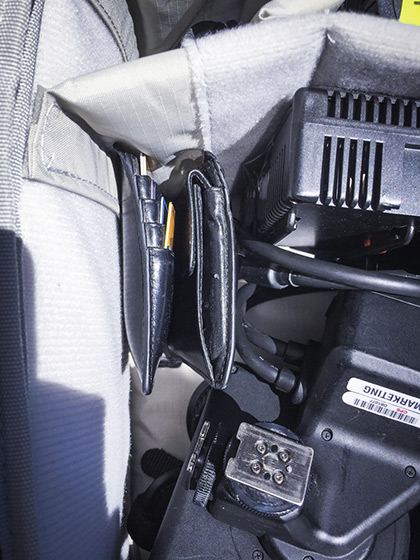 The whole bag itself is black and doesn't scream "Rob me! I have expensive camera gear!" which is great. It's pretty low profile and discrete – handy when you want to blend in to your surroundings and not stand out (handy when you're photo bombing tourists in random places).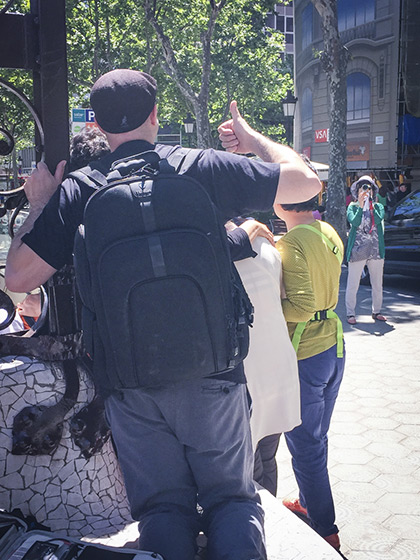 What I Didn't Like So Much
Just a few minor points here – I use a monopod A LOT and there is no way to clip it in fully to the side of the bag in a way that I found stopped it moving around. I don't want it sticking up above the bag height, and I would much prefer some way to clip it in or hold it so it doesn't move. Tenba does provide some rubberized velcro straps but I wasn't exactly sure of the best way to keep the monopod from moving around, so just used these the best I could.
The only other thing that seems odd is the chest strap could possibly have a few inches more give on it. I'm not particularly big (5ft 10" and 40" chest) but the elasticated chest strap is still quite taut on me when I clip it together when it's in its maximum extended position. An extra inch or so of slack here would really help – and if you ARE big chested, you might want to check this out first if you do like to be able to close the shoulder straps together across your chest.
I wish the outward-facing laptop compartment was somehow protected against someone possibly just opening it and swiping the laptop as you walk around, but you can always padlock the zippers if this is a worry. I certainly value the ability to carry my laptop in its protective sleeve AND my camera gear together far more than having some additional security feature here but it would be a nice to have (I personally avoid padlocking zippers as I find the lock attracts attention in itself).
Final Verdict
These minor points aside, I freaking love this bag. The positives FAR outweigh these minor issues and I cannot believe how one company has managed to get such a great piece of gear to do everything I wanted it to. They even provide a rain cover and a small memory card holder with plastic lanyard – nice touches.
I NEVER get excited about things like camera bags, but I do get a nice warm fuzzy feeling when I pick this thing up to go off on a job. Congratulations Tenba on a bag that not only performs better than advertised, but also has awoken the inner bag-nerd within me. 9/10