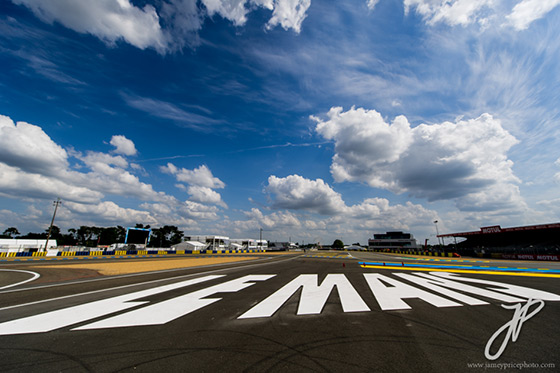 Motorsport photographer Jamey Price shares photos of the 2015 24h of Le Mans race.
I will try to paint a picture with words for you. Then leave you with no words and just a lot of pictures to try and describe my week at Le Mans.

It's 7:02 pm on Thursday afternoon, June 13. I have been holding onto my good friend and ace snapper, Camden Thasher's waist for the last 20 minutes as we trundle out into the French countryside on a scooter. With a track this massive, that uses mostly public roads, you have to drive miles out of the way, to get to where you want. We finally arrive at our destination, a fast section of the track between Mulsanne corner and Indianapolis, known as "the kink". The birds are chirping and the forest is alive around us. The tall pines are quietly blowing in the breeze as the 7pm qualifying session gets underway. Miles and miles away, the cars are rolling onto to the track. A slight buzzing sound turns to a ever louder roar as the field of 56 begins to work it's way around the circuit. Then at over 200 miles per hour, one by one, the cars roar, scream, rumble and whisper past. Each blasting a different note into the French forest. It is amazing. I could stand there all day watching and listening. The speed they come past is truly staggering. There is nothing but a small armco and a forest at your back to protect you should the worst happen. It is magic. For 83 years, cars have run this race and it is like nothing else on Earth.
Continue reading and see more photos on Jamey's blog.