At any given time I have 6 different film cameras, 3 or 4 digitals and a video camera or two… but what I have the most of, is bags. I have more of them than my female friends do. Even with all my messengers, my slings and my shoulder bags I was missing one important pack – a 'haul it all' option.
That's why the moment I saw an ad for the Lowepro ProTactic 450, I knew I had to get my hands on one.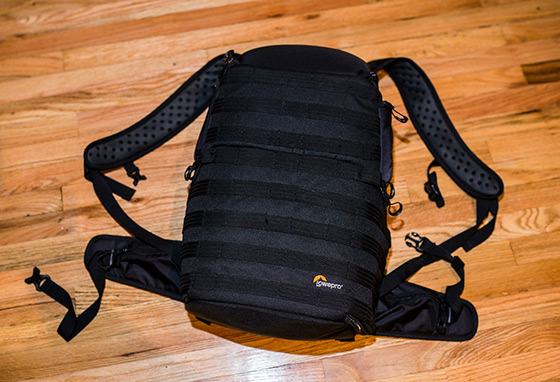 First impressions:
It's called ProTactic for a reason. It looks like a military issue bag, with the sewn straps that go across it. The straps have the same use that of a military backpack – it allows for all kinds of pouches, connectors to be attached and tripods to be secured.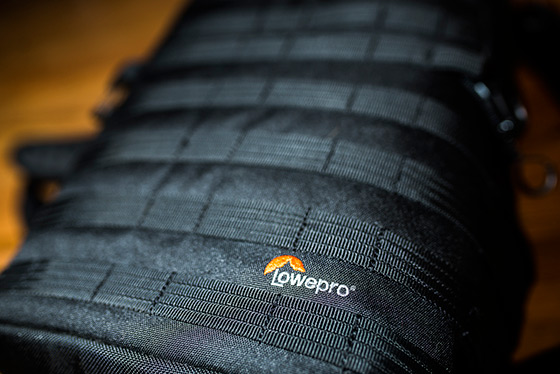 It's got a hard shell at the top. You might get some turtle jokes while wearing this – but it's worth the comments. The top portion of the bag, which unzips for access to the inside is made of a formed plastic covered in usual nylon. This is quite useful, not only as it helps keep the shape of the bag – but it will also keep the camera that you have at the top of the bag protected. This is something that most backpacks that have this interior style do not do.
There's no zipper on the front? The protactic is a call back to Lowepro's Flipside 400 (which I always liked – but just wished it had a laptop pouch.) Like the Flipside the main access point for the ProTactic is on the back.
This allows for you to access the bag without putting the straps on the ground – which means a lot for someone like me who does a lot of hiking and the only ground is covered in mud or snow.
What's with the side zipper thing? It's access point to quickly (or at least quicker than you can usually grab a camera from a backpack) pull your camera, with a lens from your bag.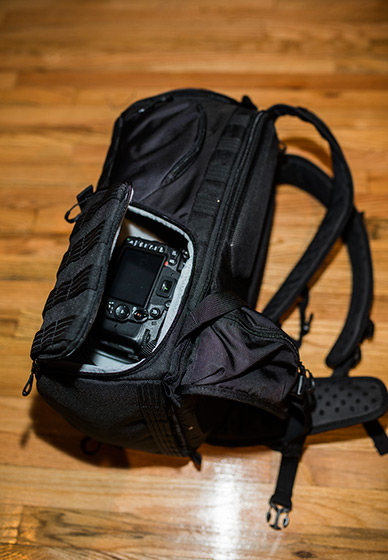 Specs and such:
Two cameras, a midrange zoom, a prime and a telephoto, a flash, a 15-inch MacBookPro and some cables, batteries and such ain't nothing for this bag. Deep enough to fit a Nikon D4 or a standard dslr with a battery grip it will fit many of your lenses standing up. The dividers are lightweight and flexible as the outside of the bag is more than rigid enough to protect your gear from squishing. I felt a lot more comfortable pushing the bag with my foot under the airline seat in front of me flying on Southwest, which is somewhat infamous for it's small seats (Kevin Smith knows what I'm talking about).
The bag itself is a made of a combo of 900D polyester and 1680D Nylon, so it will be decent for a light rain – but anything more than that you'll want to pull the built in rain cover out of the bottom of the bag. The zippers are YKK and built into the bag well with the added benefit of having easy to grab pulls that will allow you to open your bag without taking off your gloves.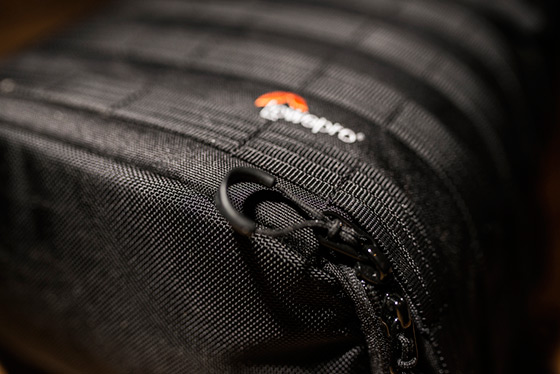 The laptop pouch is built into the back so the weight distribution won't be awkward. It will fit an older 15 inch Macbook Pro snugly and due to the way the back is set up, the laptop portion won't touch the ground if the bag is put down too hastily.
The back of the bag, like most Lowepro backpacks has an excellent, but lightweight padding, which lessens the amount of the bag that is actually resting on your back. After carrying this bag through several airports and to conventions with subpar air-conditioning my back was thankfully mostly sweat free.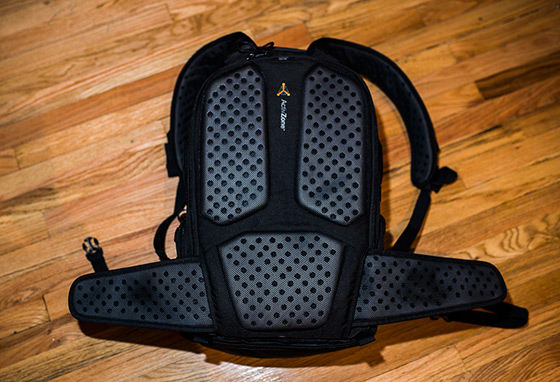 The straps are the only part of the bag that are so-so. If you're carrying a small kit they're great – light weight and enough padding. If you're filling the camera bag with equipment, like this bag allows you to do… you're going to be a asking for more padding and more strap. With that said, due to the bags set up and the way that it sits on your back it's not terrible… just kind of annoying.
The side access points are the real game changer (I apologize for using that term to describe a camera bag). But this IS a big deal. Outside of the Kata back packs (which I could go on for ages why I dislike them) there really isn't a backpack that allows you to actually access your equipment without a multi-step process – which would make you miss the shot. I can think of many moments when I was at a scene and I wished I had a different lens – but was wearing a backpack. Most of the time, I just moved on with the shot, did the best I could – but with this bag I could easily swing it around and do a quick change out similar to if I was using a shoulder bag.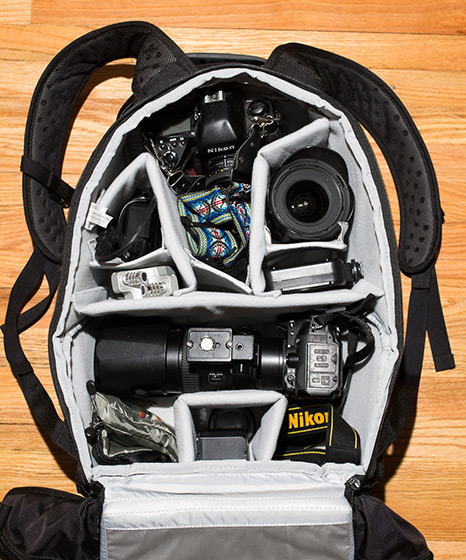 Final Shot:
I love it. In the month or so that I've had the bag, I've had the opportunity to fly with it, take it through the subway and do a bit of street hiking – in every experience is was exactly what I needed for the trip. Hopefully in a second generation Lowepro will add a bit of padding to the straps but even without it – I will definitely be picking this bag up to add to my collection. I recommend that you do as well.
Pros
-Hard shell
-Back zipper access
-Side camera access
-Decent price point at $249.95
Cons
-Straps
-Accessory straps on the bag are sized for Lowepro pouches only
-Zippers could use a little bit more covering for rain