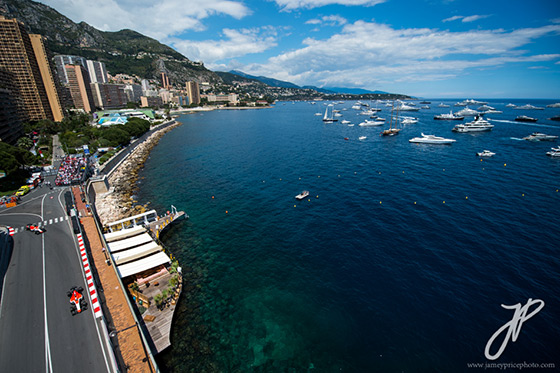 Motorsport photographer Jamey Price covered the Formula 1 Monaco Grand Prix.
Monaco. It is a race that has to be seen to be believed. Even when the racing action is less than exhilarating, Monaco is a magical place to watch racing cars.

I am more than well aware that I have the best access that even money itself cannot buy. But even for the average fan watching from one of the countless balconies or grandstands that cover Monte Carlo, and even more so for those watching on TV and seeing those heart pounding onboard clips of today's drivers throwing a car, that for all intents and purposes, shouldn't be able to go as fast as they do around the glittering streets of Monaco, it is truly jaw dropping. Trust me when I say, watching trackside here will still very much make the hair on the back of your neck stand straight up. It is unbelievable. Stand for 2 minutes at the apex of the nouvelle chicane, and you will be questioning everything that you've ever thought a car could do in this world. Then make your way down the harbor and watch them dance through the swimming pool chicane and physics itself seems to be an idea rather than a law. Stand for one moment in the tunnel and you can feel every one of those 800 horses coursing through your veins. Those feelings of sheer awe are exactly what F1 should make you feel.
Continue reading and see more photos on Jamey's blog.