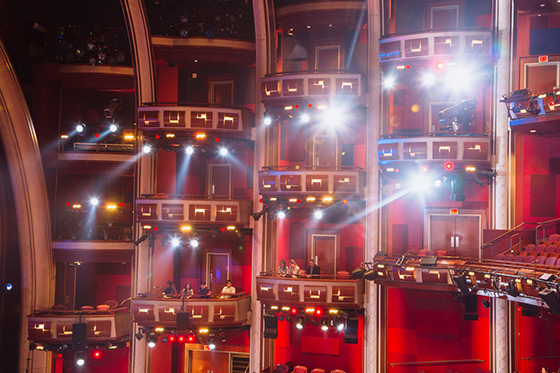 L.A.-based photographer David Walter Banks shares photos of the Dolby Laboratories located in a small Hollywood theater.
After 50 years and counting, Dolby Laboratories continues to lead the charge in innovating the movie-going experience through a blend of video, audio, industrial design and neuroscience. And what could perhaps be considered the current nucleus epitomizing this innovation is housed in a historic aging Hollywood theater adorned with an antiquated marquee, and sandwiched between a strip club, tattoo shop, and a Church of Scientology center. But inside the 24-hour-a-day guarded tiny entrance is a fully renovated state of the art facility that feels more like the deck of a space ship than it does an aging cinema stop. It is in this small theater that many of Hollywood's elite directors, studio and theater executives are invited to sit in ergonomically designed modern leather chairs beneath the dark angular ceiling devoid of any hint of the equipment delivering all-encompassing sound as the floating screen delivers some of the highest contrast and definition ever delivered to a theater patron.
Continue reading and see more photos on David's blog.