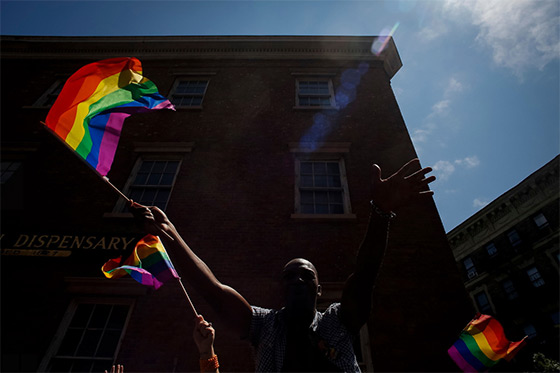 Brooklyn, NY-based photographer John Taggart shares photos of the NYC Pride parade.
I covered the 2015 NYC Pride parade for the European Pressphoto Agency on Sunday June 28, 2015. It was actually my first time covering the annual event, so I wasn't sure what to expect, especially after the Supreme Court's ruling allowing same-sex marriages. Lots of color, liveliness, happiness. It was my first time covering it because typically I was working other assignments or just not available. The beginning of the day was overcast so it brought out a lot of the colors mixing well with the buildings along 5th avenue – While walking down the parade route everyone looked at me with smiles and kept saying things like happy pride day, usually covering a parade people don't even recognize you and if they do its usually things like "get out of my way" — I was about to end my day and find a place to file some more images and found a young couple smoking a cigarette against the white tile and saw that the light was just hitting it perfectly and I thought this would be a perfect opportunity to try and bang out 10 solid portraits of different people of all ages who attended the parade and it worked out.
See more photos on John's website.