C.S. Muncy
is a New York City-based freelance photojournalist with a client list that includes The New York Times, The Wall Street Journal, Newsday, The New York Daily News and The Village Voice. His work has also appeared in Time Magazine, The Smithsonian Magazine and Wired Japan. In 2012, he was selected for the 25th Eddie Adams Workshop, received the NPPA Short Course Travel Grant and won first prize in the National Geographic/Nikon "Full Story" photo contest. A graduate of the Defense Information School, he enlisted in the United States Air Force in 2002 and is currently a combat correspondent with the 106th Rescue Wing.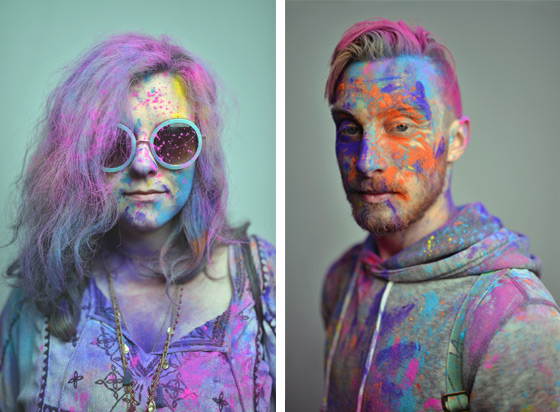 For the last several years I've been assigned by the Village Voice to photograph Holi Hai. Holi's a dozen different kinds of fun – there's music, parades, and lots of thrown paint. The last two years I've been shooting portraits at one of the Festival of Colors. The festival is more of a big block party in Brooklyn than the religious parade you see in Queens earlier in the month. Lots of music, lots of drinking (I'll touch on this in a minute) and dancing. Shooting studio-like portraits in this type of setting can be problematic – there are a hundred little things that can get between you and your finished product.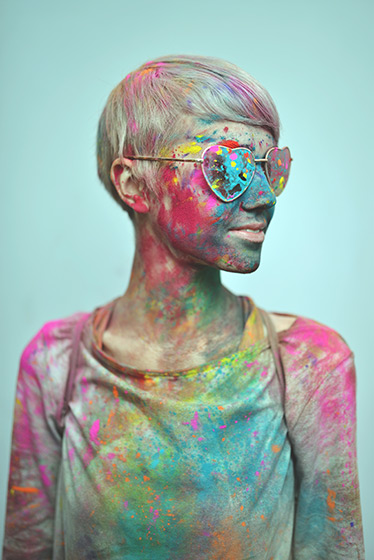 First, let's go over my setup. Last year I picked up a Westcott X-Drop portable backdrop, and it's one of the best purchases I've ever made. The frame and backdrop folds down into a small, portable case and is great if you're shooting medium portraits and headshots. The downside is that when, once unfolded, it can act as a giant sail and will catch every single gust of wind. If this happens, be careful about how you tie the X-Drop down, since the frame is relatively fragile. Hold it in place without considering the failure points and you'll end up with a broken frame. I brought several zip-ties and kept it locked in place against a fence. For lighting, I brought a Flashpoint Ring Li-on ringlight, SB-900, Flashpoint Li-on Zoom and a portable softbox. I also brought a Westcott Omega reflector, but since it was relatively overcast I didn't end up using it.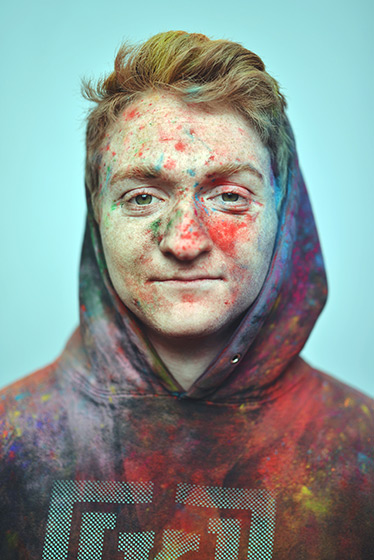 For the most part I ended up using the Li-on Zoom and my SB-900, though the Ring light saw some use both on and off-camera. Everything was triggered by a set of iTTL capable radio triggers.
For space, I was able to wrangle a dedicated area from the organizers. This was very, very important as the day went on. Having a controlled point where only one or two people could enter or leave kept me from being mobbed by people. The Festival of Colors is a fun event, but people tended to get a little tipsy and the loud music prevented me from being heard easily. Since everyone was covered in paint, keeping the backdrop clean was an ongoing (and ultimately futile) concern. Every third subject I'd say "Don't cross this line, don't lean against the backdrop," and of course they'd run back as far as possible and lean against it. I'm not sure how I'd do things differently next year – maybe set up a string or something at knee level to keep people from going too far back.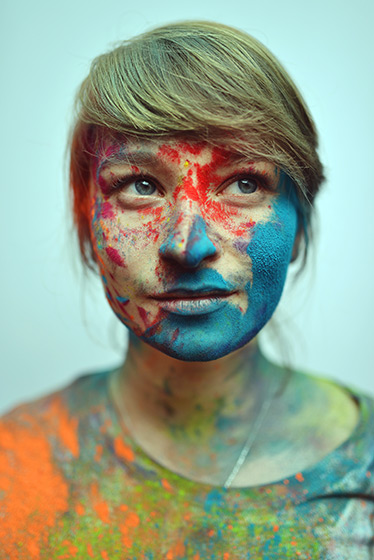 On the subject of protecting your camera – PROTECT YOUR CAMERA. I used a couple of rubber body-armor covers, but that really wasn't enough. Ideally you should have a couple of rain-sleeves, covers, or even just wrap the camera in plastic wrap and tape. Also (and this should go without saying) but do not change your lenses at any point during the event. There's so much dust and paint in the air that for two days afterwards I was sneezing up rainbow colored snot. It's fun to shoot, but that paint can be death on your sensors. To clean it up, I used a horse-hair brush. Don't use and fluids to clean the body until you're sure you have the paint off, or your body will end up looking like it escaped from the worst parts of Woodstock '99.
In summary:
– Bring only the gear you need
– Don't change lenses
– Protect your camera
– Control access to your setup