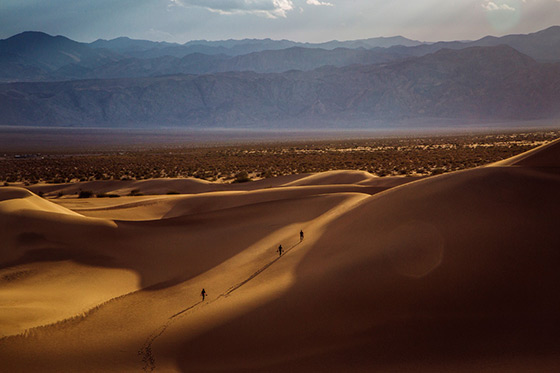 L.A.-based photographer David Walter Banks shares photos of the Death Valley in California.
For me, it is a dream request to hit the road through desolate beautiful rural spaces where the journey is the destination. My only direction from the lovely folks at Medium's GONE was a general route, a few points of interest along they way, and a directive to simply wander, and make the images I gravitated to in the style I saw fit along the way.

So I loaded up my VW Camper Van (#parkerposeythevwvan), printed a map (yes, on actual pieces of paper, no gps on this one), loaded up my digital gear and a pack of medium format film to drop in my Mamiya (still unprocessed), and hit the road. After the miles of highway from LA, I hit Baker and CA 127 greeted me with miles of lonely highway, and my stress began to melt away as the landscape built to a crescendo around me. By sunset I hit Zabriski Point, and stood in awe of the light as an evening storm rolled in and wind picked up, sun peaking it's golden rays through while the dark clouds weren't looking. As darkness fell and I made camp, the forceful gusts consumed by my fire as it danced spastically, roaring through my bundle of wood in record time as I enjoyed two fingers of whiskey and a roasted hotdog (soydog that is).
Continue reading and see more photos on David's blog.