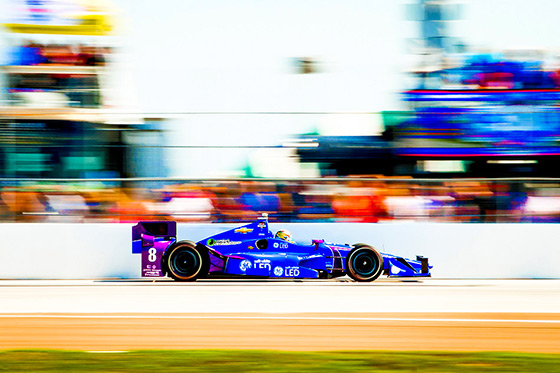 Sarasota, FL-based photographer Chip Litherland shot the Firestone Grand Prix of St. Petersburg for The Player's Tribune.
I've never shot IndyCar before this shoot for the fine folks at The Player's Tribune, but what I learned in a couple days of running around the Firestone Grand Prix of St. Petersburg reaffirmed everything I thought it would be from covering other racing:  it's extremely loud, painfully hot, but so much fun to shoot.  The air smells of exhaust and melting tires and mixed with a hint of turkey legs, cheap beer, and overworking sunscreen.  Luckily access to the athletes (and yes, they're athletes – one running complaint about misconceptions on their sport I heard from all the drivers I met) is amazing, and all of them want to promote the sport and engage with the fans whenever they can.  The drivers are extremely passionate about their craft, and I spent more time trailer hopping listening to stories from some of the biggest names in IndyCar than actually shooting straight racing action.
Continue reading and see more photos on Chip's blog.