Jason E. Chow is a photographer that discovered his passion for it in high school. What started as an art credit in high school soon became a passion, prompting him to leave the busy city of Hong Kong for the small town of Athens, Ohio, and Ohio University. He now resides in Elmont, NY spending his time on personal projects allowing him to further satisfy his curiosities.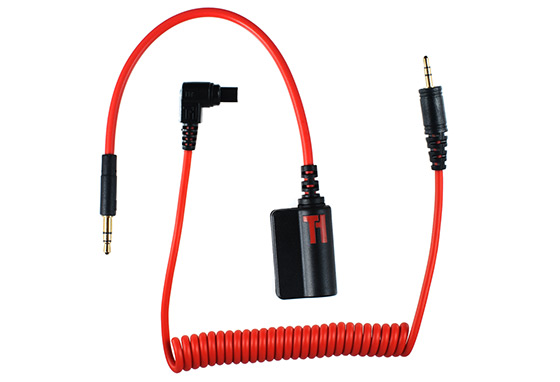 First Impressions
I used the Triggertrap cable release with my iPhone 6, and a Canon 5d Mk III. The only difference will probably be how the app looks on a Android phone.
The actual cable release consists of two parts, the dongle, and then the connection cable. I was certainly surprised when I first opened the box, my first reaction was that I was missing something. But nope, I had everything I needed in front of me.
The cable itself is nothing special, which I definitely appreciate, I prefer simple over complicated (much like everyone else). I would say the cable is as thick as a iPhone or Mac charger. Because it is just two cables, the Triggertrap is incredibly portable.
So, you have the cables, your camera, and now all you need is the Triggertrap App. It could be a problem for those without an iPhone, iPad, or some sort of Android device, but if you bought this product I'm assuming you have one of the three.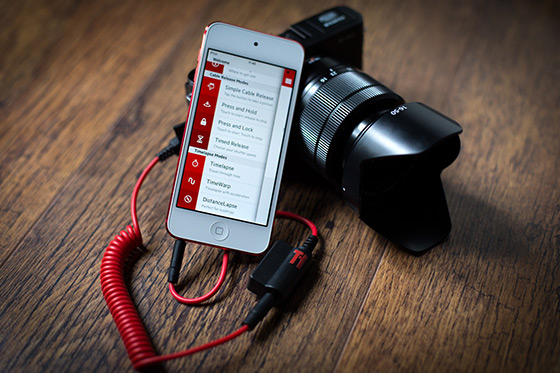 Ease of Use
As mentioned before I used this with my Canon 5D Mk III. The Triggertrap website has search tool to see if your camera is compatible with this product. The set up is super easy, plug camera connector into your cable release port of your camera, and then plug in the dongle into your audio jack of your phone or tablet, then open up the app.
Once the app is open you'll get a little set up tutorial with steps like the one I described, but then it also asks that you turn your volume to 100%, I'm not really sure why, but it doesn't really matter in the grand scheme of things. With the app open tapping the icon the top left corner will bring open a menu with the different modes, and even more modes within them. The modes range from a simple cable release to a motion sensor mode. With 17 different features in total there is definitely something for everyone.
One of the only problems with having an app-based product like this, is that this app needs to stay open during the entire use. So, if you're making a time lapse consider your phone useless for killing time while you wait. With the app open the whole time the battery life on my phone drains a bit quicker, so I suggest bringing some sort of extra battery source.
Features
As mentioned before there are 17 different features but they are separated into 4 different modes. Instead of going over each feature, I'll go over the different modes and touch a bit into each feature. Each feature has a bit of instruction with options to change the duration between every shot taken, and if you need more explanation the Triggertrap website has more details on each feature (not going to lie, I definitely used it to learn more about some features). With all these settings on the app don't forget to switch your camera to Bulb or Manual mode.
Cable Release Modes
It's pretty easy to figure out what happens in this mode. The first feature is a "Simple Cable Release" so just set the shutter speed and exposure on your camera, and fire away through your phone. The other modes such as "Press and Hold" and "Press and Lock" are more meant for Bulb mode, as they present a timer with how long your shutter is open. Or you can use "Timed Release" and set a time for how long you want your shutter to be open. "Self Timer" allows you to set a countdown until the camera fires, giving you time to get in position for your self portrait.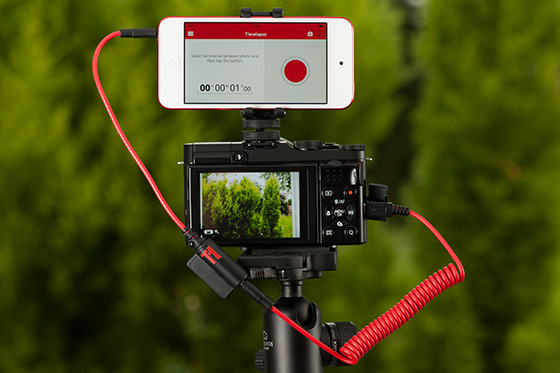 Time lapse Modes
We all know what time lapse modes are, and how to create them, but what I like about this app is that it really simplifies it. Trying to set up a time lapse through your camera menu can sometimes be frustrating, and Triggertrap has definitely made it a lot easier, even for creating star trails. One of the features that stuck out to me was the "DistanceLapse". Instead of setting the amount of time between each shot you set the distance, you can switch between using meters/kilometers and miles/yards. It's a nifty feature, but that means you're also setting up a DSLR, and most likely a tripod into a moving vehicle, which just doesn't seem too practical to me. Other features in this mode include "TimeWarp" and "Bramping".
Sensor Modes
Now this is definitely what sets this cable release system apart from the others, and where your device comes into play the most. This mode uses sound, vibration, motion, and even your facial recognition to fire your camera. With "Sound Sensor" you can set how sensitive your phone will be to sound, and use it to fire your camera. This means, you can clap, whistle or even yell. With "Vibration Sensor" it is pretty much the same thing, but looks for some sort of vibration, hence the name. "Motion sensor" mode uses your device's camera to set off the camera. The last feature "Peekaboo" is definitely something your ordinary cable release can't do. This feature once again uses your device's camera, and through facial recognition it sets off the camera. You can save up to five different faces in this mode. While these features are definitely different, and fun to play with, I personally can't think of a situation I would use this.
HDR Modes
I've never shot anything in HDR so I can't say too much about this mode. There is a "LE HDR" mode which seems to be your basic set up for making HDR images, ranging from 3 exposures to 19. There is also a "LE HDR Time Lapse" mode, which sounds pretty self explanatory.
Other Modes and Features
There is a Wi-Fi mode that allows you to set a device as a master, and a slave, creating the ability to set off device from a farther distance. The last two features are listed as calculators, a Natural Density Filter, and a Solar Calculator, that tells you when the sun will rise and set.
Recommendations and Conclusions
As I mentioned before the app has to stay open while in use, so I would definitely recommend bringing an extra battery pack, or if you have a spare iTouch or similar device to use that instead. Another recommendation would be to purchase a hotshot phone mount for your camera, unless you don't mind letting your phone dangle from the camera.
So, finally, what did I think of the Triggertrap? It's simple, it's portable, and it has many uses. I definitely can't argue with that. But is it worth it? That's a question you have to ask yourself. As a Canon user I don't have a built in feature to create a time lapse, so a cable release is needed. I could purchase a release to do so, but that's all I would get. With the Triggertrap I could do time lapses and so much more.