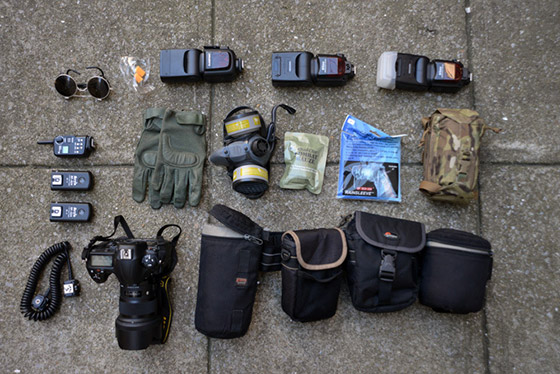 NYC-based photographer C.S. Muncy writes about ways to protect yourself and your gear.
I've come to realize over the last few years that my gear takes a ton of abuse. Between living in the city, traveling to assignments or while on the job, my cameras, lenses, hard drives and computers are on a daily basis slammed against one another, stuffed into bags, grabbed at, inspected, pawed, and sometimes spit upon. They've been subjected to intense heat and open flame, sudden and extreme acceleration (along with just as sudden deceleration) and drops from high areas onto rough concrete.

In short, my gear takes a beating. But the great thing is that there's a ton of stuff out there to help your stuff survive even the worst of disasters. A little bit of money spent now can help you avoid spending big bucks later. Below I've compiled a brief list of the top products and accessories that help me get through the average workday.
Continue reading and see more photos on Adorama Learning Center.