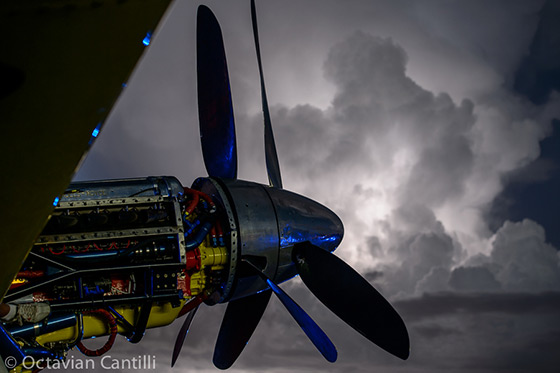 Orlando, FL-based photographer Octavian Cantilli documented the process of reengineering a WW2 era aircraft named Precious Metal and covered the 2014 Reno Air Races.
Tucked neatly inside the Kissimmee Warbirds Museum lies a one-of-a-kind highly modified WW2 era P51D mustang named Precious Metal. Over the past four years its owners and a small group of volunteers have reengineered just about every piece of this airplane with only one purpose in mind, to win the Unlimited Class of the Reno Air Races. Every year the team has more radically modified the aircraft and been more competitive at Reno.

Here are a few facts and figures to give you an idea of how badass this engineering marvel is. Precious Metal is powered by a 12 cylinder 37 liter Rolls Royce Griffon engine that is supercharged and connected to a custom made counter rotating prop assembly. Fully tuned and in race conditions it is capable of 90 inHg of boost, over 500 mph and at a cost of $5K worth of 160 octane gas per hour! Let that soak in for a second! This is by far the fastest sport in all of motorsports…
Continue reading and see more photos about the preparation here and more about the Reno Air Race here.