Sal D'Alia
is a NY-based filmmaker. Sal shot his first feature "La Piccola A" when he was still a student at the School of Cinema, TV and New Media of Milan at the age of 21. The movie won a national award at the Bergamo Film Festival and found national distribution with LAB 80. In 2009, Sal started his career as freelance director, producer, cameraman and editor and has worked for numerous cable and corporate clients such as Citroen, Unilever, Nike, Food Network, Glamour & GQ (Conde Naste), Bravo, Berman Braum, DanceOn & Machinima, Mox Tv, Ultra Records, John Varvatos and The Warner Sound with artists such as Madonna, Blake Shelton, Flo Rida, B.o.B., Cee Lo Green, Ed Sheeran, Regina Spektor. His viral work on YouTube can be quantified with 70+ million views. In 2013 he directed the short movie "The Word Trader" which has been selected at the Cannes Film Festival 2013, Big Apple Film Festival 2013 and received an honorable mention at Manhattan Film Festival 2013. Sal is currently Video Producer at Adorama in NYC.
"One belongs to New York instantly, one belongs to it as much in five minutes as in five years." Tom Wolfe
New York City never sleeps, but it is filled with big dreams. You may not know your place in this jungle of 8 million New Yorkers. But you may want to stay a little longer.
New York is many things – chaotic, charming, dirty, beautiful, frustrating, soothing, wonderful. It's hard to pick just a few things to list as the best parts of this city, but these are some of the unique qualities that make the big apple the legend it is. Hip-hop was invented here. In the rec room of an apartment on Sedgwick Avenue in the Bronx, Clive "DJ Kool Herc" Campbell and MC Coke La Rock started to mash-up beats with a Jamaican flavor that eventually evolved into modern day rap. They were followed by influential hip-hop artists of the 90s like Wu-Tang Clan, Nas, and Biggie who made the genre what it is today. Even with the rise of west coast hip-hop and the genres global popularity, its birthplace will always be New York City.
You can travel all over the world without ever leaving New York – at least in terms of culinary experiences. Drinks, food, and music aside, the best thing about New York City is that no matter what type of person you are, you'll find a community here. New York has a place for everyone, in all her beautiful
melancholy.
BEHIND THE VIDEO
Two months ago a friend told me about this website called storyhunter.tv, you can submit your resume/portfolio and, if you get accepted by the admin, apply to the few but very interesting jobs they have.
Once I saw that Discovery was looking for filmmakers all over the world to shoot a music video about their cities I applied in a split of a second.
The producers at Discovery loved my reel and I got the assignment and the heavy responsibility of representing this amazing city.
I had 10 days to put together the clip and many limits:
– no more than 2'30'' length
– no close ups (without a signed release)
– no buildings/locations with copyright
– insert shots of feet walking on the streets
– insert food, people running and cover as much as possible of the city.
It's very hard to explain NYC in less than 3 minutes, especially if you cannot show close ups of all the different kind of people living in it, the melting pot is the first element that makes the city unique and amazing. I had to use some of my stock footage, cover NYC in a few days is almost impossible (touristic and non touristic spots), so my initial idea of shooting 4K the entire video didn't work out unfortunately.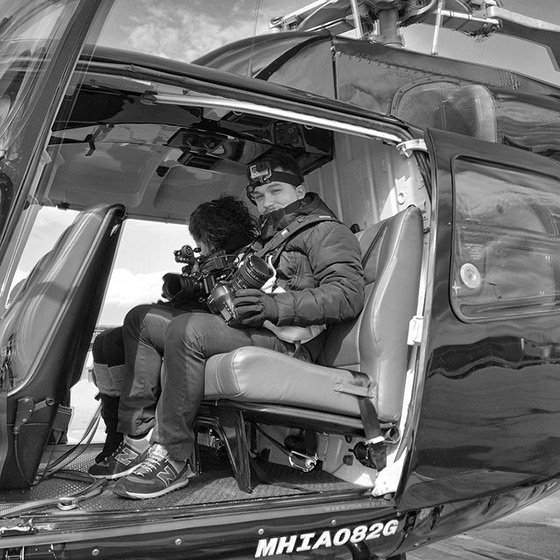 I shot all the original footage in a couple of days using both 4K and 1080p, with:
– Canon 1DC with 50mm f1.2 / 85mm f1.2 / 24-105mm f4 zoom
– Sony a7s + Atomos Shogun with 24-70 f4 zoom
– GoPro Hero4
– Canon 5D mark II
– Blackmagic Cinema 2.5K
– Sony FS7 with 18-105mm zoom
– Canon 7D
How's that for a melting pot of cameras?
I edited everything in a couple of days with Adobe Premiere CC and color corrected with Da Vinci Resolve 11.
Despite the limits I had I hope the video shows what NY is about today, or at least how I see this city today… it's definitely more intended for people who never visited or visited only as tourists, new yorkers will definitely recognize moments of their day or people and location that are very familiar.
I call this place home now but what's amazing about this place is that even in two days of planned shooting you can still be surprised and discover something new, like if you are always a tourist ready to be amazed.