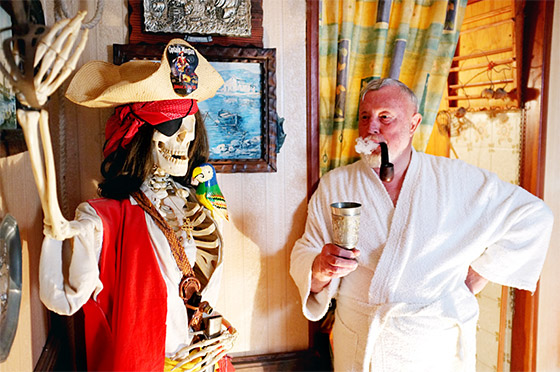 Photographer Oliver Weber shares his new project on an eccentric old man who goes by the name of Captain Flint.
It is a Sunday in April. A strong, gusty wind on the Canary Island of La Gomera. I am sitting in a dark living room. Time seems to stand still. Around me furnishings in the style of "Rustic German" dating from the 1970s. Hunting trophies, a skeleton, a treasure chest, swords and books. I am not alone. With me is Captain Flint. Little burn holes, caused by one of his about 120 pipes decorate his dressing gown. We stare together at the swell of the waves and listen to music of the 50s – old sailor songs. The windows are closed. Flint can't bear drafts, and so the room gradually fills with his pipe smoke.
Continue reading and see more photos on Oliver's website.