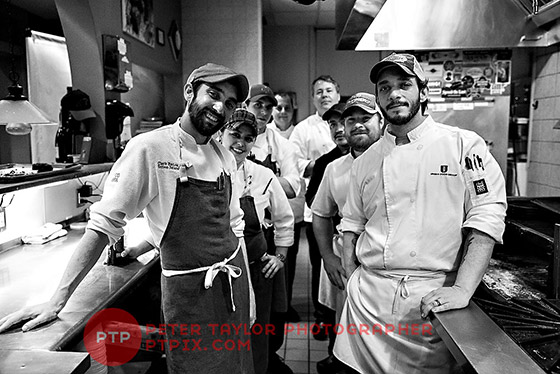 Charlotte, NC-based photographer Peter Taylor documented the GotToBeNC Competition Dining preparations and competition.
Earlier this week I was able to spend more than a few hours documenting the GotToBeNC Competition Dining preparations and competition. If you are unfamiliar with NC Competition Dining you can read about it here. But in a nutshell, it is two chefs who are given a NC secret ingredient in the morning that must be incorporated into each dish. They have the rest of the day to come up with, prepare and plate 3 dishes, one sweet and two savory, and get it ready to serve to apx 140 diners! No easy task. The courses are served to the diners and judges blindly, meaning that they don't know who's course is who's. People try to guess of course, but more often then not, they guess wrongly. Each chef can have two helpers and the Comp provides a chef referee/on site observer. Once the secret ingredient is revealed to the chefs they plan their menus, hit the Pate-Dawson food trailer to check and see what else they can use. It was revealed that the refrigerated trailer holds over 30k in product! From chicken to duck to duck fat to fresh veggies to seafood to flour and spices, it is all there. Just about anything the chefs could imagine was available to them for their use.
Continue reading and see more photos on Peter's blog.