C.S. Muncy
is a New York City-based freelance photojournalist with a client list that includes The New York Times, The Wall Street Journal, Newsday, The New York Daily News and The Village Voice. His work has also appeared in Time Magazine, The Smithsonian Magazine and Wired Japan. In 2012, he was selected for the 25th Eddie Adams Workshop, received the NPPA Short Course Travel Grant and won first prize in the National Geographic/Nikon "Full Story" photo contest. A graduate of the Defense Information School, he enlisted in the United States Air Force in 2002 and is currently a combat correspondent with the 106th Rescue Wing.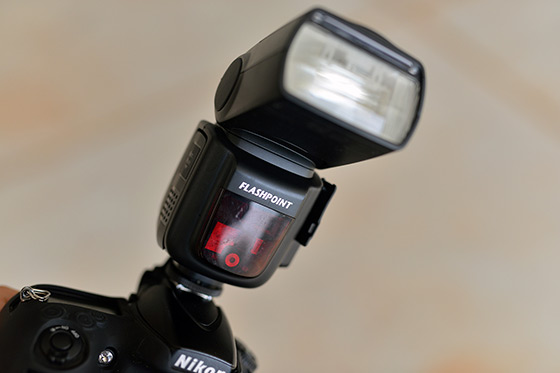 Adorama's in-house brand "Flashpoint" has been knocking it out of the park lately when it comes to mid-grade flashes and accessories. Recently they announced a new lithium-ion battery powered flash, the Zoom. Available in manual, as well as Nikon and Canon TTL/iTTL compatible versions, the Zoom is said to offer many of the advanced options you would find on a professional level strobe, including high speed flash sync, multiple master/slave options and of course, a power source unique to this particular model. A few weeks ago I got my hands on a review model, and put it through its paces.
Build Quality
One of my biggest concerns with third party flashes is the build and quality control. Too often I've encountered strobes that are "parade perfect," which is to say they look nice and shiny out of the box, but fail to function as described or operate reliably in the field. At roughly the same size as an SB-910, the Zoom is made of a high-impact plastic, with physical buttons, selection wheels and a metal shoe that screws in place. This last bit I rather like – I'm often running and gunning, and as much as I like my Nikon flashes, the locking switch never quite feels like it's 100% locked down.
The rotating head does not have a locking button like my SB-910, but it's stiff enough to keep in position without it. It's capable of coverage from 0 to 360° horizontally (180° in any direction) and -7° to 90° vertically. The flash head also features a pop-up card and wide-angle reflector, though there was no additional diffuser packed with it.
All in all, the Zoom feels fairly sturdy. During my time using it, the flash took a beating. It was directly exposed to water, cold, mud and impacts and continued functioning.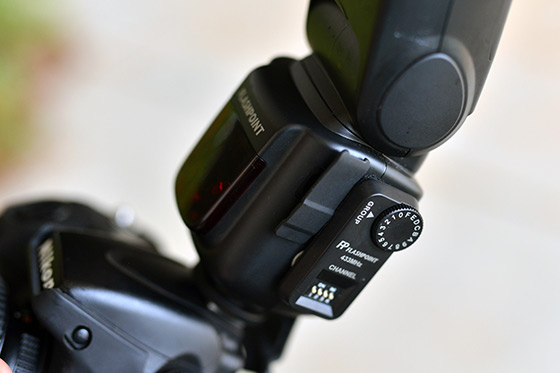 The Battery
The one thing that makes the Zoom so unique is the 11.1V/2000mAh Li-ion battery. To the best of my knowledge, no other on-camera strobe offers this. I loved it.
Let me walk you through a story. A few years ago I was covering a protest, and the lights in the area had been turned off by the city as the cops moved in to make some arrests. Like, a lot of arrests. I had been shooting for hours at that point, and just as the line of officers moved in my batteries died. I had some more on me, but they were mixed in with the dead ones. I simply did not have the time to put in new batteries before the cops moved in. Thankfully there was a TV crew next to me, and I managed to steal some of their light, but it was a crappy situation to be in.
According to Flashpoint, the battery is capable of 650 full-powered shots on a complete charge. I carried the Zoom for two weeks and only had to recharge it once. It would be nice to see future battery models have higher mAh options. At fifty dollars, replacement batteries aren't cheap – but they're cheaper in the long run than continuously buying and replacing AA batteries.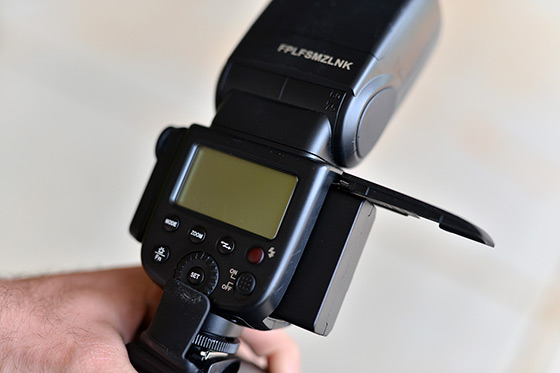 Usage
Users have the option of using the Flashpoint transmitter and receiver radio triggers. I found this to be both the high point and one of the low points of using the flash.
Let's start with the good. This is one of the simplest transmitters I've ever used. You can adjust your flash groups (super useful if you're shooting with multiple flashes) with a simple turn of the dial. Adjusting power output is also very easy. I took several on-location portraits using the Zoom as a backlight, and was left extremely pleased with the results.
Now let's address some areas I wasn't happy with. First, it's a basic, non-TTL trigger. No TTL, no iTTL, and no high speed flash sync. Now, there are plenty of hot-shoe triggers and receivers you can fit that will allow you those options, but they're not as simple to use. TTL cords are available, of course, but this limits you to off-shoe shooting that's only within arm's reach. HSS would have been incredibly useful while I was out shooting wirelessly with it. Additionally, the flash had an annoying habit of going into sleep mode after a few minutes when used off-camera. Several times I had to interrupt my shoot to turn the flash back on. I have no doubt that there's a way to fix this, but I could not find anything addressing this online. (Adorama and Flashpoint are checking this out for me to see if there's a work-around. When I get this info, I'll update this review to reflect that.)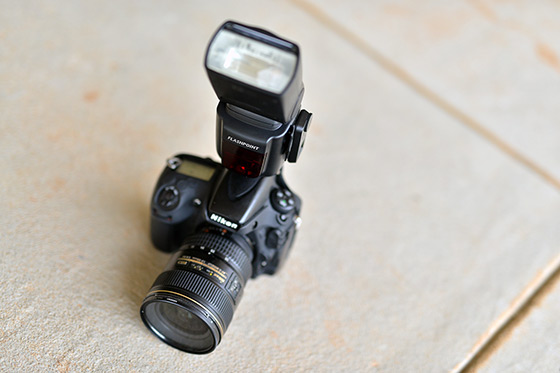 Final Take
Ultimately, I'm impressed with this flash. The build quality is up there with anything Nikon or Canon are putting out, it's sturdy enough to take the beating I gave it and the battery allowed me to work uninterrupted for days at a time. Not having to carry around dozens of AA batteries is also a huge plus. The trigger was nice and simple, but it could use some improvement.
If you are in the market for a new flash I would seriously consider the Flashpoint Zoom.
PROS
– Li-on battery lasts longer, simplifies what you have to carry in the field
– Rugged build quality
– Affordable price
– TTL/iTTL capable on camera
– Outstanding choice when using multiple strobes
– Simplified radio transmitter makes creatively lit shots that much easier
CONS
– Tendency to go to sleep when used off camera
– Transmitter does not offer TTL/iTTL/HSS
– Does not come with a diffuser dome
– Additional batteries are somewhat pricey