It's a standard maxim among photojournalists that gear doesn't really matter. There's a whole school of thought that says a good photographer can take great photographs using almost any camera. And to a degree, that's true.
But good gear sure as hell helps.
When Sigma first announced their 35mm 1.4 Art lens, I was skeptical. Sigma, at that point, was a third tier lens manufacturer with wildly uneven quality control and optics. The 35mm 1.4 hit the photographic community like a hammer to the kneecap, upsetting Nikon and Canon's near monopoly on professional level lenses and selling it at half the price of their comparable glass. The 50mm 1.4 Art that followed went even further, beating out every other brand in terms of image quality and sharpness. I've been shooting with both lenses for a while now, and consider them a vital part of my crash bag.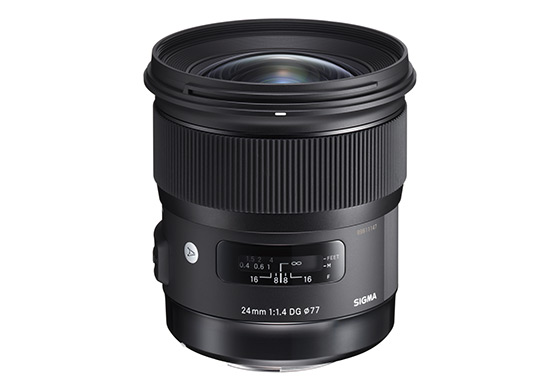 So you can imagine my glee when I read that Sigma's just announced their highly anticipated (and long rumored) 24mm 1.4 Art lens. Prior to buying the 35mm and 50mm, I was never much one for shooting on primes. Shooting in high speed, high impact environments, I felt I needed the choices that zoom lenses offered. Having switched over, I now realize what I've been missing. With primes, you're saving on weight, gaining a narrower depth of field and the option of shooting at faster shutter speeds.
Sigma has not yet released the cost or release date for the lens. I do expect it to be competitively priced compared to the Nikon and Canon models.
From the Press Release:
The Sigma 24mm 1.4 DG HSM Art is a state of the art wide-angle prime lens designed for Full Frame camera but can work with APS-C sensors as well. Using over 50 years of lens making experience, particularly the knowledge gained from the 35mm 1.4 Art and the 50mm 1.4 Art, the 24mm 1.4 Art is aimed at being the new standard for fast aperture wide angle prime lenses. The latest optical design allows for the utmost in image quality with careful attention paid to the edge to edge performance. An optimized power layout places the aspherical lens elements in the rear and adjusts the incidence angle of light source allowing for great performance wide open. Using premium FLD & SLD glass elements, the lens brings aberrations and distortion to a minimum, an issue many wide-angle lenses suffer from. Wide class leading performance, this lens is ideal for wedding photography, landscape photography, videography, astrophotography, lowlight/indoor photography and event photography. The Sigma 24mm Art is compatible with the USB dock to update and customize and is also compatible with the Mount Conversion Service. A staple procedure for the Global Vision lines, every lens will be tested using the proprietary "A1" measuring system.